Test Report - BMW C1
Photo - C1 with city case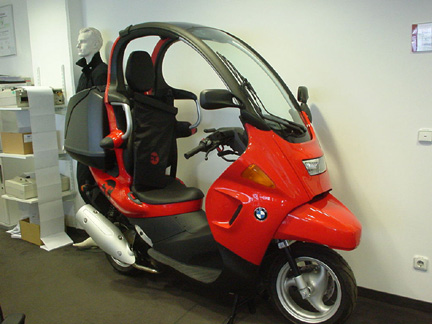 Call me crazy but I've always thought of the C1 as an interesting form of transportation. I've followed it since it's launch and applauded BMW for trying to take such an innovative step forward in solving our urban transportation problems. As a motorcycle enthusiast though I always thought, would I want to drive/ride it? Would I want to be strapped in with a seat belt?
What about the purported positive safety features? Would I like the windscreen and control setup and most importantly how would it handle? Would I think that it could work in the US for our style and needs of driving?
While I've been close to C1's during my many trips to Europe, I've never had the chance to ride one. So during this most recent trip to BMW (April 2001), I asked the factory dealership if I could test a C1. What follows are some quick comments and pictures of this experience.
Each of these photos can be viewed in larger detail by clicking on them.. To go to the offical BMW C1 web site click here.
Regards,
David H. Park
---
Table of Contents
Photo - BMW C1 (200 model)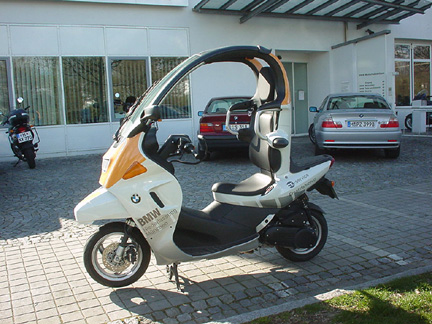 The C1 is a compact transportation vehicle. It looks like a scooter with a bubble windshield.
The seat was comfortable and handlebars positioned so that you could work them from the full seated position. I was excited to be able to take the C1 on a spin.
Photo - BMW C1 (frontal view)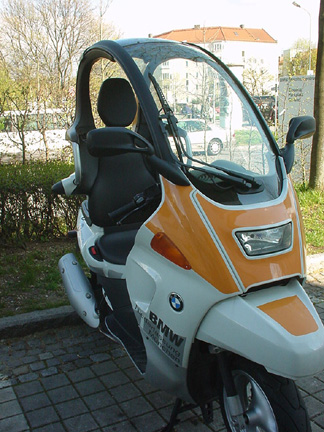 Looking like something from Blade Runner, I walked around the C1 a few times.
Cute, compact, and futuristic - how would it drive?
Photo - Controls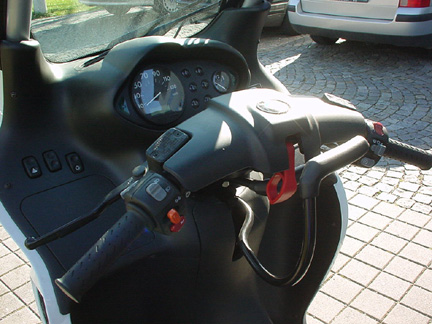 The C1 has two levers underneath the controls. A short lever and a long lever which actuate the centerstand. Working these levers it was easy to take the C1 from a parked position to a ready-to-go
mobile position. Just be ready to balance a bit when you are in 'free' mode. It's a bit top heavy.
Photo - Brakes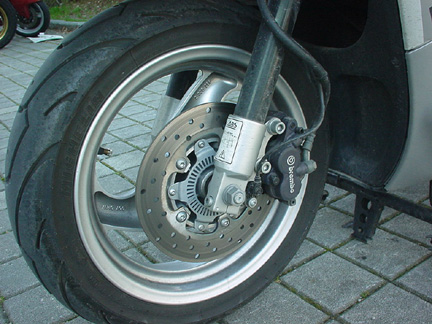 I'm not sure of the exact specs of the C1 which you can get from BMW's web site but
this model had drilled rotors and I know that ABS is an available option. I did several tests from
varying speeds 30kph-100kph. Each time the C1 slowed down and stopped without a whimper
really FAST and securely. I was really impressed with the braking performance.
Photo - Transmission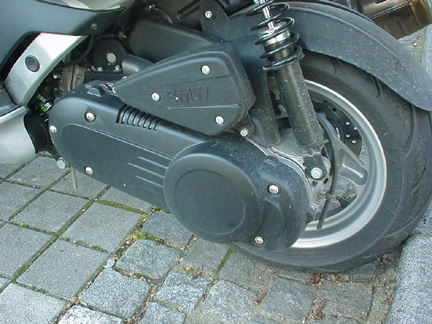 While a bit whiny compared to my motorcycles (I think that it's a bet drive), the power delivery
is fluid and has some torque. I'm sure that the Executive versions with their higher horsepower
are the way to really enjoy the C1 but the entry level models (mine was mid-level) should be okay
for people looking at this mode of transport.
Photo - rear storage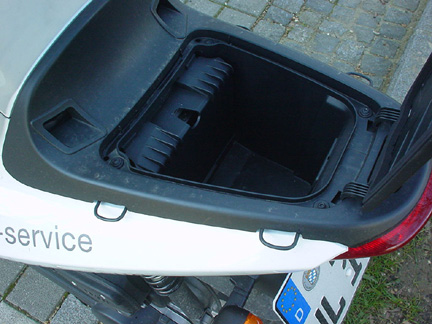 The C1 has a variety of storage options and this one is the trunk built into every C1.
It look large enough for small items but serious travellers will either belt/bungee their stuff to the back
or get the expanded luggage options. In typical coordinated BMW fashion there is a full line of
C1 rider gear including clothing and luggage.
Photo - DHP and the C1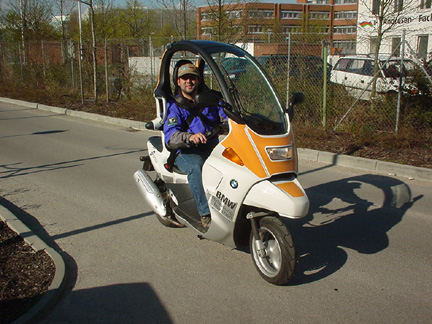 I grabbed a random guy in a parking lot and asked him to take a picture of my test drive. I had fun testing the C1 and am looking forward to being able to really drive one as a primary vehicle for a week including trying some lane splitting. Overall, I was impressed with the C1 and would love to see BMW import it to the US. I think that they are conceding early market advantage to the Italian scooter manufacturers by not bringing the C1 over here. Besides homologation issues the product is ready-to-go but if they don't do lots of preliminary testing and intros with the US marketplace then they won't find out who wants to buy it and why and therefore will not sell this product here.
The day that I tested the C1 was a little cold and brisk but it still was better than sitting in a car. I got to get some fresh air, moved around easily with traffic, and didn't have to put on my riding gear. It's this part that really separates the C1 from motorcycling and I think that this part will also get people into the C1 from scooters and moped where you need to wear a helmet (women hate this!).
I think that the C1 would do great in LA, Miami, Atlanta, Dallas, just about anywhere where it is warm, has lots of colleges, and crazy traffic. It would also sell well to government agencies and places with campus environments who need a reliable people mover (i.e. Disney world). Okay, that's what I think of this product. What do you think? Drop me a line at david@dhpmoto.com
---