DHP's Touratech Rallye Bike
Photo - DHP's Touratech Rallye Bike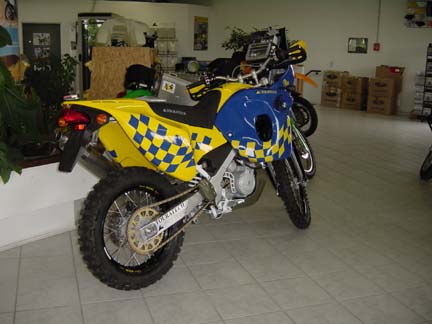 Click picture for hi-resolution view
Having made significant changes to my existing F650GS Dakar and ridden the Touratech Schalber rallye bike at the Touratech biker meeting in Orange, France (April, 2001), I decided to "put up or shut up" and placed my order for my own rallye bike.
After extensively checking import regulations it was determined that it was impossible to purchase a US spec F650GS from BMW anywhere in Europe and not possible (or financially feasible) to purchase a European spec bike and do the rallye bike conversion plus send it back to the US 'and' try to get it certified to ride in the US.
The decision was made to purchase a new F650GS, strip it down to the bare essentials, ship these as 'parts' to Germany, and have Touratech build the bike up from scratch. As I was traveling at the time, I sent an e-mail to Kari Prager of California BMW who sold me a new F650GS in Mandarin Yellow. Since this bike had 10 miles on it and I planned to ride the bike in Europe after the rebuild I asked for him to have his shop put on the first 600 miles then to do the 600 mile service. The shop guys were happy to take my new bike out for a spin and so I avoided a small problem of worrying about getting an initial service done while on the road.
Immediately after the break-in period I had the service department strip the bike apart and place the engine with frame, gearbox, ECU, airbox, brakes, and radiator into a crate for shipping to Germany. We did not ship the wheels, tires, swingarm, suspension (front and rear), rear subframe, gas tank, handlebar, controls, cockpit and instruments, and any body panels as all of these are extraneous to building the rallye bike.
NOTE - I therefore have basically have all the parts for a complete F650GS in Mandarin Yellow brand new and available for sale. Please contact me by e-mail for any parts which I am selling really cheap on a first-come, first serve basis.
We used PanAlpina for the shipping of these parts which turned out to be a disaster. Their office in San Francisco was horrible and bungled the transaction at every turn. First the crate did not arrive in Germany when it was supposed to be there (2-3 days overnight). Then they didn't have any idea as to where the package actually was. Then they lied to me about where the package was and when it was to be delivered without even knowing where it truly was and if it could be delivered. Then they screwed up on the forms and forced us to pay German import duties. Then they sent the package to Stuttgart via Munich instead of via Frankfurt directly to the destination as specified. Then they still couldn't tell us where the package was. All of the while they were not being proactive in contact and communication, I had to be the one to chase them down and try to find out where this package was. Please learn from my experiences and avoid doing business with this bizarre and backwards company who doesn't know the first thing about customer service.
Finally this mess was all resolved thanks to the wonderful people at Touratech who contacted the people in PanAlpina Germany, found the package, and who went off to Stuttgart to pay the duties and get the crate. This couldn't have happened a moment too soon as the delay in the PanAlpina shipment was about ten days and Touratech needed at least three weeks to properly build the bike. With the shipment delay we were reduced to less than two weeks for Touratech to work their magic.
All's well that ends well through and by the time that I arrived in Germany, Touratech had everything sorted out. I was able to walk into the showroom to see my new bike sitting pretty on the main floor. I was looking forward to testing this bike at Hechlingen and spent the afternoon getting a complete walk-through from Herbert of Touratech.
David H. Park
---
Table of Contents
Photo - cockpit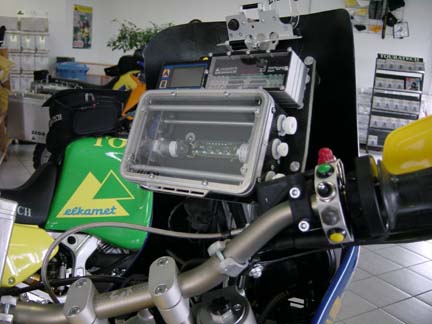 Click picture for hi-resolution view
Finally, I was able to look at the cockpit of the rallye bike and know that it was all mine!
I went for the carbon fiber anti-vibration mounting plate combined with the carbon fiber roadbook,
IMO-100R computer, and the GPS3 Navigation Assistant. The mount for the Garmin GPS III+
can be seen at the top of this cockpit so that the line-of-sight is perfect from a standing position.
Photo - Touratech Schalber Rallye (frontal view)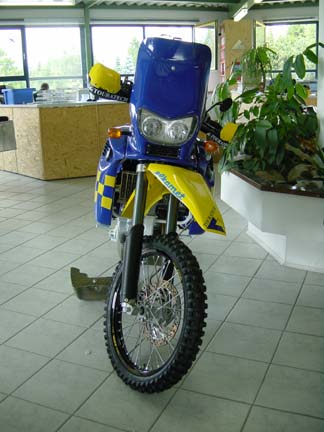 Click picture for hi-resolution view
This bike is really tall. It has the 250mm USD WP suspension and Michellin Desert tires mounted on
Excel rims. The dual headlight setup is standard and can be manually controlled via a switch on the center console.
I chose my colors after meeting Patrick Lambin a privateer rallyist from Luxembourg. He had his Schalber done in
this color first and I 'asked' him if it was okay that I did mine as well. Looks cool, no?
Photo - side w/carbon fiber bash plate below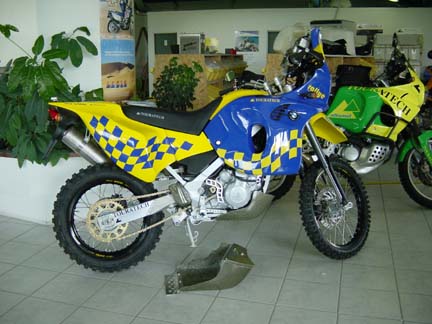 Click picture for hi-resolution view
From any angle I love the look of this bike. I had the carbon fiber engine bash plate put on it as standard
and took the version with a storage compartment (tools, H20) as extra for changing out in rallies.
You can see the different rear sub-frame which lowers weight and gives the side and rear tanks a mounting point.
Photo - Rear sprocket and swingarm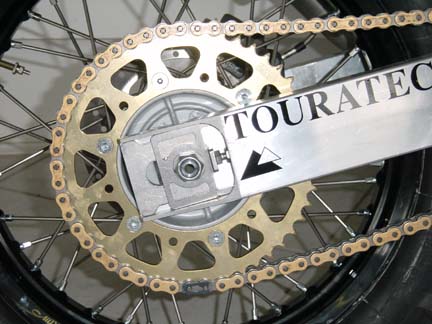 Click picture for hi-resolution view
Also on this bike you can see the new rear swingarm which is much improved over BMW's standard design.
It's made of aluminum reducing weight and allowing for the fitment of the longer rear suspension.
The chain master link can clearly be seen in this photo at the bottom. Chain slack is also between 2.5-3".
Photo - Right foot controls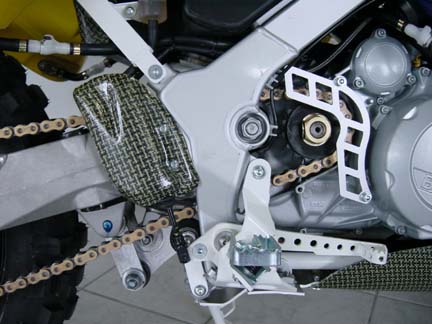 Click picture for hi-resolution view
This picture shows the Touratech footpegs and brake controls which are stronger than the BMW components
and also reposition the foot better for off-road riding. You can also see here the metal guard for the countersprocket
which replaces the BMW plastic piece as well as the carbon fiber guard for the rear brake fluid container.
If you look closely in the picture you can also see the trick quick-disconnect fuel lines which are very handy to have.
Photo - loading the bike in the truck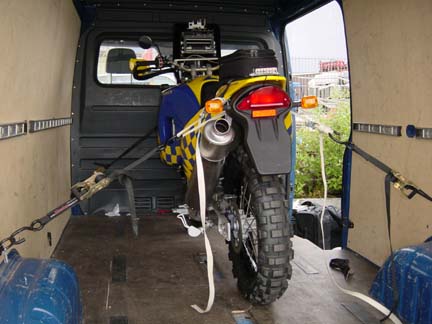 Click picture for hi-resolution view
Touratech was also kind enough to lend me a long wooden plank to take on my trip which enabled me
to get the bike in and out of the truck. The truck which I rented from Frankfurt was a Mercedes Sprinter
and equipped for carrying cargo with strong tie down points. I brought my own ratcheting straps and had
lots of room left over for luggage and riding gear.
For those interested in such things, the rear light is the same as the original F650GS but I had a LED rear brake
light assembly put on the top rear of the bike for additional safety.
Photo - DHP's Touratech Rallye bike is ready to go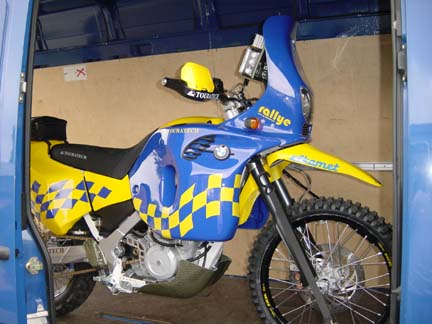 Click picture for hi-resolution view
With the bike securely mounted in the truck I was ready to make the long drive north to Hechlingen.
Before I left though I got a chance to see Didier Py's Touratech sponsored race bike. If you're interested in
making a comparison to my bike or to your bike click here to read that story.
---