Patrick's F650 Touratech Rallye-Crash Repair
Patrick Labin is a friend of mine who also races rallies. As he lives full time in Europe he can do more of these and will do his first Dakar this year. I met him in Orange, France at the Touratech Event along with Jean Moxhet who maintains the BMW GS pages on Micapeak.
When I was picking up my bike in Touratech in early June, Patrick had just crashed out his rallye bike in a race. It was there for repairs and as we share information on the build quality and various problems I got the chance to examine his damaged bike up close. Little did I know that in a week I would be dropping mine off back at Touratech to return the favor.
If you want to see any picture in full resolution (or download larger versions) just click on the photo to be taken to the bigger file.
Regards,
David H. Park
david@dhpmoto.com
---
Patrick's bike - side view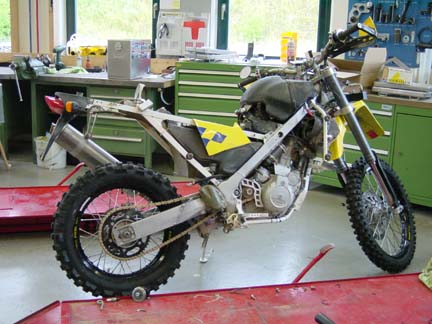 This is the basic side view of the bike as it starts to come apart.
Note - can you see the different rear sub-frame?
Patrick's bike - top view, crashed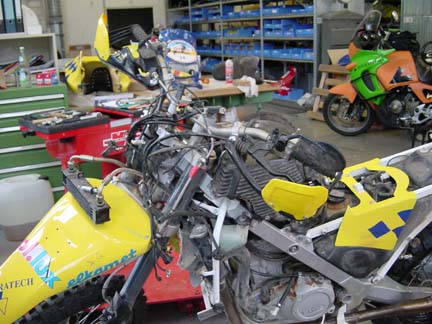 In this photo you can see the extra oil cooler resting (out of place) on the fender.
F650GS Touratech Rallye body panels & rear tank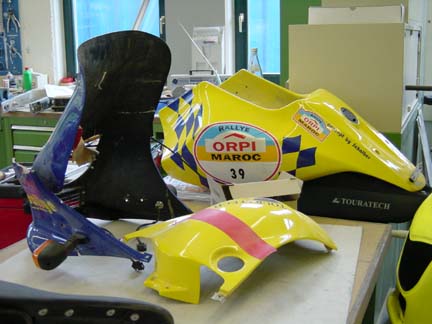 Here you can see the cracked cockpit (carbon fiber). Patrick had an accident
and went down hard enough to break this and other things on the bike. He DNF'd as a result.
F650GS Touratech Rallye - cockpit needs repair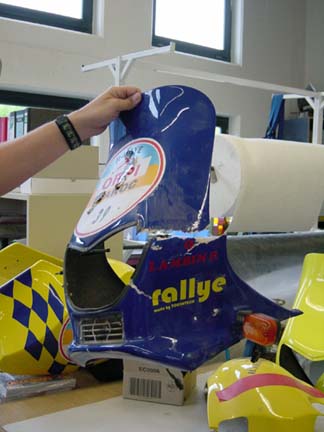 The damage was extensive. Like Patrick I've learned that it's not the cost of the bike
that matters its the cost of all of the 'spares and repairs' that you need to go through.
F650GS Touratech Rallye - rebuilding process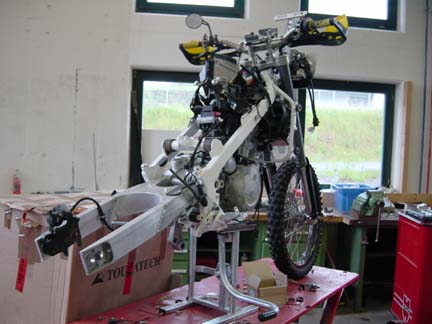 If you've been keeping up with my site, this should be a familiar photo.
A bike up for major rebuild. Here you can see the different rear swingarm
and the front tank mounting rails.
Dual headlight conversion & cockpit brace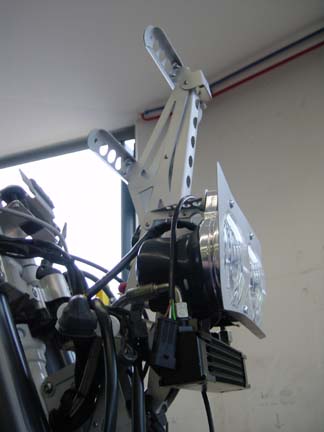 Twin headlight conversion with cockpit brace. This is his new one as he bent/broke the other one in the crash.
I did the same in my first tests of my Rallye bike but instead of breaking the cockpit I broke the left fuel tank (a bit more expensive!).
---