Marcus Dairy Super Sunday Sept 2001
---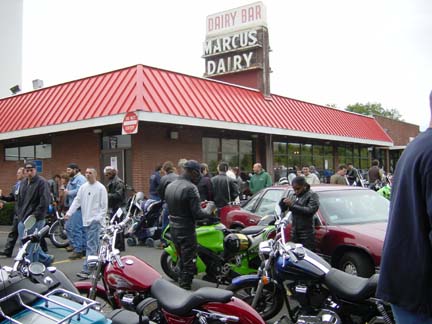 Marcus Dairy ~ Super Sunday (near Danbury, CT) is a motorcycle mecca which has attracted thousands of motorcycles. Every Sunday the Dairy would
has a gathering which is similar to the Highland House (in Highland Park, IL.) which attracts several hundred bikes for breakfast every Sunday (or Alice's near my house in San Francisco) and four times a year the Dairy has a SUPER SUNDAY which attracts even more, including vendors and bike show (for Harley riders).
I heard about this from Mike Frongillo whom I met via the Chain Gang internet site (www.f650.com). He saw that my rallye bike was going to be in the NY area and asked me to meet him up there with some other F650 riders (Seth and Bill) to see the Marcus Dairy event then go off-road riding.
It was an offer in the truest sense of the Godfather. An offer that I could not refuse. Enjoy the pictures. While I didn't enjoy the ride up so much due to the fact that I was chewing up my Michelin Deserts, since this was the first time back riding for me since breaking my leg, I was really happy to get back on the bike.
Overall, the Marcus Dairy event was your usual 'freak show' of motorcycle maniacs on parade. Fun stuff to watch roll by and the sounds were awesome! I met three cool new friends to ride with - and had a blast.
---
Photo - Harley Chopper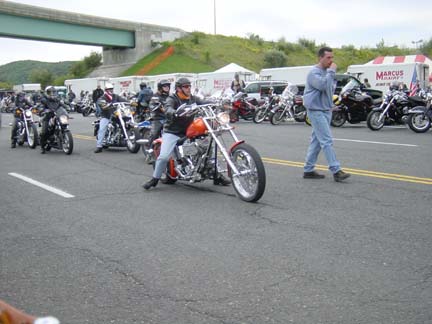 No matter where you looked there were bikes of all types.
This chopper was typical of what you saw. Definitely not a BMW!
Photo - Mad Max & Santa Claus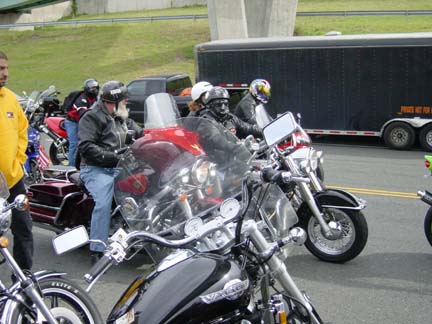 This guy in the full face leather mask got lots of attention.
We took to calling him "Mad Max" which kinda' stuck.
If you look closely you can see Santa Claus behind him.
Photo - Food line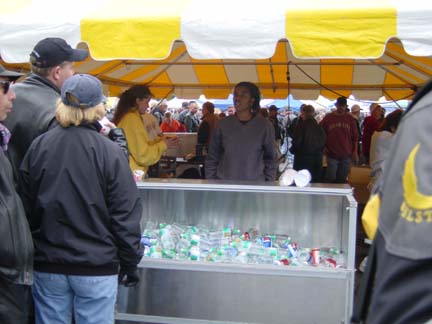 There were cheap eats, hamburgers for $2, cheeseburgers for $2.50.
Lines were too long either. Overall Marcus Dairy's Super Sunday was well organized.
Photo - Ducati with clear covers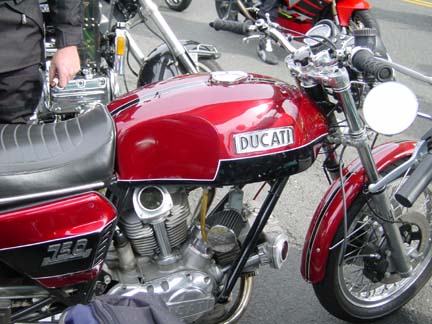 This Ducati was in excellent condition. The bike even had clear covers where you could
watch the oil flow and spin. I'm not sure of the particular model of this bike. Anybody know?
Photo - Marcus Dairy towers & Helmet Head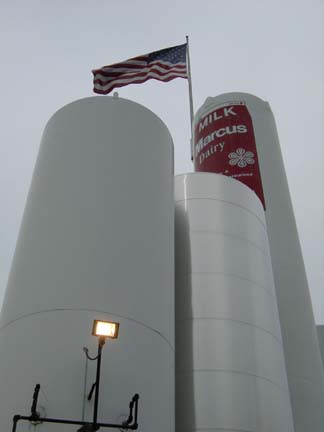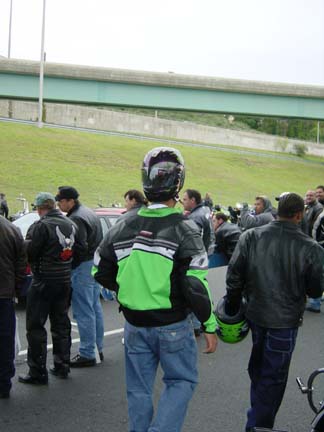 The Marcus Dairy towers stood tall and proud flying the American flag. Onlookers had many strange
ways of carrying their gear with some of them choosing the "I'll wear my helmet high on my head" method.
Photo - Flame headed knit cap guy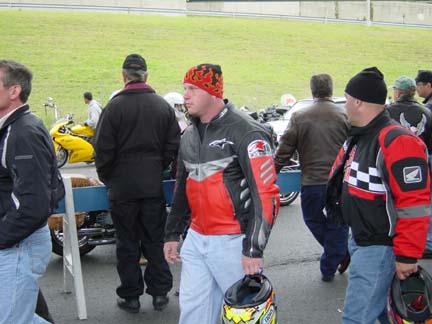 This was truly an event where the like minded tended to bunch together.
At times is felt like you were floating between various 'gangs'.
These two guys were among their friends all sporting the 'flame' knit caps.
Needless to say, we didn't confront them... :-)
Photo - the BMW gang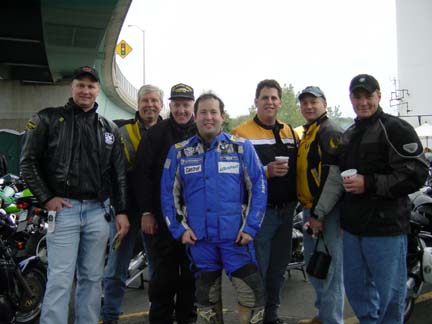 Of course, we had our own gang. The few BMW owners that were there all found each other
and relished in the safety of like company as well. If anybody knows the names of the two guys to my right
please e-mail me and I'll add them to this page. I'm in the middle, then to 'my' left are Seth, Bill, and Mike to 'my' immediate right with the
baseball hat is Scott Cavalari. It was very cold at the Dairy so we all enjoyed some coffee and laughs before heading off to ride some trails.
Photo - F650's seeking some dual sport action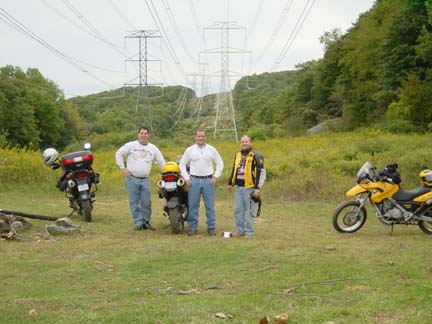 After the scene at the Marcus Dairy it felt really good to do some real riding
and get off-road a bit. Seth, Mike, and Bill were all game and hankering for some
power line and trails to ride. This is about in the middle of our ride after climbing
a fairly rocky shale slope. From left to right is Seth, Mike, and Bill.
Photo - Off-road at the end of the trail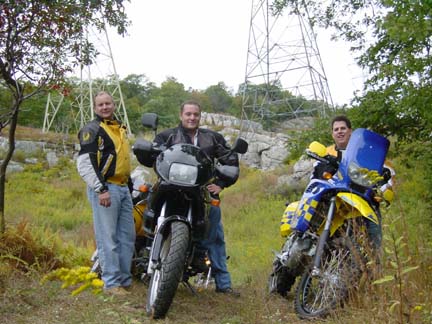 This was at the end of the trail. Mike rode point and found all of the trails.
Thanks, Mike! We followed until we couldn't go any further.
Next time he says that he knows even more trails to ride. I can't wait!
---

If you're interested in looking at some movies from this day try downloading the following MPEG files. One is from Marcus Dairy and the others are from our dual sport ride.
Marcus Dairy dual sport - "Get it going..."
Marcus Dairy dual sport - "Don't hit the bike..."
Marcus Dairy dual sport - "DHP - short legs - fitting on the rallye bike"
Marcus Dairy dual sport - "Riding the rallye bike"
---