PassengerBike - London's Motorcycle Taxi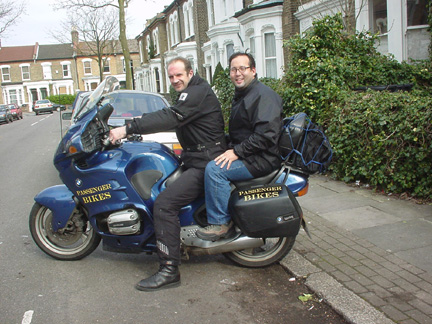 In a former life, I used to be an investment banker working for Barclays in New York and London. So I had gotten used to doing the routine taxi, tube (metro), or fast train (Heathrow Express) to get from Heathrow Airport to my hotel or Canary Wharf. No matter which way I went it was always a drag.
However, I had often times seen and heard of Virgin Atlantic offering passenger motorcycle service in London but never been able to take it because we flew American Airlines or British Airways.
My last trip through London to visit my sister I decided to try to find and take a motorcycle taxi into London. The reasons behind this were simple: .
1. London traffic is horrible and it can take forever (1-2 hours) to get from Heathrow to anywhere reasonable in the city area.
2. London metro service was recently on strike and is often plagued by delays resulting in one being severely late and annoyed.
3. London's fast airport train (Heathrow Express) arrives in Paddington Station which is not convenient to my final destination in south London.
4. I believed that a motorcycle taxi service would offer a faster and more direct service to my destination as well as allow me to relax with fresh air after such a long intercontinental flight (California to UK).
I looked up Virgin's web site and decided to call their main office to make sure that they had the service available. I was then directed to another number which was the company that Virgin outsourced or partnered with to offer the service.
The person who answered the phone was friendly and asked when I was arriving/departing etc. The information on the web site was basic but enough to answer any questions that someone might have. However when I told him that I was coming in on a Saturday and likely leaving on a Sunday he told me that he couldn't help me but his competition could.
This being slightly unusual I asked and he said that there was one other company offering service and that they traded business when one company or the other couldn't handle the work. Okay, now motorcyclists, we're a friendly bunch but this goes beyond all compare.
Within 20 seconds he had me on the phone with his 'competition' and I had e-mailed them my flight info. We exchanged mobile numbers and agreed where we would meet. As my flight was 2 hours delayed when I landed I called Rob from PassengerBikes to let him know that I was on the ground.
He told me that he was checking the flight delay and that he would be at the airport in 30 minutes. Apparently I was talking to him while he was inbound on the bike via a helmet intercom. Very slick and the communication was clear. As I still had to collect my luggage, leave some of it in baggage storage, and clear customs – this timeframe was perfect.
Almost to the second when I finished everything, Rob was at the designated meeting point fully geared up in proper riding gear holding his helmet. He told me the bike was right outside and asked if I was ready to go.
Photo - Rob and the BMW PassengerBike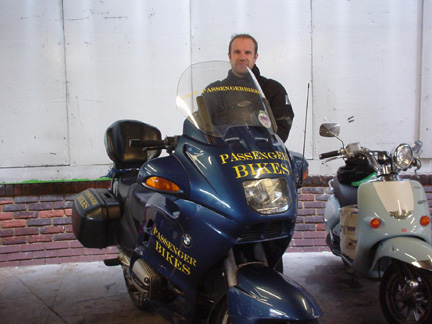 I decided just to bring my briefcase and a small bag with a change of clothes although I could have brought a much bigger suitcase as the bike was a BMW R1100RT.
We walked right outside and I was happy to feel the fresh air. After being on a plane for 20+ hours it was going to be great to be moving on the back of a bike. I took a quick look at the taxi and bus lines and had a nice laugh as those people prepared to move from one large metal container into another.
Photo - Airport bus line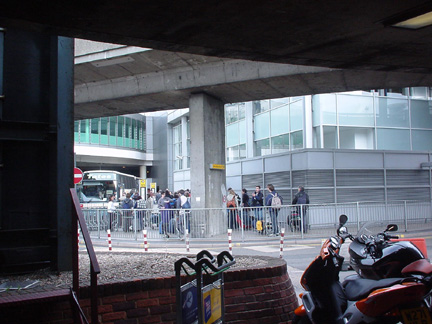 Within 3 minutes Rob gave me a helmet, jacket, gloves, and asked if I wanted a Gore-Tex blanket to cover my legs and lower torso. As it often rains in London they have this setup to be able to take people in any kind of weather. As I was wearing jeans and the weather was okay I opted just for the jacket. Rob strapped the briefcase to the back of the bike and put a bungee over it for safekeeping. The other bag disappeared in the right saddlebag and we talked for a minute about riding safety.
Photo - DHP is ready to go!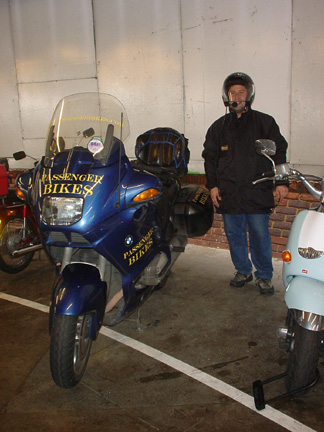 Once Rob was affirmed with my riding/passenger skills we hooked up the intercom, mounted up and away we went past the long taxi and bus lines. Filtering through the congested Heathrow traffic we quickly made our way to the front of the line where we were off as the light turned green.
Now, being a motorcycle rider and not used to being a passenger, I was quite enjoying the ability of 'riding' without doing the work. Especially after such a long flight with delays, screaming babies, etc. it was amazing to be able to breathe in some fresh air and take in the London countryside.
In fact, looking back on the experience not only is the motorcycle the fastest and best way to travel to and from London/Heathrow but is has to be the most therapeutic as you don't have to deal with crowed subway cars, blocked traffic, slow buses, or the rest of the modern marvels of the 21st century.
In about 45 minutes we arrived at my sister's house in Brixton. This meant that we had come from far western London's outreaches where Heathrow is, avoided central London (where the metro and Heathrow Express would have taken me), and had a great talk and ride along the way.
Photo - unloading the luggage from the bike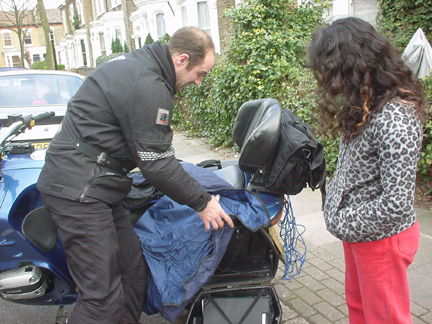 See the briefcase on the back. Side cases are also available for other bags.
Even though I've been to London many times for both work and pleasure, I really was able to learn more about the city and sights from the back of the motorcycle via this trip. I saw places and was able to better place them into perspective much better than if I was in the back of a taxi.
If I wanted to look left or right I had an unobstructed view. Fresh air, no problem just lift the face shield. Need to make a phone call, Rob would patch me through or listen to the radio and lean against the backrest to relax – all possible on the PassengerBike.
When planning my escape from London we had Rob meet us at a local market where my sister and I had brunch and did some shopping. We called Rob and told him to pull up right in front of the bench where we were sitting. We shared a coffee then loaded up the luggage and I got dressed in the riding gear. Time elapsed, 3 minutes then we were off and on our way back to the airport riding past Trafalgar Square and other sights all of which were easy to see and stop at using the motorcycle.
I arrived at the airport with plenty of time to spare. The ride on the motorway was fast and fun, too bad I couldn't ride all the way to Germany…
I definitely plan to use Rob's service again. He's a funny guy, a great rider, and the service is superb. If you're going to London or know someone that is I'd highly recommend using a PassengerBike or Virgin's service to get to and from the airport.
---

www.passengerbikes.com info@passengerbikes.com
(0700 596 3292). Fax: 0700 596 3293

Passenger Bikes Ltd.,
66a Parkway,
Ruislip Manor,
Middlesex, HA4 8NR.

Virgin Limobikes limo.bike@virgin.net
Virgin Limobike Limited
6 Half Moon Street
London
W1Y 7RA
Tel: 020 7499 6233
Fax: 020 7499 6190
---