Exclusive!!! - Didier Py's Touratech Schalber Rallye bike from Paris Dakar 2001
One of the very cool things that has developed from my friendship with the people at Touratech is that on my frequent visits I often get to see some new developments or bikes in the shop.
In the main conference room they have now placed Didier Py's bike that he rode in the 2001 Paris-Dakar. It makes for quite an impression when you're sitting down having a meeting discussing motorcycle business with such serious hardware in the room.
As it's not a bike that's open for public viewing I thought that a couple of photos here would be nice to share with people. You can compare this to the other pictures of the F650GS Schalber Rallye bikes that I have on this site including my own to see that they're basically the same bike. This is exciting in that private riders can now get a near factory spec rallye bike which can be raced right off of the showroom.
Regards,
David H. Park
david@dhpmoto.com
---
Didier's bike lives on in the conference room

Click picture for hi resolution version
Excuse me sir, but would you like one race bike with your coffee or two?
F650 Touratech Schalber (side view)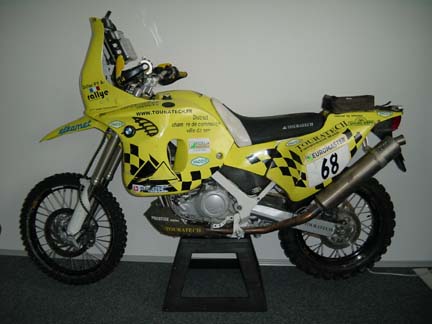 Click picture for hi resolution version
Didier did quite well in last year's Dakar having to retire with a mechanical failure but Touratech
and the F650 Schalber will be back not only with a sponsored ride but with several privateers.
F650 Touratech Schalber (cockpit view)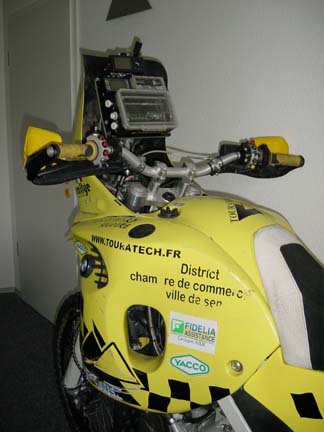 Here you can see what the professional racers have in the cockpit compared to the standard GS.
Rallye computer, roadbook, GPS and GPS assistant comprise the basic package.
Good luck next year Didier!
---