NEW!!! - Touratech Extra-Fuel Tanks and dual exhaust for F650GS & GS Dakar
On Feb 25th, SCX (no membership #) posted on www.f650.com that Touratech had new tanks available for use with the F650GS and GS Dakar that did not require the complete rally kit conversion. As I am converting my bike to rallye kit specs but also use it for touring, I was interested to see what was different.
Herbert from Touratech was most gracious is sending me these pictures which I'm sure will be up on both sites soon (www.touratech.de and http://www.touratech-usa.com). SCX reported an approximate 2300 DM price ~ $1080 USD (exchange rate 0.466048).
I'm not sure if that includes the twin headlights shown but I doubt it. (note - full kit price is should be around $1500) As for the other pictures it appears that a replacement exhaust in a dual style just like the OEM is also available.
I prefer the higher rallye front fairing with oil cooler and more room for roadbook and computer stuff but unfortunately have to stick with the standard cockpit fairing (which I've converted with the IMO 300 computer and Carbon Fiber-TT roadbook).
If you're interested call Tom at CycoActive/Touratech USA on these products. When I posted the pictures originally these were new but now he's up-to-date.
Enjoy the pictures. If you want to download original full-resolution sizes just click on any given picture. Thanks to SCX for the heads up on this one.
Regards,
David H. Park
david@dhpmoto.com
F650GS Dakar w/Touratech tanks (front view)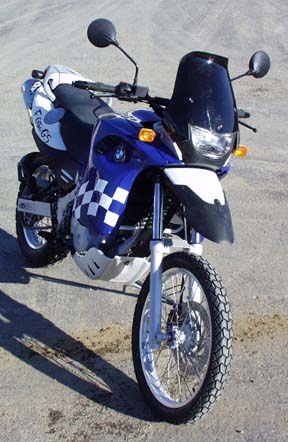 This bike has the tanks on with normal headlight configuration.
The paint job is copy of BMW Team but I'm sure that you can get it done any way that you want.
F650GS Dakar w/Touratech tanks (side view)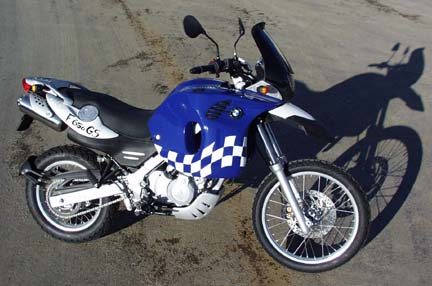 Definitely casting a bigger shadow up front with the enlarged fuel tanks.
Capacity is rumored to be around 21L giving the bike a total of 39L..
F650GS Dakar w/Touratech tanks (closeup side view)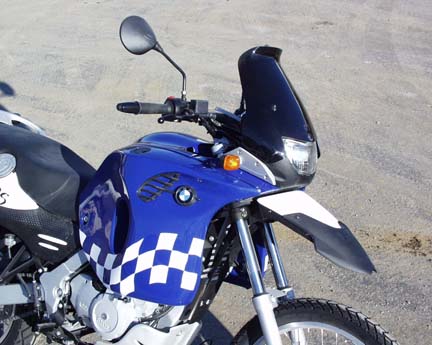 Visually, compared to the tanks on the Schalber replica these appear higher on the "hump"
and also appear to go over the front part of the seat pushing the rider back. The Schalber
replica has a custom seat which alleviates this apparent condition caused by adding the tanks.
F650GS Dakar w/Touratech twin exhaust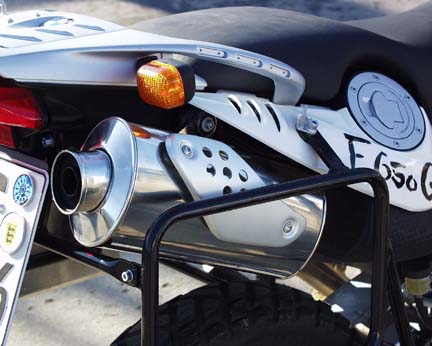 While I've got the Staintune on my bike, apparently Touratech wants to sell exhausts as well.
Product name appears to be "Sebring".
F650GS Dakar w/Touratech tanks (front view)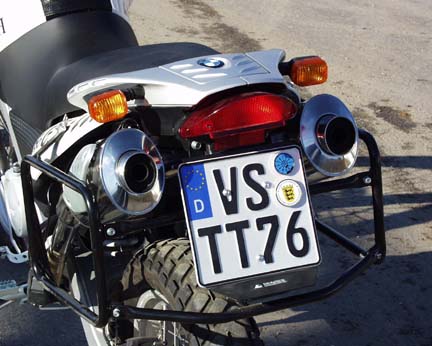 The dual exhausts keep the OEM look. No word as of yet if they include
catalytic converter or eliminate it. The rack is Touratech's standard rack for the GS.
Dual headlight conversion - F650GS & GS Dakar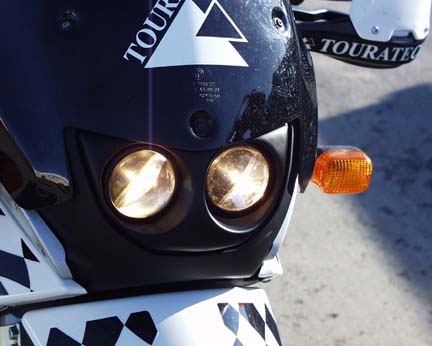 Twin headlight conversion with stock fairing. No specs as of yet if these have
both high and low beams. This is derived from the Schalber rallye replica.
---