Touratech—Shop pictures
Given the time, there is no journey more fun to make than to the magical workshops of motorcycle people all over the world. One such trip that has become 'routine' for me has been my pilgrimages to Touratech in Niedereschach, Germany. Located south of Stuttgart in southwestern Germany it's been a real pleasure to deal with Touratech and get to know them very well.
I've gotten to the point that whether I'm coming from Frankfurt, Stuttgart, or Munich - I can pretty much just drive and navigate by memory. I've collected a few unique photos that I took at Touratech this year (2001) to give you web site visitors a glimpse at their facilities and in this way a small feel for the place.
If you're ever in Germany, make a trip by Touratech and say hi for me!
Regards,
David H. Park
david@dhpmoto.com
---
Melanie Samira Hess - Ms. Congeniality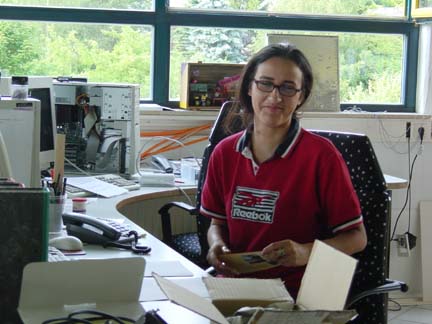 Melanie and I have talked way too much over these past two years.
She always returns my calls and e-mails promptly. If you have any questions
regarding Touratech you can e-mail here at TOURATECH@t-online.de
Red/White Touratech F650 Schalber Rallye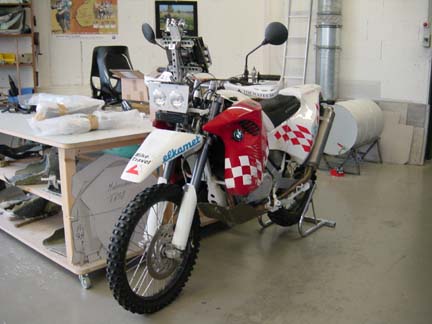 This is taken downstairs in the bike assembly and parts testing area.
Touratech supports many amateur and professional racers.
The bikes are re-assembled and tested downstairs.
This one was one of the first rallye bikes that they built.
Red/White Touratech F650 Schalber Rallye-rear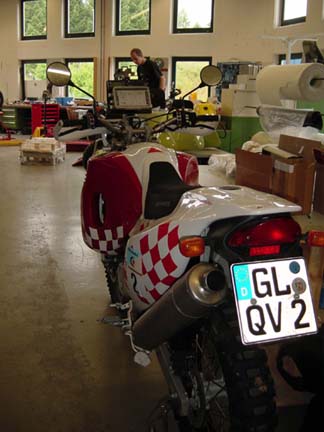 You can see that there are big windows and high ceiling all around.
I love spending time in the workshop. It's too cool!
Touratech - Main Floor - Interior
This is the inside of the main floor. Everybody with 'office' jobs works in the back on the same floor.
There are parts bins for inventory right on the same floor (efficient). Various bikes showing the
equipment already installed are arranged throughout the showroom.
Touratech - Main Floor - Zega Cases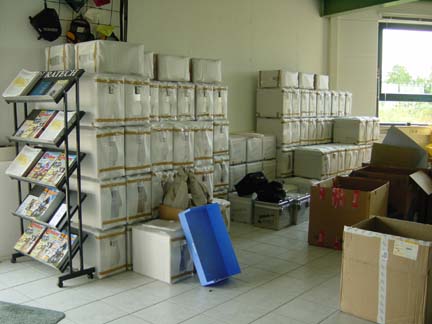 This is the stocking area by the front door. In case those of you were wondering where they keep
the Zega case inventory - here it is. Touratech is one of the pioneers of this case design and I think
that their product is the best. They sell a lot of these so I doubt that this stock is there anymore.
TT39 fuel tank conversion & Herbert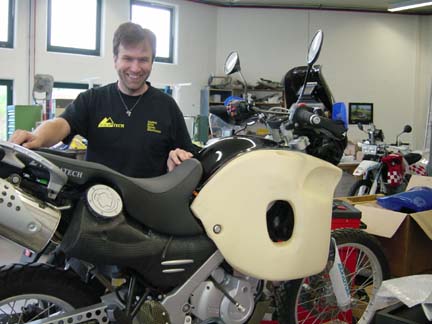 This is a TT39 conversion. Basically it's the larger Paris-Dakar style fuel tanks fitted to a stock F650GS.
This gives the rider a total of 39L of fuel. A dual headlight conversion is done at the same time along with a new seat.
Touratech put a lot of resources into making this tank conversion for the touring marketplace and my travel F650GS
is getting one of these set up as soon as I get back to California.
---