Items for Sale
Like every other avid motorcyclist I've collected a good deal of stuff which I'm selling to make room for newer stuff. If you want something just send me an e-mail. I've tried to post fair prices but am willing to listen to reasonable offers.
---
1. Complete OEM Exhaust from 2001 BMW F650GS Dakar.
Used for 100 miles before I replaced it with a Staintune. Ready in box for shipping. If you've got a problem with your OEM exhaust (accident, whatever) and need to replace it why buy a new one when you can have mine for half the price.
---
2. BMW Kalahari Boots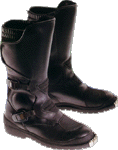 These are the real thing. I bought them in a pinch when I needed them - the problem now being that they are a
little small for me as I rushed the purchase.

So, I'm replacing them with a newer pair in a larger size. That's how good these boots are. So the lucky
buyer gets a chance to pick up my old ones for a fair price.

The boots sell for $325 new. I know as I just paid for my replacement.

My boots are size 41 which is about a US (8.5-9.5). They are in good condition and have become a favorite item of BMW dual sport owners worldwide.

Super duty protection from these boots! Gore-Tex to make them waterproof and breathable. Flexable right out of
the box for a shorter break-in time. The best "GS" boot made yet.

I think that my old boots are worth $150 but if you feel that I'm crazy make me an offer as I won't be wearing
them anymore.
---
3. BMW On-board computer
The F650GS on board computer is a handy device, which mounts to your handlebar. The digital display accurately reads out your current speed, average speed, maximum speed achieved, journey distance and total distance. The unit also features a clock with an alarm function, which can be set to read out in 12 or 24-hour format. Comes with complete instructions, and all necessary wiring and mounting hardware.
---