The Trip - San Juanico
I backtracked through San Isidro and La Plurisima stopping to buy some water and fill up my backpack. I had heard from the Baja racer that I met in Todos Santos that the road to San Juanico was the start of some serious washboard, sand, and silt.
Right from the turnoff I saw that he was right. The road was one continuous rippled surface and was a very powdery white talcum-like sand. It made it very hard to see the context of the surface and several holes suddenly emerged from the bland road surface.
Eventually after an hour and a half (or so) of riding I came to San Juanico. Along this road I was very tempted to go fast to smooth out the bumps and ride the sand. I did this without much caution as the road appeared to be flat and without many issues.
Eventually a bay (Bahia San Juanico) appeared and the sand changed color to a darker waterlogged color. I had arrived at San Juanico a famous town on the Baja 2000 route.
Photo - Bahia San Juanico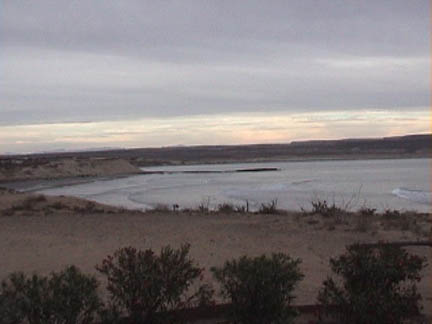 Aside from one tent on the beach there was only one RV in the whole place. It looked like if I was going to be celebrating New Years' Eve that I would be doing it with the locals. Since I thought that everything would be closed tomorrow and I might want to leave town I decided to find the gas station. It wasn't too hard to find with lots of racing stickers and 55 gallon drums around.
Photo - Gas Station - San Juanico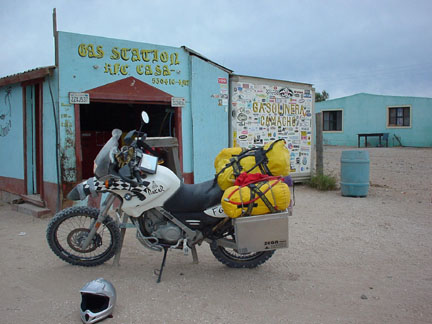 I made camp up at Scorpion's Bay Campground where the charged me $4 to pitch my tent and use the facilities. This place run by an American is first rate with great showers and toilets. I was the only one there as nobody else was in town. It's great to have the run of the place. After about 7 pm when I had locked all my stuff away, I rode down into town to get acquainted with the locals.
Photo - Dinner - San Juanico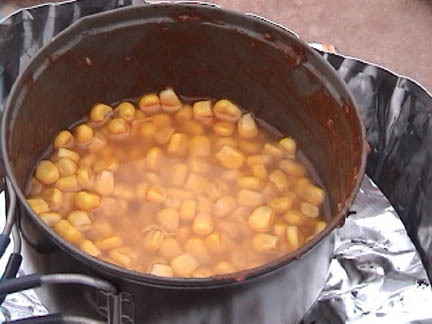 Parking my bike near the civic hall where the night's festivities were going to be, I walked through the streets until I saw another dirtbike. This turned out to belong to a guy named Tomasso who's family ran the gas station where I filled up.
Tomasso invited me for a few beers and we sat on the steps of his uncle's house getting to know the neighbors, his relatives, and friends all whom were coming down to San Juanico for the party. The party was a typical one for the area. All of the local people got dressed in their holiday finest and got ready to get down and boogie, well actually to dance "ranchero style" which is kind of like country western dancing.
Entrance to the party was 60 pesos (about $6 and beers were 10 pesos, or about $1). We took turns buying rounds and eventually I was introduced to most of Tomasso's group of friends and family in the whole town.
The evening ended with the soliders (who were not locals) leaving the dance hall to get their automatic rifles and salute in the new year with a full barrage of bullets into the air. For a while I was able to film them using night vision until they got a bit worried and asked me to turn it off (which I was only too happy to oblige).
Photo - night vision, soliders on New Years Eve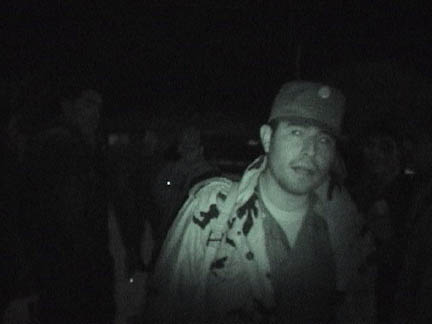 The next day I got packed and headed out of San Juanico. It would have been nice to stay longer but the road back to the States was a long one. I still had over half of the Baja left to cover including some significant dirt roads.
---