Biancoblu - Motorcycle Rental in Milan, Italy
---
Okay, with my trip to the Formula One in Monaco for 2001 set - I had to decide how best to get there. Now, let me think for a minute... How about renting a motorcycle and riding down to Monaco from Italy. That sounded about right.
For those of you who don't know about the south of France, even without a major event like the Formula One going on it's filled with limited access roads and lots of people (in season). When the Formula One however comes to town it makes getting around Monaco and the surrounding areas even more of a challenge. Flights are full, taxis super expensive and everything moves at a snails pace.
I figured that if I flew into Milan instead then I would be able to rent a motorcycle and have a nice ride down to Genova then into Monaco. I contacted Biancoblu talking to partner Renato Baffico after finding them on the Internet and they were very friendly and helpful. I made arrangements to rent an F650GS Dakar (a bike that you all know that I am familiar with) including side bags and a top case.
As I had many formal events upcoming in Monaco, having the top case was important to fit my tuxedo, suits, and formal clothes. The rest of the bags were used to store my sports clothes and I bungeed my small duffel bag on the back. Anyways, enough of the "pre-trip" description, read on...
---
Photo - Biancoblu front office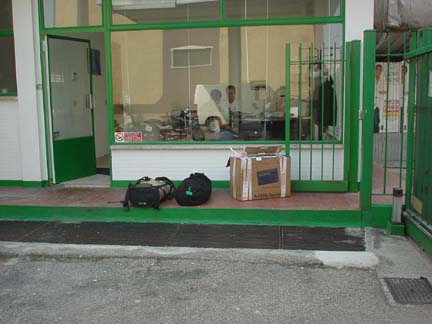 Biancoblu was a pleasure to deal with. I can't wait to return to Italy to rent from them.
That's Renato in the office taking care of paperwork to get my bike ready to rent.
Photo - Ducati monster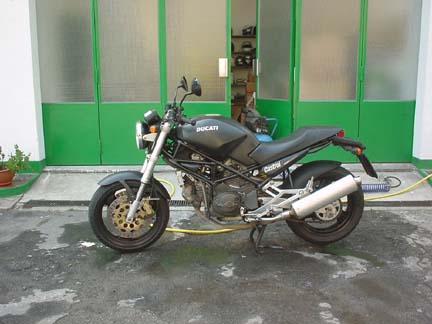 This being Italy I was tempted to rent 'Il Monstro' but that wouldn't have been practical.
Photo - John (another American renting from Biancoblu)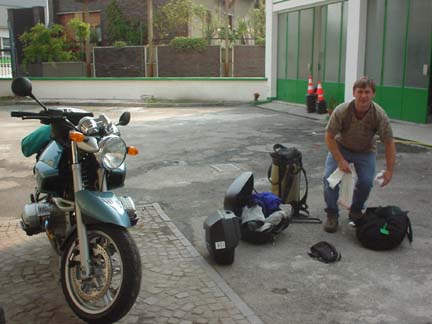 When I was getting ready to leave another American, (John) showed up with his gear.
He was also headed down to Monaco to watch the F1 race so I decided to ride down with him.
He had a lot of gear as he was going rock climbing. He rented the R850R (nice bike) and was good to
ride with although not very comfortable with lane splitting in heavy traffic.
Photo - BMW R850R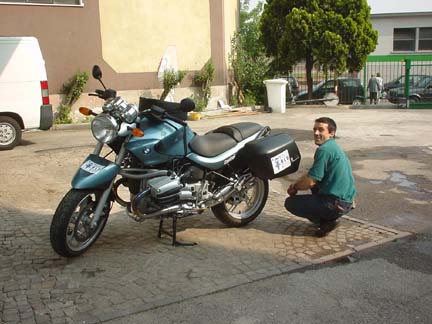 This is one of Biancoblu's partners, Enrico Della Porta, getting John's bike ready.
I can't truly say enough about these people. Professional, easy-going, a real pleasure to deal with.
Photo - F650GS Dakar in Milan (getting ready)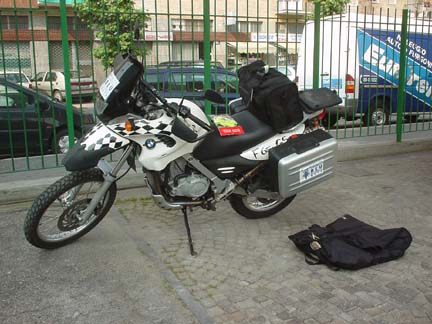 A comfortable and fun ride. F650GS Dakar with BMW cases and top case (not shown).
With this I was able to carry a complete range of clothes for my trip including a tuxedo, sport coat, two pairs of shoes, and sports clothes.
---

Biancoblu
www.biancoblu.com
via Gallarate 33 I 20151 Milano
Office: Phone (+39) 023082430 - Fax (+39) 0233494266
Mobile: Phone (+39) 3482211701 - Fax (+39) 3482215821
Renato Baffico/Enrico Della Porta
---