Monaco 2001 - Formula One Grand Prix
---
Monaco. Just the name is magical. The scene of countless triumphs and tragedies. The very name evokes scenes (set by the movies) of jet set millionaires (or billionaires), their yachts, and fancy parties. I've always enjoyed Monaco whether doing it 5 star style or low key just hanging out with friends.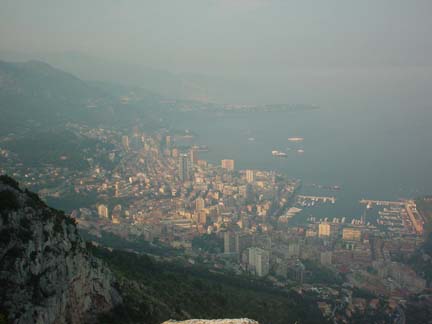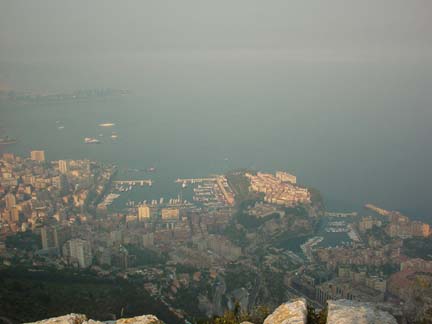 Two pictures here so that you can see the length of Monaco and both ports. The camera wasn't able to shoot the whole thing (sorry)
This year I decided to check out the Formula One having been invited to the festivities by one very crazy (in a fun life enjoyment kind of way) former Formula race car driver, Fulvio Mario Ballabio.
I'll try to add some race photos later when I find where I put the CD that I have them on. Until then enjoy some pictures that I took in and around the festivities. If I don't have enough photos here of cool cars, beautiful people, yachts, etc. for you to enjoy then tough! :-) I was very busy enjoying myself and sometimes I just have to put the camera away to be part of the scene and not simply record it.
---
Photo - Rain in Italy on the way down to Monaco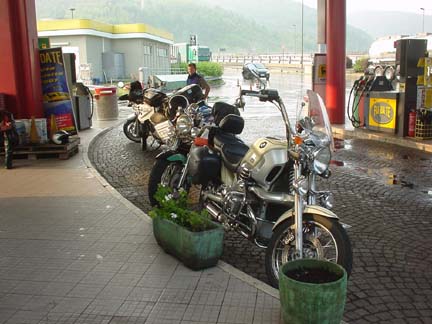 It rained just as we were at the high point of the mountain passes coming to Genova.
So we took cover at a gas station where there was a bunch of hard core German BMW riders there.
Conversation was minimal but we did enjoy checking out each other's rides.
Photo - Dakar on french mountain road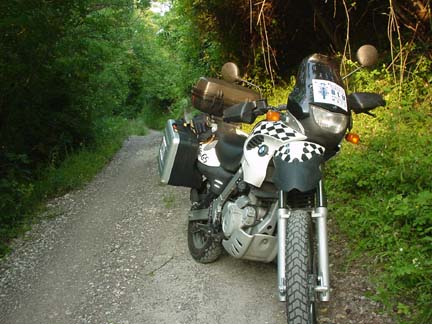 I thankfully had many days before and after the race when I could motor around the south of France
and find some trails to ride. On days like this I was happy to have the dual sport ability of the F650GS Dakar.
Photo - Lamborghini Diablo

On the way down to Monaco especially before the Grand Prix you see all kinds of supercars.
Many are rented in Germany (Ferraris) so that the German renters can enjoy their weekend with Schumi.
Others like this Diablo are local to towns like San Remo. It's really normal to be filling up next to such cars.
Photo - Parking at night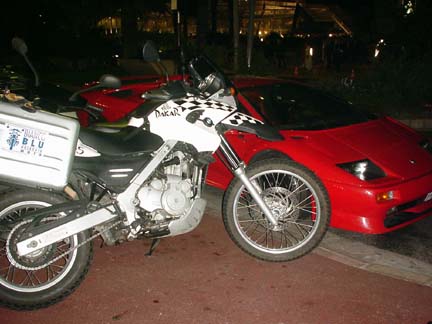 Parking in Monaco is much easier with a motorcycle. This is the bike parked outside a friends apartment
in front of his Lotus Esprit. I love European sensibilty! Why can't we do this in the states (parking in curb)?
Photo - Mercedes GTR (click for enlargement)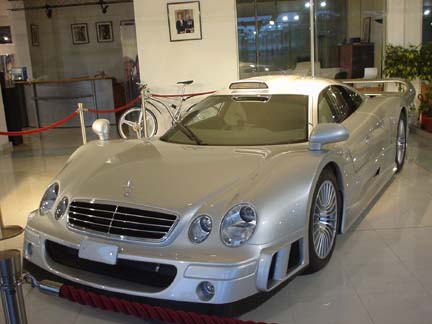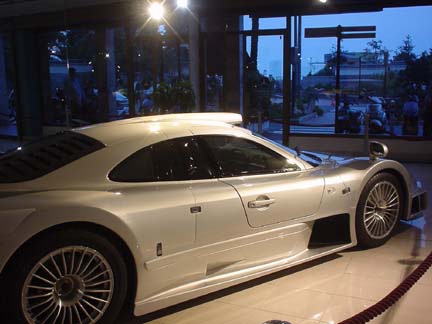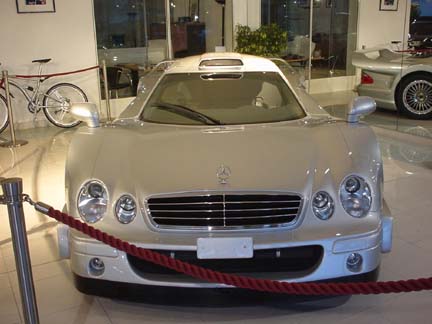 Okay, I am a BMW aficionado but I've always loved this Mercedes since I saw it in the magazines.
It's a bit out of my reach right now but perhaps in a few years...
Can you believe that this is street legal (Europe)! Even in Monaco this would turn heads.
Photo - Cap Ferrat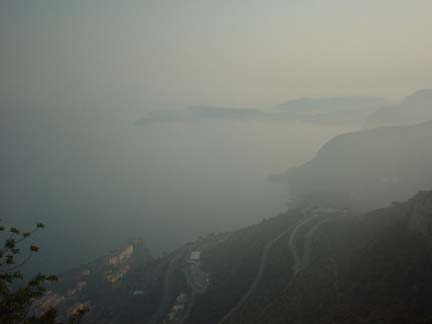 If you ride up "La Turbie" you can get an amazing view of the whole area.
It got really cloudy but you can see the road leading up the mountain.
In the distance is Cap Ferrat where we have great houses and eating places.
Photo - DHP Dakar in Italy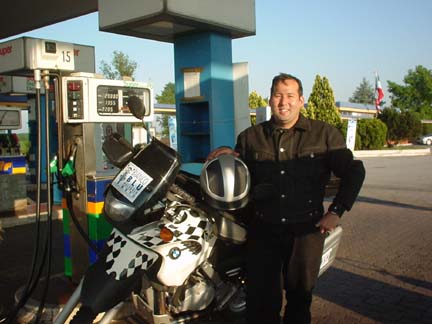 The ride back was fine. Lots of sunshine. I brought my BMW Maverick jacket as the primary protective garment
and used an open face BMW Airflow helmet. The Airflow especially was great as the weather in the south was HOT.
Of course, the Dakar performed perfectly. It ran fine and I only experienced some light surging one time going uphill (strange)
at 6k RPM maximum constant acceleration.
Photo - Misc. moto in Italy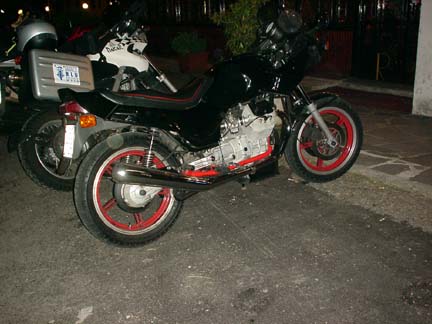 The joy of motorcycling is that every now and then you'll see some strange machines that you've never seen before.
I was really tired when I took this photo so I didn't do a good job of documenting this bike but it just was a
neat random bike that was parked at a remote restaurant that I had a late dinner at on my way back to Milan.
Photo - Dakar parked at hotel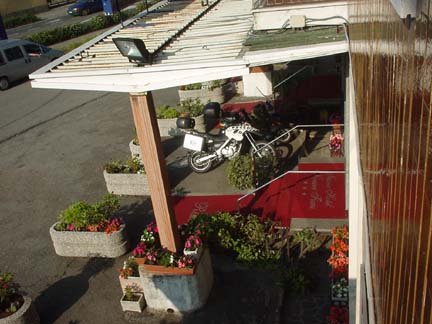 At night, wherever I park - I worry. Here I was able to put the bike 'inside' some concrete barriers
thus trying to make it harder for people to move. It had the disc lock and cable lock as well.
Then I was able to view the bike from my room where I took this picture from. Never hurts to worry a bit.
---