Introduction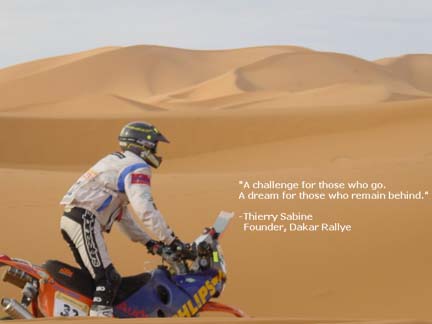 Welcome to my page regarding the Paris-Dakar Rallye (now most often just called the Dakar Rallye). I've been a life-long enthusiast of this event which is the most demanding long-distance off-road motorsport race in the world. This page is a temporary page for now so please excuse the lack of content. I was afforded the chance to go on the '02 Dakar (Arras-Madrid-Dakar) as a member of the press and I'll put some of the pictures and video up here for all to see.
Most importantly though, I am planning to ride my first Dakar starting with the '05 rallye (Dec '04-Jan '05). As such these pages will chronicle my training and preparation as well as have information about the results, sponsors, and other such information. For now I've prepared a short video (2 min 30 sec) giving you a small taste of what the Dakar Rallye is all about.
I have a detailed multimedia presentation that I can give for motorsports enthusiasts called "The Dakar Rallye: Behind the Scenes, An insider's look at the world's most demanding race". I gave this presentation for the first time on 1/22/03 at California BMW/Triumph and we had over a hundred people turn out for the event. I'm next scheduled to present this at the upcoming '49er Rally but if you'd like me to do it for a club or dealership in your area simply drop me a line and we'll see if we can work it out.
Thanks to everybody who's supporting me in this challenge. Dakar '05 here I come!
Regards,
David H. Park
---
Sponsorship
A special thanks to all of my sponsors:
Also thanks to the following people who help me train:
Last but not least to the following workshops/craftsmen who help with special modifications:
Custom Metal (Belmont, CA)
650-592-6212
Weld-Tech (Redwood City, CA)
650-368-3368
---
Videos
Note - please download and don't stream the files. Streaming videos will come later.
DHP Dakar Rallye presentation - introductory video, (2 min, 30 sec), 5.6 Mb, 240x180, 12 fps (web quality)