New!!! - BMW Solo Seat for F650GS/Dakar & new colors
I always love to get new things available for my bike before generally available to the market or right when the first come out. Don't ask me why, I've always been an early adopter. If you've been following this site, one of the things that you'll know is that I would prefer for my F650GS Dakar to have a seat setup more like the solo seat on my R100GS PD.
So when I was recently in Munich at the BMW factory store on Frankfurtering, I was pleasantly surprised to see a solo seat setup on a stock F650GS Dakar. Earlier in the week I had been at Touratech and they told me that people saw this on the bike at Intermot (trade show) but they had not seen it. While at Touratech we played around with the design of a real solo seat and luggage rack that we hope to get prototypes of in the next month as time allows. However the solo seat from BMW was worthwhile to get and so I went upstairs to the parts department with my fingers crossed to see if they had it.
I almost missed seeing this seat on the bike as it looks just like the stock seat so I didn't go over to check it closely. Only on my 3rd time in and out of the dealership did I notice that the seat was different because the angle of the light had changed. The seat only cost me 398 DM or about $ 185 USD (plus I got VAT taxes back). The BMW part number for this solo seat is 9048198 (I think) so if you want it go to your dealer and have them fight BMW NA to get it for you (I'm assuming here that the channel is not fully aware of this part).
<Click any of the photos for a larger photo>
Photo - BMW Dakar w/solo seat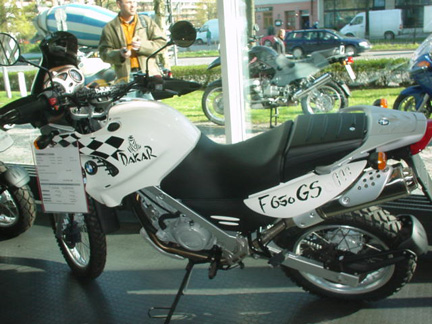 Can you see why I almost didn't see that this bike had a solo seat?
Position and other criteria appear to be just like the standard seat.
Photo - Closeup of rear compartment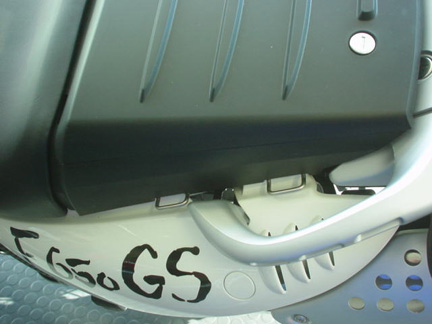 The seat has loops on the side for bungees or straps. You need to install a lock kit which is not included.
This can be keyed to the same key as the bike. The area underneath is a simple storage compartment..
The design still isn't what I want in a seat (front to back strapping and more room for luggage), but
my dealer was amazed when I brought it in to show them. What do you all think?
Photo - Shopping at BMW can be fun!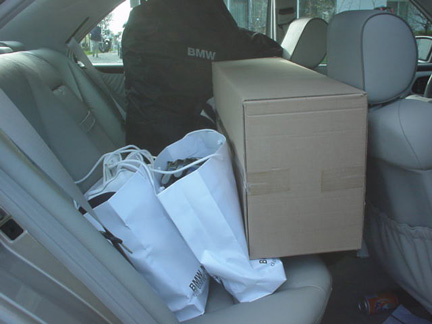 Okay, so this is the back seat of the car. I don't have time (now) to describe some of the neat
new things that I got but suffice it to say that the trunk and back seat were full. I felt like a mobile
BMW dealership in a way, except that the car was a Mercedes.
Photo - The new colors on the showroom
I actually saw quite a few new colored Dakars on the road near BMW's headquarters.
This one was on the showroom floor. It used to have a fully suited rider mannequin on it but
we took the clothes off of this dummy as the pants fit me and I needed them to complete a new Rallye suit.
So from one dummy to another...
---
Hope you enjoyed this quick preview of the new products.
---