City Bike - August 2001-Jimmy Lewis Article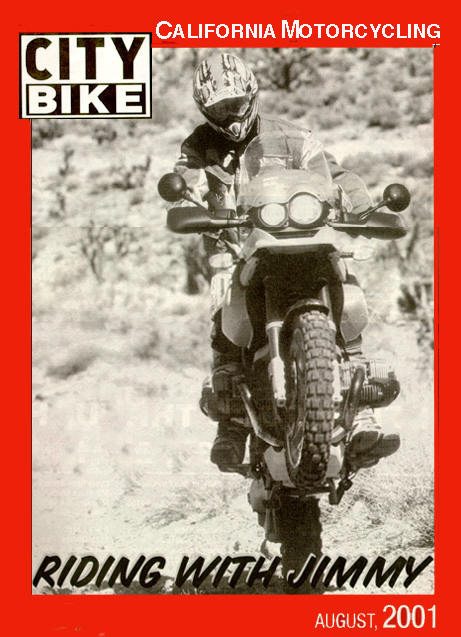 Learning from a master of adventure and fun - ADVENTURE TOURING CLASS
By Mark Kariya

Very few motojournalists can boast a racing resume as successful as Southern California's Jimmy Lewis, the off-road editor of Cycle World Magazine. Though barely old enough to qualify for the Vet class, the fun-loving life-long dirt bike rider has done just about all there is to do when it comes to racing. He's won the Baja 1000. He's qualified for the field of a very competitive AMA 250cc National MX. He was on a squad of four young Americans who, in 1991, won the Junior World Trophy at the International Six Days Enduro. And he's won countless local races in the desert and on motocross tracks, including the cult-like Langtown Supercross for XR minis. Actually, his favorite type of riding varies almost weekly, it seems.

But he's probably best known for his most recent passion: African raids or rallies, those multi-day, long-distance sprints across practically featureless desert, done while navigating via landmarks, GPS waypoints and one's own instincts. After a near-death experience at his first Dakar Rally due to sickness-induced dehydration, Lewis has blossomed into a very competitive figure in this exclusive world. Last year, as a member of the factory BMW team, he started off the year with a promising third overall at Dakar and ended on another high note, winning the Dubai Rally.
There's probably no one else on Earth who has that breadth of experience and skill. And, fortunately, he's willing to share it.

WHO'D WANT TO GO BACK TO SCHOOL?
Enter one David H. Park. Though he's only been riding a comparatively short time, he's certainly caught the "bug" in a big way and has a passion for BMWs, especially the GSs for their adventure-touring capabilities. His current mounts include a '91 R100GS P-D and an '01 F650GS Dakar. Inspired by BMW's history of success in Dakar served only to spur his enthusiasm, and Park began dreaming of one day entering a similar long-distance event, though closer to home something like the Baja 1000 or Vegas to Reno.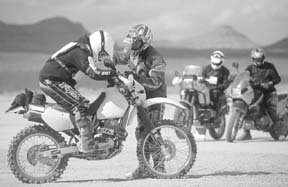 Doing so, however, would require more skill than he possessed. Thus, Park needed to learn and the quicker the better.

Being more intelligent than a lot of people who'd simply go out and put in miles, thinking that just spending more time on the bike would improve their skills, Park opted to go to school. But not any school would do. "I had made plans to go to BMW's enduro school in Hechlingen, Germany, twice and was looking into other off-road schools when I came up with the idea to try and get some training in with one of BMW's Dakar team pilots," he says.
"First on my list was Jimmy Lewis because he's the only American to recently have done Dakar, and I've heard nothing but good things about his approach to off-road riding and coaching ability. While I've enjoyed going to Germany for the enduro school, I thought that this time it might be nice to get the instruction in English."

When Park was trying to contact Lewis about attending a school, however, it happened to be during the latest Dakar, which wasn't so kind to either Lewis or BMW. Lewis had problems almost from the start and would eventually finish seventh with a broken collarbone and two severely sprained wrists. Obviously, Park would have to wait until Lewis returned to America and healed.

Lewis also suggested that Park get a few buddies together to reduce per-person costs and generally make it more fun. While Lewis offers a school for hard-core dirt enthusiasts, the one Park wanted was the adventure-touring version.

To find others who might be interested in such a class, Park says, "I talked to Kari Prager, the owner of California BMW Triumph, the shop that I use locally. He said that he would help spread the word around by his e-mail list, and I posted the same via Doc Wong's list as well as a few Internet newsgroups in the Bay Area."

Before long, he continues, "I was starting to get some responses from people who were interested and so I began building a list. We wanted to keep it small to get the most time per person and also to ensure that we [had] high-quality riders. David Earl came from Las Vegas and heard about it via the 'Chain Gang' Web site for BMW F650s. The rest of the group were locals from the San Francisco area. Eli [Ohlhausen] is the service manager of Cal BMW and a riding buddy; Barry [Schreidell], a friend of the shop and Eli; same for Bob Cunningham and Roderick Smith."
Since each class is unique, Lewis takes this into account and fine-tunes his standard curriculum to the group's collective goals.

CLASS IS IN SESSION
Since Park wanted to get ready for desert riding, possibly including sand dunes, Lewis suggested they meet for the two-day school in Jean, Nevada, about 30 minutes south of Las Vegas. Besides being close to plenty of evening entertainment, should that be desired, Jean offers a dry lake and plenty of trail access. In addition, the Dumont Dunes area south of Death Valley in California would be only a few hours ride away.

Lewis begins by teaching the basics. "When I was growing up and going to all these different motocross schools and stuff, I kind of thought a lot of them just told you how to pin it around a turn and left out a lot of the extremely basic stuff," he observes. "I started [with the basics in my schools], and people really took to it." He's been conducting school for about a half-dozen years now, though it's never been a formal business like many schools available. People tend to learn about it via word of mouth or his Web site, www.jimmylewisoffroad.com. After all, he's got a real job that keeps him very busy.

Most who take his classes will have a pretty decent idea of how to ride and may be fairly accomplished, but often they're self-taught and don't know why to do certain thingsˇor if they're even doing them correctly. And though those who choose an adventure-touring school aren't going to be doing things like nose wheelies or big jumps on their GSs, knowing how simply adds to one's bag of tricks and can enhance the overall riding experience. "The basic drills are really the same," Lewis points out. "I kind of egg the guys with the real dirt bikes on a little bit more because it's not such a big deal when they fall over; you're not dealing with a $600 fairing or something like that!"

Lewis starts out with bike setup and body positioning. Simple things like the angle of the handlebar or levers, brake pedal height or how you hold your arms can have a huge impact on comfort and ease of operation, you see. And that should be of utmost importance to those who ride long distances on adventure tours. After all, you're not going to have a very enjoyable adventure if you're only able to ride comfortably for an hour or two.
The dry lake made a perfect classroom and provided plenty of space for the group to learn and practice simple turns (both left and right, of course), wheelies (traditional and nose), brake slides, front-wheel skids and other drills. Practically all were a lot easier on pure dirt bikes like Cunningham, Ohlhausen or Schreidell rode. But Earl and Park on their F650s and Smith on his R80GS gamely tried each exercise as well.

"They all knew the basics of riding," Lewis notes. "It was just fine-tuning some of the control techniques of the clutch control, brake control. The whole idea is to show them what the tool, the motorcycle, is capable of doing so they can get the most out of it. It's like the difference between using a hammer to drive nails and just doing it with your hand. There are ways to make things really difficult out of something that's actually quite simple."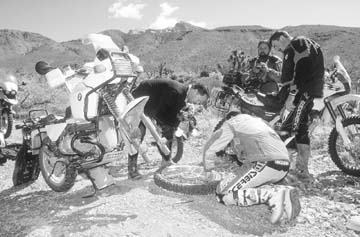 But the Bay Area students tackled them diligently. According to Park, "The training actually came across much more personalized then I even expected. Jimmy used very simple drills both in isolation and in combination to help us develop a feel for and communication with the bike. He's very into control setup and input. His drills reflected this and really helped me understand better how to 'talk' to my bike via modulation of clutch, braking and body positioning to get the bike to do what I want to the limits of the bike and available traction.

"I'm better now at combination clutch/throttle/brake control to set the bike up for what I need it to be doing. I try to be more conscious of where I'm at and what I need to have the bike set up to do using combinations of inputs."

Asked to name the most common problem that students encounter, Lewis quickly replies, "Essentially, it's like overload. When I give them all these skills [to learn] or teach them to refine these skills, the whole idea is I want to teach them to do it instinctively, as opposed to having to think about it.
"But when you teach five or six skills in one day and they have to try to integrate them all at once, they're still really heavy on the thinking part where they have to fall back and practice to try to make the drills instinctive. So, [for example], when you do see something [in your way], you use your front brake and not just slam on your back brake and sit down. Same thing when it starts bogging, you instinctively start grabbing the clutch as opposed to just whacking the throttle wide open.

"The stuff I teach, it'll improve your riding maybe 10 percent if you don't practice, just because you kind of know it. But if you practice it [correctly], it'll completely change the way that you're riding because instead of thinking about just the basic mechanics of riding, you're thinking about other things, like where to go, where to put your wheel, maybe being more creative instead of clutch/throttle/brake/how to stand/are my legs stiff?"
---