Overview-Jimmy Lewis Training Ride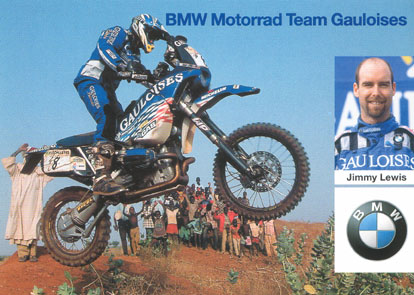 Okay. Another one of my crazy ideas was to do as much training as possible this year getting myself ready to finally tackle an official enduro/rally such as Las Vegas to Reno or the Baja. Already on my list I had made plans to go to BMW's enduro school in Hechlingen twice and was looking into other off-road schools when I came up with the idea to try and get some training in with one of BMW's Dakar team pilots.
First on my list was Jimmy Lewis because he's the only American to recently have done Dakar and I've heard nothing but good things about his approach to off-road riding and coaching ability. While I've enjoyed going to Germany for the enduro school, I thought that this time that it might be nice to get the instruction in English. At the time of my great insight, Jimmy was actually running in the Dakar having just suffered a serious accident damaging his wrists severely.
Being a tough competitor though he continued on in the race even with the great pain that this injury caused. I was even more impressed with his determination to finish and win so I looked up his internet site. It said that he did offer some training so I wrote him a letter asking that when he got back from Dakar, if he was feeling better (he later broke his collarbone), if he could consider doing some private or group training that I would really like to schedule a session.
He wrote back to me a few weeks later and we started a nice dialogue by e-mail setting up the basic details before getting on the phone to work out final details. Eventually we met outside of Las Vegas for a two day training session that I planned to follow up with a 3 day ride through the desert. What follows is a brief report of this great experience. We were also asked by City Bike magazine to allow a reporter along with us to detail this event and take photos. The article should be published in the next few months (spring/summer 2001) so keep your eye out for it.
Right now most of the videos are 15 second MPG clips. As I get more time I'll put them up in RealMedia format. I've been so busy lately that I haven't put these pages up so I just want to get them done now to share them and I'll come back later to make them better. My personal thanks to Jimmy for helping me become a better rider. I'm interested in arranging one of these sessions again so if you're at all interested by what you read just drop me a line for more info.
You can check out the City Bike article from August 2001 which covered this event by clicking here.
Regards,
David H. Park
david@dhpmoto.com
---
Table of Contents
0. City Bike Article - August 2001 - by Mark Kariya, Adventure Touring Class with Jimmy Lewis
1. Day 0 - Start
Loading up the bikes, a destroyed BMW (fire), and miscellaneous photos.
2. Day 1 - Setup
Introduction to Barry's 'zen' method of off-road riding, Jimmy's cool camper, parking lot stuff.
3. Day 1 - Dry Lake
Doing drills on the dry lake
4. Day 1 - Training
Movies of the practice drills
5. Day 1 - End
Happy endings for the first day.
6. Day 2 - Ride
Selected picture from the dual sport ride.
7. Day 2 - Flat Tire
Changing the only flat of the trip and introduction to the Choyo Cactus
8. Day 2 - Videos
Some quick videos from our dual-sport ride.
9. Day 3 - Ride
Post-training I took off for a ride through the desert. Here's the accounting of what happened..
10. Day 3 - Ride, part 2
More sorrid details of my ride from Las Vegas to LA
11. Day 4 - Ride
Soda Lake, getting stuck about a zillion times. What a mess!
12. Day 4 - Ride, part 2
Riding through the powerlines and BLM area on to LA.
---
Photo - DHP cranks a wheelie to ride the rocks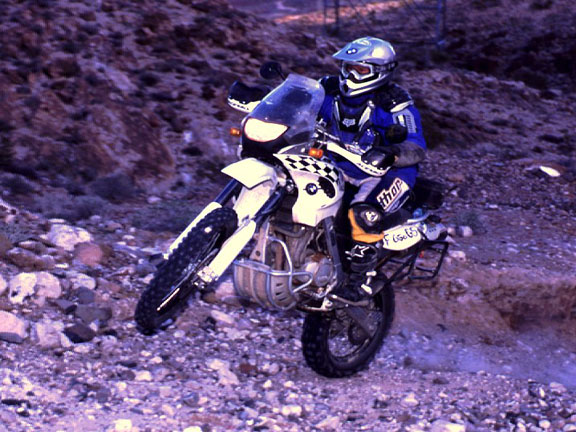 This was done on some rocky single track during day 2 of our dual-sport training.
Hope that you all enjoy these pages.
---