Specials - Scotts Disc Guard ('shark fin')
Okay, here's the deal. Of course the proper thing to do when preparing your bike for off-road use (even occasional use) is to make sure that you have the right protective equipment on the bike. Talk to any experienced off-road rider and they will tell you how important it is to make sure that the front and rear brake discs are protected.
I looked in to what was available for the BMW F650GS and there was nothing! Next I researched as to which products were best and there was only one manufacturer, Scott Performance Products that everyone could agree on as the #1 provider of off-road aftermarket products in this class.
I then went out and bought one of these disc guards for a KTM to examine the build quality. As it says below, it is machined out of a single piece of billeted aluminum. The owner of Zoom Cycles one of the nation's largest dealer for enduro aftermarket products told me that he's saved many of his bikes from expensive repairs from even casual encounters with foreign objects due to having the Scott's shark fin on his bikes.
I've contacted Scott himself and have arranged to have these custom manufactured for the BMW F650GS. This will include delivery of a BMW F650GS to Scotts for precision measurements and fitment. Minimum order for basic production is 30 units. The cost will be between $85 and $100 per unit which is close to what these retail for anyways.
As I only want to ensure that this critical product is available to the BMW F650GS community I am arranging the design and production from Scotts and will not be making any money from this. I will however be assisting everybody by acting as a central point of contact ensuring shipment to those who order the products.
I would like to have Scott working on these right away so if you are interested please contact me right away at david@dhpmoto.com giving me your phone number so that I can call you to discuss final arrangements.
I am really excited about being able to have these parts available for the BMW community. This offer is valid for US as well as International owners.
Regards,
David H. Park
Scotts 'shark fin' brake guard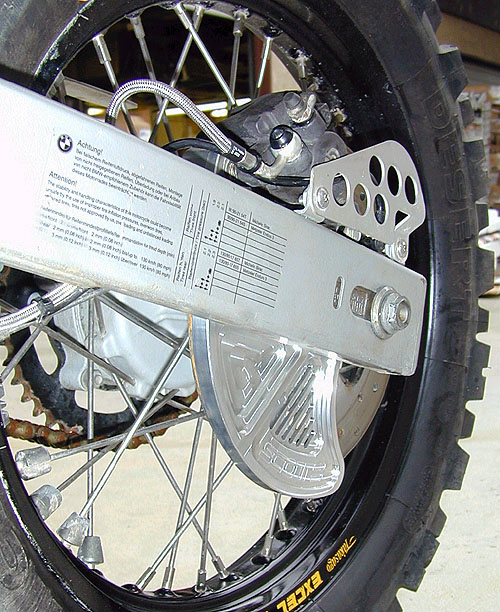 This is a custom piece that is made to fir the BMW F650GS.

If you ding your brake rotor, you have no brakes, which is bad enough by itself and can lead to a serious accident.
The SCOTTS Sharkfin is 3/8" thick billet 6061 aluminum, 25% thicker than any others on the market.

It is the only fin that incorporates the brake caliper carrier as an integral part of the function.
This means the axle passes through the shark fin making it virtually indestructible and your brake rotor protected from defeat.

This design is 10 times stronger than the "Bolt-On" type fins and it's a beautiful piece of work.
---