R900RR - Detailed Photos from the 2001 Barcelona Motorcycle show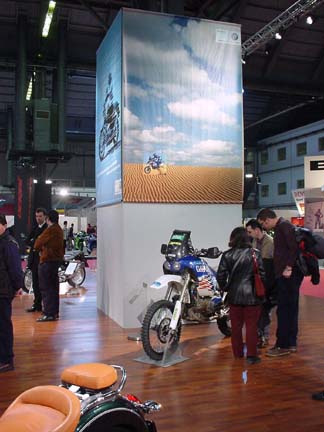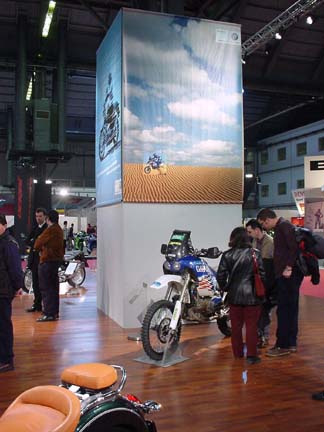 Probably my absolute favorite thing about the sport of motorcycling has to be the Paris-Dakar rally. A journey through exotic and ancient lands, combined with a test of strength, skill, cunning, and endurance. A European sense of adventure in the African continent - racing through the desert, meeting up at night for repairs, food, and the camaraderie of your teammates. you 'compete' to 'survive' but are even helped to finish by other people who are 'racing' against you. There is nothing else like it in the world and ever since I heard about this amazing 'race' - I have been fascinated by it - following it closely throughout the years.
At first I liked the car drivers and thought that the motorcycle drivers were crazy to do this - but over time as I've gotten to know more about the sport of desert rallying, I've come to appreciate what makes doing this race through the desert on a motorcycle a very special experience. At the BMW pavilion they had Nani Roma's R900RR on display. Nani is a popular Spanish rider who only started riding when he was about 21 years old. Even given his late start he's come onto the world rallying scene and done quite well for himself. This year was his first year riding for BMW after many years with KTM. The race was expected to go to either Richard Sainct (former BMW pilot and PD winner) who was now riding for KTM or to Nani, with the respective teams supporting these two lead riders.
I won't go into race results here except to say that Nani had a pretty bad fall in which initially they thought that he broke his leg. In the end it wasn't broken but that was the end of his race.
With regards to the motorcycle, I was very impressed with what HPN had done to prepare this bike. For the first time, I was able to take many photos, all of which appear here on the following pages. Of special interest to me was the control setup on the grips, the heavy-duty oil, water, gas lines, and the frame enhancements.
I haven't seen many up-close photos in motorcycle magazines either in the States or Europe (or on the web) that will let someone see the detail necessary to source the parts and make similar modifications. This was my objective in taking the photos. For the purpose of the web site, I've downsized these from their original large format of 22"x16" to 6"x4". If anyone is particularly interested in seeing a larger photo (same detail just larger and clearer), drop me a line and I'll consider sending you what you want.
Hope that you all enjoy these pictures. I'm hopefully going to be able to take a look (and a ride) at the F650RR later this year for a similar workup.
Regards,
David H. Park
david@dhpmoto.com
---
2001 BMW R900RR - Paris Dakar Rallye Bike
Pilot=Juan 'Nani' Roma.
Picture 1 - die maschinen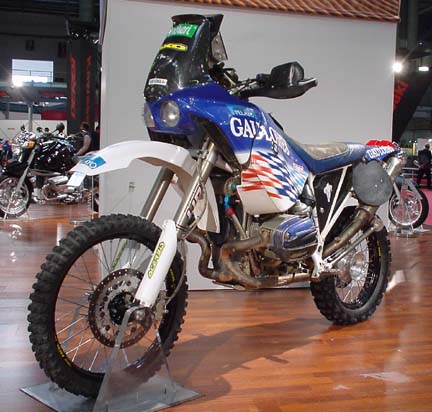 Who says that you can't race the boxer off-road. This bike has a
"we'll show you" attitude right from the start.
Table of Contents
1. Motor
Closeups of the boxer motor with magnesium heads and carbon fiber guards
2. Cockpit
The air filter, roadbook, and rally fitments up close.
3. Controls
Left and right grips showing what they have mounted for controls.
4. Radiator
The ever important cooling system.
5. Front Wheel
A few shots of the cable routing for brakes and shock at the front.
6. Rear
Various pictures of rear wheel, muffler mounts, and brake actuator.
7. Misc. Closeups
Fuel filter and petcock, carbs, tank welds, and other goodies.
---