The Trip - Away we go!!!
I bought a used Kendon trailer on the recommendation of my dealer. This is really functional and can hold two bikes. The day that I started my trip I actually did the morning session of Doc Wong's Enduro Riders Clinic at Hollister before trailering down to San Diego (my starting point).
While I bought the trailer from an individual I ordered from Kendon the tie down straps and cover. These turned out to be really great as the ratcheting mechanism is very strong. I looked at other straps and am really glad that I took the time to get the right ones from Kendon.
Note - Doc's my doctor and he's a really great advocate of motorcycling spending lots of his time and energy promoting safer riding technique. My thanks to him not only for being a great doctor but for for highlighting some cool routes through Baja. Sorry you missed this trip Doc but hopefully you'll enjoy the photos!
What I'll try to do here in showing you the trip is present some photos and video clips. Most of the photos will be resized to fit the web with a few original large format available for download where detail is important or interesting. The video clips are encoded for transmission to people with DSL/cable using RealPlayer as I felt that this was most representative of the audience out there.
Have fun. Comments are welcome.
---
Photo - Ready to go!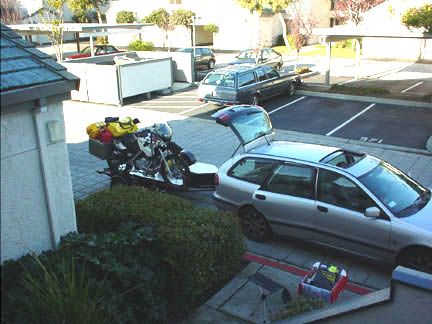 Doc Wong drew me a route from El Hongo through the National Part and Laguna Hansen down to Puerticitos on the East Coast. So I went down from Tijuana and took the road over to El Hongo. However, what I didn't know when I got to El Hongo was that I actually wasn't in El Hongo.
This happened even though I asked the local residents if I was in El Hongo because to them proximity is a matter of flexibility. The result of this inaccuracy was that from the beginning I was sent down the wrong road which quickly disappeared into deep sand drifts.
Photo - The "wrong road" from El Hongo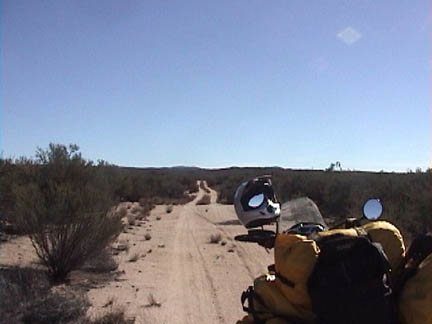 This was a rapid and sudden introduction to driving on unmarked roads and made me really happy that I had gotten the GPS. There were many times in this first few hours that I dropped waypoints and had to retrace my tracks. I got stuck a few times in really deep sand which made me realize very soon that I had brought too much stuff.
Eventually, it dawned on me that this was not the route that Doc Wong had laid out as there simply wasn't any road to follow. After the waypoints gave out I followed the compass back to the main road where I headed back west to the actual 'town' of El Hongo where I hooked up with the 'road' that headed south.
All in all it was an auspicious beginning and it caused me a great deal of delay. The way down through Laguna Hansen didn't get any easier however. Because of a series of recent storms there were numerous turnoffs which were unmarked and lead for several miles down paths which then dead-ended or stopped at various ranches. A couple of water crossings were thrown in for good measure making Day 1 a memorable experience.
Photo - Water Crossing on the "right" road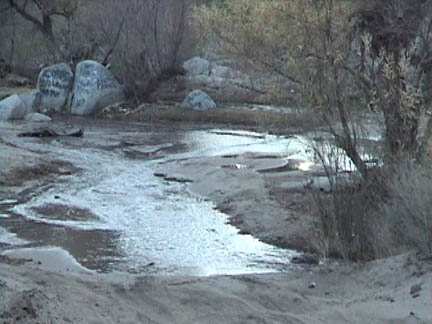 I followed about 3 or 4 of these unmarked crossing incorrectly and wound up having to back-track to a waypoint which represented a turn. All in all I saw only about 5 people the whole way down and I was glad that I did see these locals as they were the ones who told me that I was on a dead-end path. When they asked where I was going they shook their head in disbelief. They said that they wouldn't go there because of the storms but by now I was committed to this route. Other than these locals there was only one other 4WD truck going the other way and no motorcycles.
It began to get dark about 4 pm and the GPS said that sunset was going to be at 4:45 pm. I was afraid that I would run out of gas and still wasn't comfortable with finding my way in the day let alone the night. When I found a sign leading to Ojos Negros and saw that there was gas available there I made a beeline to the west over deep sand-blown rutted tracks to emerge in a little dirt spit called Ojos Negros.
The locals were mostly drunk enjoying themselves and I quickly found the 'gas station' which filled me up using 1 liter water bottles from a 55 gallon drum. Darkness was now complete. I had made the first primary mistake of not being camped or stopped when it was dark. I had heard about driving at night in the Baja and now was going to have the privilege of experiencing it firsthand.
A couple of turns later thanks to some good local directions and I was at the military checkpoint leading through the mountains to Ensenada. No real hassles here just come quick questions and I was on my way over 45 miles of winding mountain road with no lights. A little over an hour and half later I arrived in Ensenada where I was only too happy to get my first fish taco and grab a hotel room.
Safe and sound with the ability to send some extra stuff back I fell asleep quickly dreaming of the DHL office and getting my vehicle temporary importation permit (which I didn't get in TJ due to the 3 hour line). The only problem now was that I was on the West Coast and would have to waste time getting back down the the east coast if I was going to do the Puerticitos route to the south.
---
The next day took so long at the DHL office as well as waiting in line again for the vehicle importation permit (which they were not issuing at that time) so I made a beeline down Mex 1 starting late in the day for El Rosario. I had heard that Mama Espinosa's had great lobster dinner and a good place to stay.
The highlight of the day was a quick side trip to La Bufadora a place located to the west of Ensenada which is very touristy. The attraction is that the ocean comes rushing into a small inlet and then crashes against the rocks shooting the water several stories high.
The road to get to La Bufadora was uneventful and unexciting. The only problem being that as much distance and time as it takes you to get there it takes you even longer to get back. This was a shame as La Bufadora was south from Ensenada but I was not able to take advantage of the southern location having to return almost to Ensenada to catch up with Mex 1 again. Lesson learned, plan enough time for those sidetrips!
Photo - La Bufadora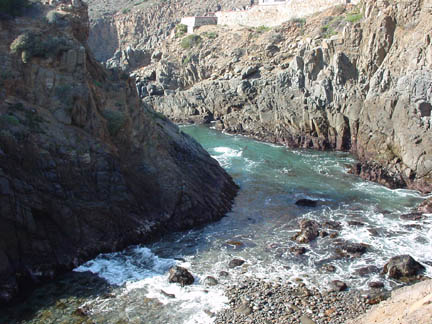 ---