The Trip - Bahia de Los Angeles to San Francisquito
Photo - Bahia de los Angeles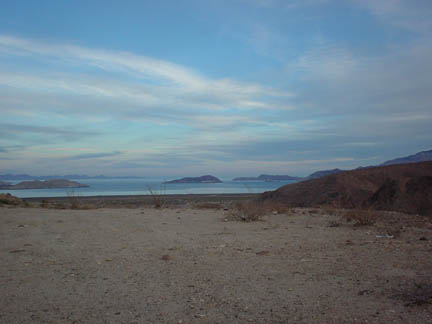 So far so good. The trip was going alone fine and the bike was handling good. It was interesting to be camping again after having been away from it for more than a decade. As you can see though from this picture taken at the Bay of LA, I was very happy inside my tent.
Photo - Happy camper at home in the tent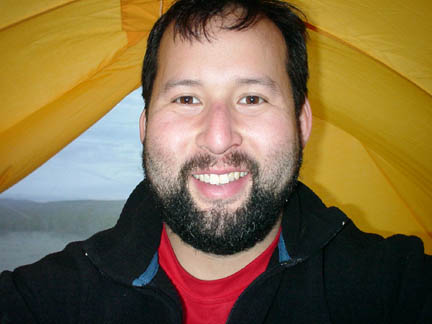 That night as I rolled into town the people at the campsite had just caught a bunch of fish. I asked if I could buy some and they just gave it to me, no charge. Yum! Thanks!
That night when I rolled into Bay of LA I was thinking that I would spend the night a bit further down the coast where I heard that there were amazing campsites. So I headed out of town to the south on the road to San Francisquito which quickly got very rough and unmarked. About 10km into this road I decided that it would be better to spend the night closer to town and I turned around.
On the way back into town I passed a hopped up dune buggy with painted with "The Mears Gang" on top of the spoiler. I guess that it was Rodger Mears the famous Baja racer and brother of Rick Mears the Indy driver. While this is an unconfirmed Baja celebrity sighting, I'd bet that they've got a place near Bay of LA...
Back to the road, I most likely had made another minor mistake as it was already dusk when I started out further south and now it was again completely dark. While not too big of a problem, I should have realized that it would be better to make camp with a little light and to get settled in.
Cooking in the semi-dark (w/head mounted flashlight) isn't too bad. My good friend Henry Kasindorf has seen me with the head mounted light and he says that I look pretty funny. Well, using it in the field is sometimes even funnier. This experience made up my mind that it would be better to stop and make camp long before it got dark.
The next morning about 10 I set out for the 83 mile road from Bay of LA to San Francisquito. This is a fairly tough road that goes through the desert, along the water, and over some mountain passes. It is part of the Baja 2000 course and is well torn up from a hurricane that went through in the early 90's. It was a road that would play havoc with me and the bike in quite a few stretches.
In particular there were a few good experiences along this route. In many places there were paths in sand which paralleled the main road. I appreciated these greatly as they were much smoother than the gravel and washboard roads and gave me a chance to float through the soft sand.
Buyer beware though because these paths often diverged from the unmarked road and at times I wasn't sure if I was on the right path. One of these trails led right through a tight cactus field. Ouch!
I had to stop and one by one take the cactus spines out of my behind. (they went right through the riding pants and protection). It was another quick introduction to the desert. Beware of where you go because all kinds of dangers abound.
It was on this route that I experienced my first serious accident. It normally takes me a good 30 minutes off-road before I start to feel comfortable with that days riding. After about an hour on the road this day I was feeling pretty good and was letting the bike brake slide through some corners.
Rounding the top of a grade a bit too quickly I saw that part of the mountain had fallen onto the road. This meant that the road went from loose gravel and stones to bigger football sized boulders. As you could expect from my non-chalant approach to the top of the hill, when I crested the top, I was very surprised to see that the riding conditions had changed.
At about 40 mph I bumped and banged my way through this boulder field. My only thought was on finding places that had traction to effect some braking as I went down this hill and over the strewn rock field. The end result was a spectacular crash with the bike winding up resting on top of some boulders, perfectly balanced in the air on the engine guard casing. (picture not available).
I was slightly dazed and bruised and took a few minutes to get over my stupidity. After a check of the bike I found that I was very lucky. No holes in the engine casing, no dripping oil or broken radiator. Just some minor damage to the levers and mirrors. At this point I was very thankful that I didn't have the boxer as I could just see how the inline single cylinder protected by the crash bars was MUCH better than the exposed boxer.
Here are some pictures of the damage to the bike taken when I arrived at San Francisquito.
Photo - Broken brake lever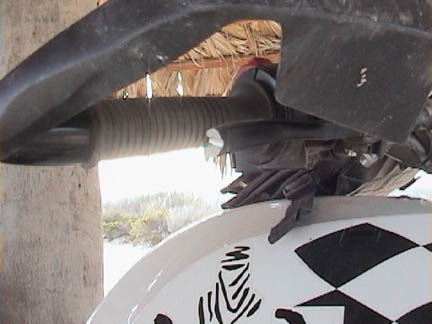 Photo - Bent clutch handle w/drilled hole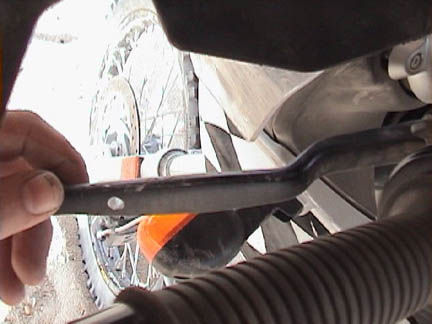 The drilling of the holes right before the knob at the end of the levers really worked. In this case the knob was what snapped off and not the whole lever. This is really great as you really don't need to make repairs and replace the lever. I decided to leave it this way for the whole trip as it doesn't change operation at all and is easier than replacing the lever (thus also saving the spare part for when you really need it).
Photo - Missing Mirror Mount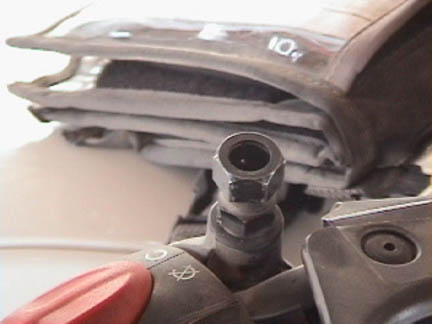 This is a picture of the bolt assembly into which the mirror stem goes. From the incessant shaking and rattling over the washboard roads it became loose and I lost the mirror before knowing it. the other side this bolt was sheared off in the first major crash and so for a while I had no mirrors.
Photo - Javier's jury-rigged handlebar bolt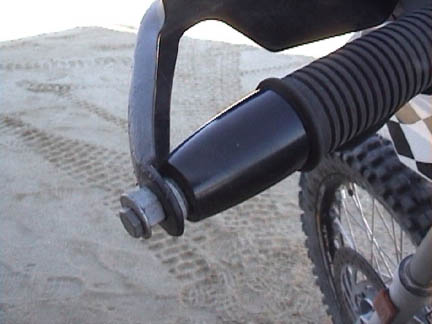 I had to backtrack to where I thought I lost the mirror and found it in the dirt. I placed it in my backpack as it would only have fallen out - later that day in San Francisquito we placed in in the right stem holder (shown above). It doesn't bother me driving with one or no mirrors in the dirt but they sure are nice to have on the highway.
Overall, I've found the standard BMW mirrors to come loose very easily and I'm looking at other rally mirror mounts that move easier without a major production.
From this point onward the trails began to weave and wander. There were many times that I was not sure if I was headed in the right direction. I based my navigation on the GPS using the compass, waypoints, and landform recognition as my three decision factors.
Photo - GPS center mounted and BarPack w/map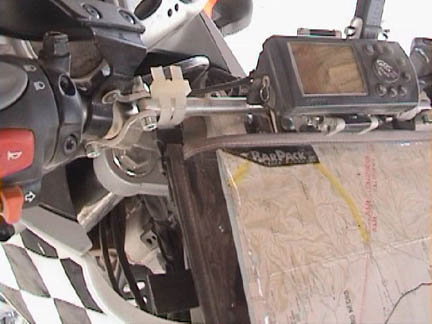 Was I going further south or east? How far was that section of trail? How much gas did I have left? In many instances the road simply vanished. The whole way there was covered with sand. I felt that I was on the right track due to the fact that I saw some concrete vados that had been torn up by the hurricane.
At one point there were signs with left and right turns. There were simply luck as I decided to stay to the left and try to hug the coast. Eventually I came to a three way intersection marked El Arco (to the right), El Barril (straight), and Punta San Francisquito (to the left). I was so tired from the ride to this point that I just stood there for a while contemplating whether it was worth it to continue to trek to the coast and find this elusive San Francisquito.
With darkness only a few hours away I decided that it would be best to find San Francisquito where they hopefully had some gas and where I could relax for a few days. As I came to Punta San Francisquito I was quite glad that I only had minor bruises and damage to the bike. It was a reminder that what you can't see (over the hill) can definitely get you - and was also a reminder that I was dirt-touring not dirt-racing and that I should slow it down with the extra weight of the equipment.
My first night at San Francisquito I slept like a baby with the waves gently hitting the shore and the breeze rustling the palapa next to my tent.
Photo - Sunset fading at Punta San Francisquito
---
Author's Notes:
Overall, I rate the road from Bay of LA to San Francisquito one of the best rides of the trip and I definitely recommend it to anyone going to Baja. Remember to gas up in Bahia de Los Angeles and to bring your navigation skills (and a GPS) as it is definitely easy to get lost off of this path.
---