The Trip - San Francisquito (very relaxing...)
For those of you seeking rest and relaxation without alot of tourists and attitude - my recommendation is to make the trip to San Francisquito. It is quiet, out-of-the-way, and run by two people who are truly extraordinary hosts.
Photo - the view from the tent, dusk settles in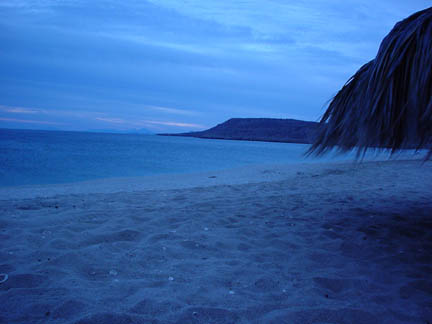 Once a popular fly-in resort about eight years ago Javier and Chary bought the place and have been working it ever since. From the moment that I rolled up across the landing strip, Javier was busy doing one thing or another. An experienced former Baja motorcycle racer, he helped make the repairs to my bike as well as helped plan future routes.
Photo - the view from the tent, sunrise at 6:00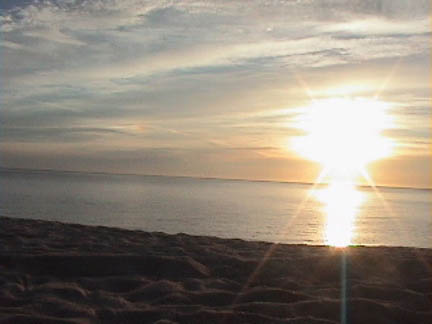 I camped on the beach and from the second night onward was alone (except for some coyotes who came looking for food). I was treated to beautiful sunrises and sunsets all alone except for the sounds of the wind and spouting gray whales.
Photo - Camping alone on the beach at San Francisquito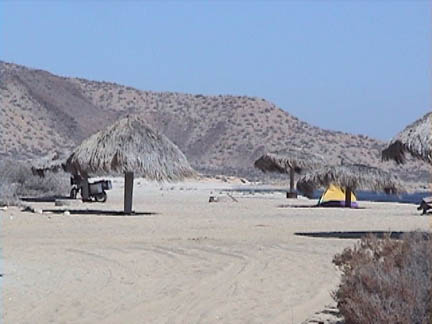 Photo - Helmet & boots safe inside the tent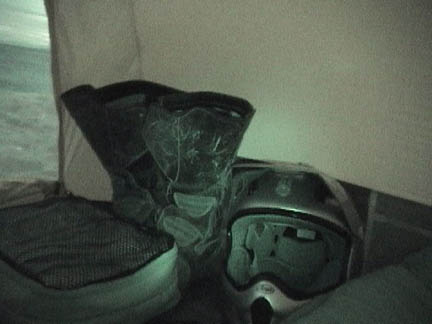 Showers and bathrooms (minimal but acceptable) were a short walk away back toward the main house and cabanas. We had electricity from about 5 pm to 9 pm and were treated to the full display of Chary's cooking as I was fortunate enough to spend Christmas at San Francisquito.
Chary cooked up a storm which we all promptly ate up. It was yummy and for the next few days the leftovers were even better.
Photo - Christmas dinner spread (partial)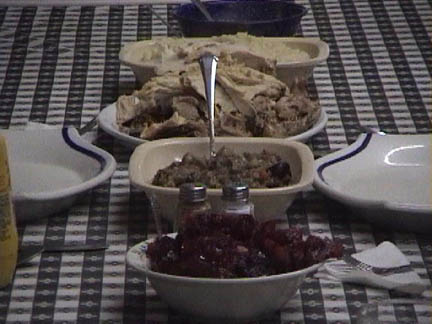 I met some great people at San Francisquito. Diane and her son Kyle and Professor Charlie. Diane knows about San Francisquito as her husband works for BF Goodrich who's involved in the Baja races. Kyle is a cool 22 year old who's a big Jimmy Buffett fan and who is taking life one day at a time. While Professor Charlie is a teaching professor at Cal State Fullerton who probably has forgotten more about animals (lizards in particular) than I'll ever know in my lifetime.
Photo - Diane (Chary is cooking) & Kyle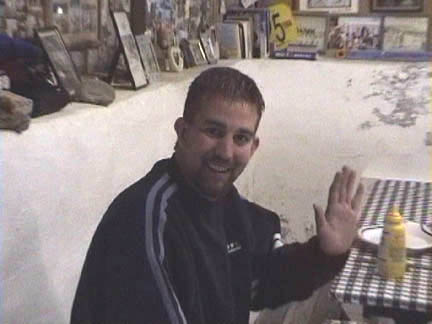 One of the really neat things about San Francisquito is the main house where you can eat wonderful meals prepared by Chary. All around the walls there are great pictures of times gone by with trophy fish and motorcycle racers in full mode. It was great fun to hear from Chary and Javier all of the stories about the people who have come to their place and what has transpired.
Photo - The Wall of Fame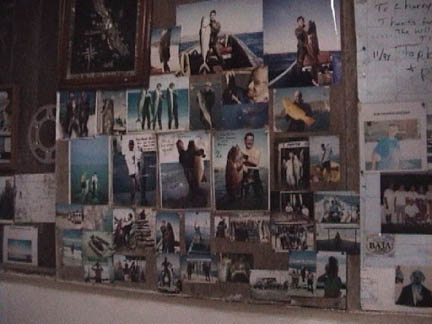 Chary and Javier have a few dogs around the place but none is more interesting than Bandito. He's always around barking up a storm and alot of fun to play with. Once when we heard the coyotes getting really close at night we had to fetch him up lest he become puppy chow - otherwise he's Chary's baby and is very well treated. A true Baja Bandito!
Photo - Bandito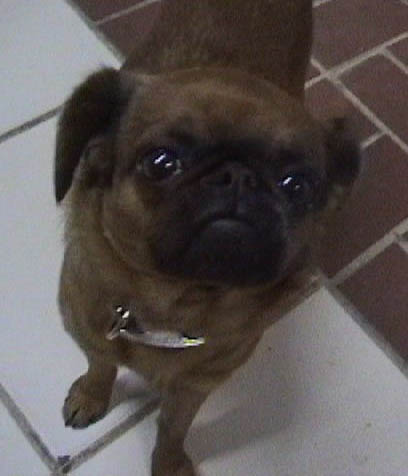 Kelly will most likely come and hunt me down for posting this picture on the Internet but I had to find some way to get back at her for all of the Queen of Clubs that she passed back to me during our marathon game of Hearts. Diane, Kyle, and Kelly (who's the girlfriend of one of Chary & Javier's sons who came to visit) - were very nice in teaching me how to play hearts. On my last night we had a marathon game in which Kelly hit me four times with the Queen of Clubs. Thanks guys for showing me how to play and I finally found a way to get Kelly back!
Photo - Kelly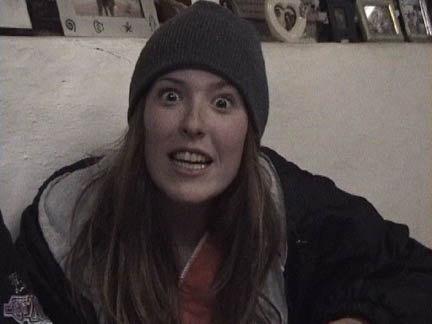 The following picture probably sums up my experiences at Punta San Francisquito the best. After the hard ride from Bahia de los Angeles to Punta San Francisquito I was quite happy to park my bike under the palapa and get a few days rest.
Photo - The F650GS Dakar under a palapa
The solitude afforded by the remoteness of San Francisquito made the trip all worthwhile. For a moment I was contemplating not even going further south and just relaxing for a bit more, but soon the urge to see more of Baja gripped me once again and so I packed up and left determined to reach Cabo San Lucas before the end of the year.
---
Author's Note:
You can now reach Chary and Javier through the following contact information:
---