The Trip - Leaving San Francisquito
Relaxed, well-fed and rested, and with the bike in full-working order it was time to set off for new adventures beyond San Francisquito.
I spent the last night inside as the winds had picked up to 40-50 mph. With the bike fully packed and ready to go as soon as the sun was up I was on the road. High winds made most of the riding that day very challenging as I had several mountain passes and long open desert pistes to navigate.
Photo - Desert brush balls caught in tree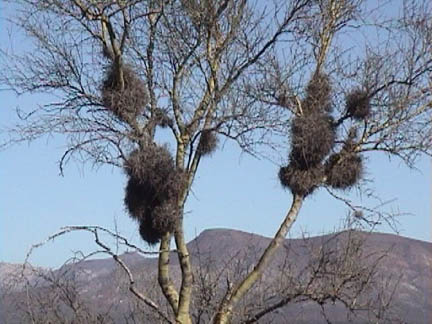 As you can see from the above picture, the high winds also contributed extra "gifts" in the form of "brush balls" (my terminology). These are formed when loose scrub is whipped up by the wind and rolled across the desert. Sometimes you see them and sometimes you don't. On this day I managed to dodge about 20 of these flying missiles and otherwise was pelted by about a half-dozen. They are lots of fun at 70 kph.
Leaving San Francisquito to catch the Mex 1, I had a variety of options. Feeling confident in my riding and navigation abilities and armed with a full tank of gas I decided to head on a south-westerly direction through some desert pistes instead of hightailing it back to Mex 1.
I was rewarded in many ways for this decision by some very interesting species of cactus which I'll simply post here and hopefully get some responses from readers who know what type of plants these are.
Photo - Small desert plant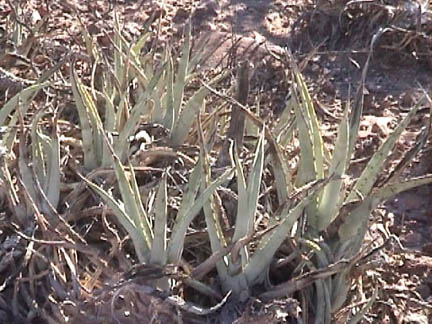 Photo - Small cactus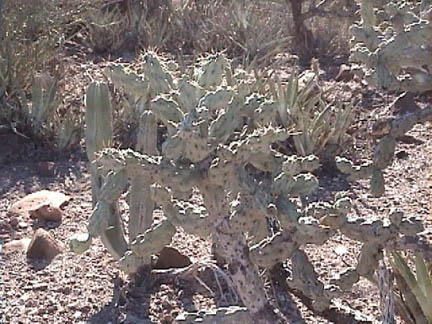 As you can see from the following picture the road was quite sandy in some places. This is part of the road at it's widest. Can you see the cow crossing in the middle of the trail? This is only one of the many dangers of the Baja and again a major reason why it's best not to ride at night.
Photo - Desert road from San Francisquito w/cow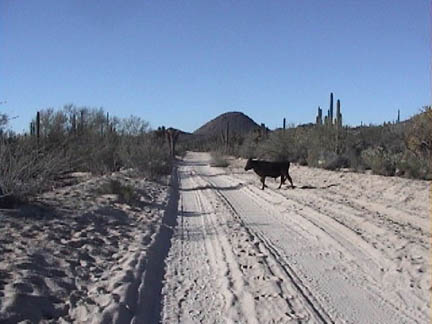 Photo - The cow close up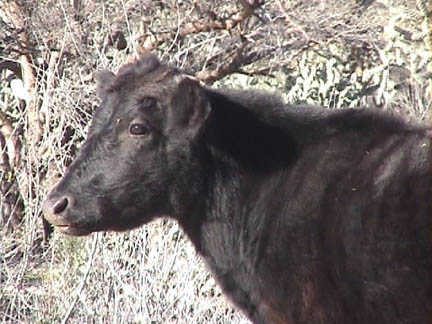 Emerging from the desert somewhere south of Guerro Negro I made my way into the oasis of San Ignacio where gas, water, and a well preserved mission awaited.
---