The Trip - Mission San Ignacio and further south
Once out of the desert I re-inflated my tires to highway pressure and hit Mex 1 to San Ignacio. Along the way I came across some Swiss cyclists who I had passed a few days earlier. They were coming from Alaska to Cabo San Lucas over a period of many months. I stopped, took their pictures again and wished them well.
Photo - Swiss cyclists on Mex 1 to San Ignacio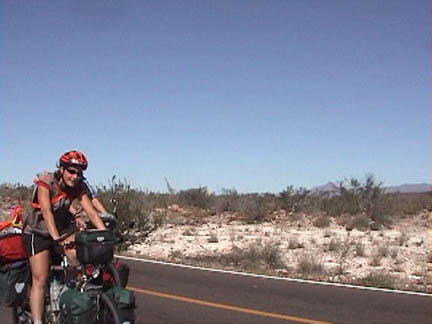 Once in San Ignacio I was quite surprised to see palm trees. This was the first true oasis that I had come across in my travels. A large stream/river runs through the approach to town and after hundreds of miles of sand it is quite a shock to see such lush vegetation.
As you come into town you are further reminded of this area's bountiful water supply by the well equipped fire station with ladder truck and water pumper. The main attraction through is the well preserved mission which is still used on a daily basis. Inside there are photos of several other missions most of which are more remote and difficult to get to.
Photo - Mission San Ignacio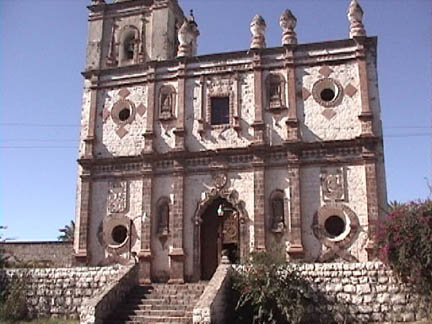 As San Ignacio is quite easy to get to for cars as well as RV's it's center plaza Many tourists use it as a getting-off point to go whale watching in nearby Laguna San Ignacio. As I had already seen some whales and was going to hit some remote regions nearby on my return I didn't feel compelled to spend much time here other than to "gas and go".
Photo - Plaza San Ignacio, Scootermania reaches the Baja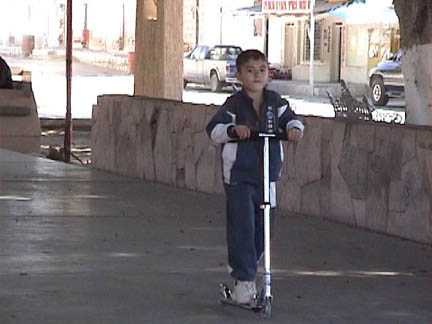 To show what a small world it truly is, I am happy/sad to report that scootermania has reached the Baja and San Ignacio. All throughout the plaza the kids buzzed about on their "razor" scooters thus emulating their counterparts in Tokyo, New York, Paris and Des Moines.
Intent on reaching further south before the end of the day, I pressed on through Mulege, stopping only briefly to check it out. In my opinion this is a town quickly being spoiled by the invasion of tourists on the Mex 1 with large contingents of Americans wandering about as if they were in a strip mall.
For me these were simply points on a map with gas stations and bathrooms. I wanted to get back to some good dirt roads on my way south and these were not to be found in Mulege.
Eventually, I reached Playa Santispac where a bit further south was a campground called Eco Mundo. Run by an (uptight) ex-American pilot the place was full of American's looking to do some kayaking and eco-tourism in a "wild but safe" place.
Photo - EcoMundo with Giovanni, Monica, and Claudio
Upon dismounting my bike I came across my first fellow motorcycle traveler the entire trip. Giovanni was from Italy and he was traveling on a Honda TransAlp. Monica was from Colombia, studying in Mexico City traveling south by foot and bus and Claudio was from Tijuana using the same mode of transportation. They were waiting for the owner of the campground to return to see if there was a place for us - so I waited and did the same.
We quickly fell in as friends and decided to cook dinner together. In order to make sure that the four of us were well supplied I unloaded the bike and made a quick beer run at nearby Playa Santispac. The decision to build the rear rack was sure coming in handy. :-)
Photo - F650GS Dakar w/cold beer and ice for 4!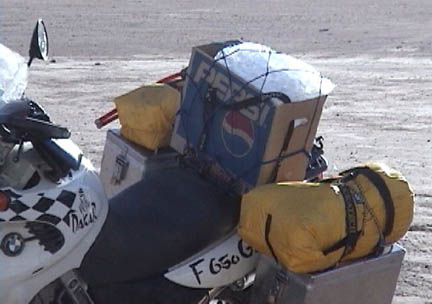 The next day Giovanni and I decided to ride together over some dirt roads leading to Mission San Javier just south of Loreto. I asked him if he had enough gas to get to Loreto and the answer was "si, si".
Well just a bit out of our campground and in the middle of a windy mountain and desert stretch he pulled over and informed me that he had about 10km of gas left. My GPS showed 38 km to the next checkpoint in Loreto - a distance that he was not going to make.
We tried to use my siphon but to no avail. For some reason this wouldn't work and there we were thinking of what to do. The answer was found in my .8L container of gas that I used for cooking. At the start of the trip I decided to use an MSR WhisperLite stove because of it's ability to run on leaded and unleaded gas. While it burns dirty I felt that if ever I needed an extra splash of gas it would come in handy.
I fetched the bottle from the sidecases for Giovanni and he poured it in. We made it to Loreto where both of us filled up on supplies (canned tuna, beans, onions, water, etc.) and gas for the trip to San Javier.
The plan was to ride to San Javier then cross the peninsula through some dirt tracks and arroyos emerging on the other side where there was some good whale watching. Deciding to ride with another rider that you don't know is always tricky as experiences, speeds, and abilities vary. Furthermore, while the bikes are comparable dual-sports, I had on dirt tires while Giovanni had the standard dual-sport tires. If the going got rough there would be a lot of pushing and pulling.
From Loreto to San Javier was fairly rough with some steep mountain passes and water crossings. The navigation again was somewhat unsure as the 18km distance was not straight but very windy. The elevation changed at least 2,000 ft. and some of the passes were slippery and very rocky. I was much more cautious and trepidatious in this going as I had visions of a long fall to the bottom after minor mistakes. Not a pleasant thought.
After about 45 minutes of good riding we emerged into another oasis like San Ignacio. The local residents were fixing a cobblestone street lined with new light poles. The whole affair led down to a well preserved mission - the Mission San Javier.
I won't repeat the historical facts here leaving it to other sites or books to give you the exact details of the history and significance of the place. However, I will tell you that the insides are well preserved and that this mission was fairly important in the Spaniards operative conquest of Baja California. I made a small donation for upkeep and we were on our way.
I'm sorry to say that the rest of the way I really didn't have time to stop and take pictures because the "road" got very interesting. However, I am sad to report that my new traveling companion was beset with a bit of bad luck.
Both Giovanni and myself equipped our bikes with aluminum touring cases. He had a complete set of Hepco & Beckler while I chose to go with side cases (no top case) from Touratech.
Photo - Hepco & Beckler aluminum bags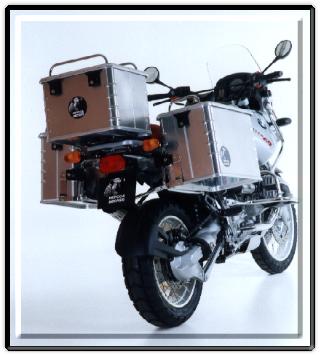 Well, to make a long story short and so as not to further inflict any pain on Giovanni - he lost the top case along this side trip. For most of the trip he was ahead of me as I didn't mind following his dust trails and because I had the better setup for off-road (which meant that if he got stuck I would come up on him and not leave him behind).
The road from San Javier to the coast had every sort of trap and trick you will find in off-road riding. It is a major part of the Baja 2000 race and now I know why. Lots of sand to the point where I felt that we weren't on the road at all. In one part we were in some arroyos with sand up to the axles - had to keep the speed on and stay on top or else!
Right after the long ride across the entire peninsula, after about 2 hours of tough riding, where we knew that we would be coming to the road leading back to Mex 1 - we stopped to talk and Giovanni notices that his top case was missing. We had no choice but to backtrack and try to find it.
This meant that every stretch of bad road, sandy washout, and rocky crossing that we just fought our way through we would have to do again! We eventually came back to a steep grade at the bottom of which Giovanni found a water bottle that was on top of the top case.
But there was no bag to be found. Inside was his GoreTex riding clothes, money, gloves, extra shields for the helmet, and medicine without which he felt he had to delay or cancel his trip. I raced ahead back to Mission San Javier to ask the locals if anyone had found a bag along the route.
Giovanni stopped at every little ranch along the way to ask the same. By nightfall we still hadn't found the bag and were forced to spend the night in the shadow of Mission San Javier a scant 20 km from Loreto!
We had crossed the Baja Peninsula twice in one day over some of the worst trails because of the loss of this bag. By morning no easy solution looked to be found and due to my timetable (unlike Giovanni I only had so much time for this trip), I had to say my sad goodbyes and wish him luck.
Note: On this very rough side trip, Giovanni also pointed out to me that one of the mounts on my Touratech bags had vibrated loose to the point where I was going to lose the bag. It's a good idea then to check these every day and to carry extra mounting equipment in case you lose one due to vibration!
---
Author's Note:
Later on in the trip I met a German couple near La Plurisima about 4 days later. They had seen us at Eco-Tourismo and had later come upon Giovanni at Mission San Javier where he was still waiting to see if the case had been found.
Also, Giovanni has a great picture of me which he'll hopefully send for this web site. At one part when I was leading on a big sandy stretch I aired out the bike and had it going at top speed (110 kph when fully loaded). This being a big wide sandy stretch I felt comfortable that the road would be in good condition.
However this was not the case as the road then was cut in half by an underground stream leaving one part 4 feet higher than the other part with a 6 foot gap in the road. Not wanting to be Evil Knievel I had to slam on the brakes hard bringing the bike to a stop 10 feet from the drop-off.
Dismounting then in the deep sand I had to wrestle the bike down the embankment and the re-power it up the other side. No pictures from me on this one but Giovanni (who I warned of the problem in the road by stopping) was able to ride to the other side and capture all of my machinations on film.
---