The Trip - Loreto to Cabo San Lucas
The morning that I left Mission San Javier I felt that I had alot of highway miles to do. There were not alot of days left in my vacation and I still had quite a bit of the Baja California Sur to cover. Sometimes I like to make lots of stops and see things and other times I like to get where I 'm going.
As the purpose of this trip was to shake down the motorcycle off-road and see how it handled as well as test and improve my riding skills - I felt that a big highway day to get down to the southern tip as quickly as possible as in order.
I quickly traversed the road from San Javier back to Loreto and gassed up again at the Pemex. Riding the same stretch of road in the opposite direction sure is easier as you have the waypoints and knowledge of what the road ahead is like. I definitely made quicker time on the way back than on the way in.
Photo - Birds along the Mex 1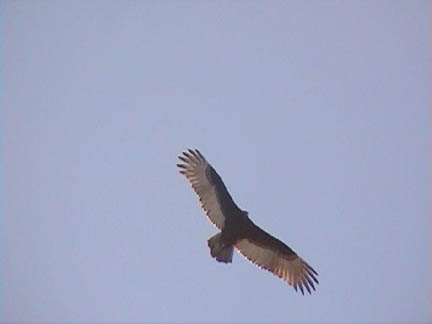 Like in so many other parts of the Baja there were beautiful birds circling above. I've got some great video footage of these birds which I hope my good friend Roberto Buonfante can help me identify. I think that they are falcons or hawks which feed off of the desert rodents but anyone who can tell me what they are, it would be most appreciated.
* note - Andrew Cutt (e-mail withheld) was nice enough to e-mail me and suggest that the bird is a vulture because the wing tips are separated like fingers while hawks have wing tips without the 'finger effect'. Any other suggestions? This could likely be as I did see many vultures along the way.
The ride from Loreto to La Paz was quiet an uneventful one. This time I did the crossing on Mex 1 which is straight and boring leading over some mesas as you ride to the west. It was really windy and in some stretches you have to pay attention to those "Curvas Peligrosas" as there are many memorials by the side of the road to commemorate those who did not make it.
Gassing up in Ciudad Insurgentes I quickly ticked off the distance to La Paz where I filled up again. It was about 3ish and the sun was going to go down in an hour or so. I decided against staying in La Paz as I really wanted to get down to see the "tourist heaven/hell" that Cabo was supposed to be.
I arrived into Cabo as the sun was setting and rode past the hotel strip to see the center of town. I'll spare you all any pictures but if you've ever been to either East LA or to Miami near Coconut Grove you'll have a great idea of what Cabo San Lucas is like.
Nonetheless, this was the end of the road and a good chance to take inventory of the trip so far. I checked myself into the Melia Resort who gave me a discount of $250 a night all-in. This was far more per night than I had spent on the entire trip but I figured that some 4 star R&R was in order after some hard days on the road.
My first night in town I was lucky to meet and share a very nice dinner with Ronald Weiner and his family. We met in the shuttle from the hotel to town and as it turned out not did Ronald go to my alma mater Babson College but his classmates are the parents of some of my classmates and best friends. It truly is a small world!
Photo - Melia Resort, Cabo San Lucas
.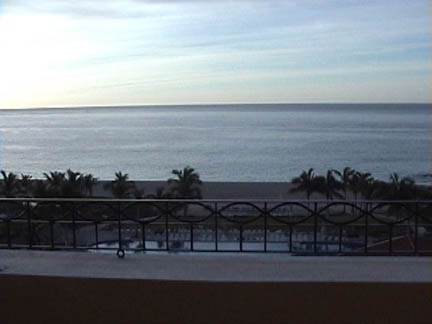 The above photo is from the balcony in my room. The private beach is in the background and there is a big pool where all of the New Yorkers congregate. Is it any better than my spot for $3/night at Punta San Francisquito - I think not but I did meet some interesting people during my time in Cabo and did have a good time.
Photo - Checking out the stuff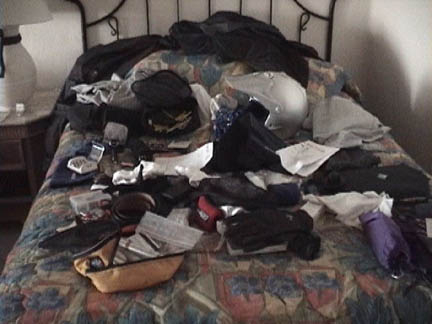 Part of my experience traveling has taught me that when you get to somewhere with full facilities and you are paying for it ($$$) that you should take full advantage of it. I used the large and spacious room at the Melici to resort out my bags and do laundry for the first time in the trip.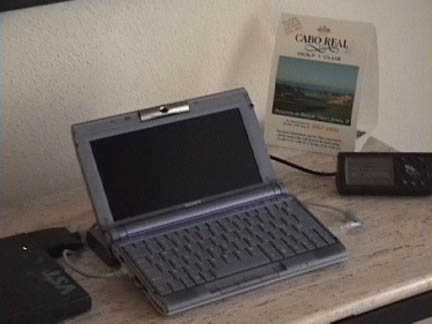 I also used this time to get the routes re-plotted and downloaded to the GPS as well as to cut a CD as a backup to the photos and video that I had taken so far. I was determined to get all of the planning and review for the return trip done here so that I could just spend the time riding and not thinking about where I wanted to go and how I wanted to get there.
---