The Trip - Riding the dunes in Cabo San Lucas
My tour books didn't say too much about Cabo San Lucas and what they did say wasn't all that flattering. Basically, I expected a standard gringo tourist port-of-call with badly dressed Americans speaking even worse Spanish. Food prices were triple (or more) than what I had encountered before Cabo and they didn't even serve fish tacos!
However, all this was forgiven because I lucked out and found one of the best things to do when in Cabo San Lucas.
Photo - Following the ATVs to find the magical spot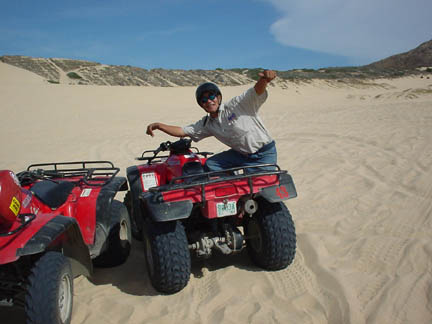 During one of my trips into town I noticed alot of tourists on ATVs. So I started thinking, hmm.. if the locals are taking the tourists on ATVs, where are they taking them? Some further investigation lead to the center of town where there was a stand with a line of ATV. Apparently they offered two trips, one a desert trip and the other to ride some big sand dunes.
I showed up an hour later fully dressed and ready to ride the dunes. The people giving the tour didn't seem to mind and said that they would show me where it was at. Apparently it was public access and they didn't care if I showed up. Great! I lowered the air pressure in my tires and we headed out of town along the beach and through some back sandy trails.
I made sure to keep my distance from the tourists some of who hadn't ever ridden an ATV let alone in a group with other people. I still had a long return back to the border and wasn't going to take any chances with Chuck from Ohio running into my motorcycle (and me).
When we got to the beach I was speechless! Here right in front of me were huge sand dunes, trails with 30 degree plus angles and the Pacific Ocean! I made sure that the rim locks were on tight, drank a little water and set off to surf the dunes.
Photo - That's me on top of the sand cliffs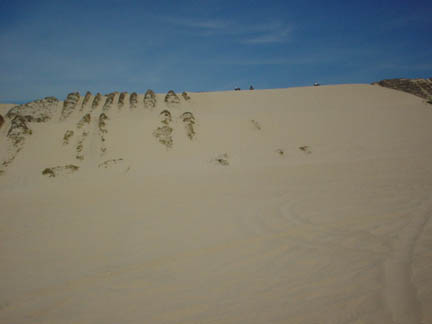 The sand varied from very deep to soft and mushy. It was definitely different though from riding the sand on the desert pistes as there was alot more of it and the entire riding area was sand. The area that this beach and dune area covered is simply too large to be described. It was IMMENSE!
Photo - Riding up the dunes from the ocean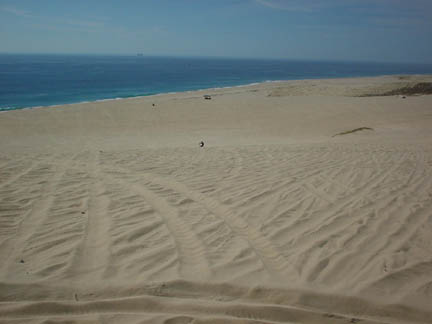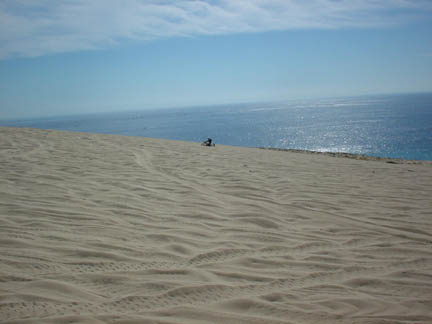 From the pictures above you get a good idea of scale. You can see the tire tracks from the ATVs and how deep the rifts can get. I'm in the middle of this shot going full out to get up the hill.
Photo - Riding up the dune from the ocean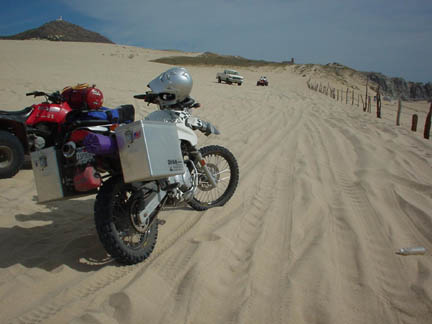 At the bottom of the dunes there is a barbed wire fence that you need to pay attention to. Don't go too fast or leave just a little room to make your turnaround or you could wind up really stuck.
Photo - Getting hot and sweaty in the sand
After a while though you really get tired and I was happy that the ATV'ers had brought water which they gladly shared with me.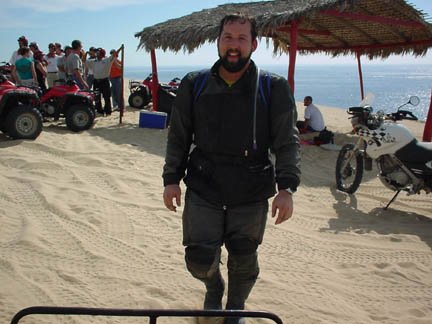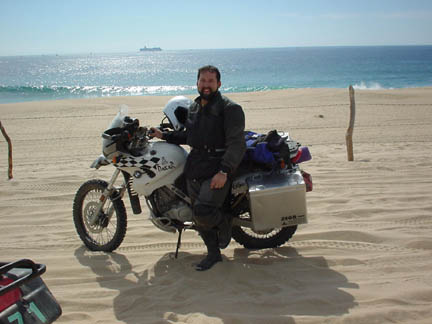 I decided to keep the side cases on to see how the bike handled with this extra weight but emptied them out the bags. In general, throughout the trip, I've found that the extra weight in back is somewhat helpful as it is easier to wheelie the bike over tough stuff (topes are my favorite launching point). In the sand it really didn't make a difference except that when I fell the side cases made it easier to reach under the bike to stand it up and the fact that they were empty made it easier to lift the bike.
This was my first time in really deep and pervasive sand. The only time other than this that I had ridden in sand was for 2 minutes at the BMW training course in a pit and in the drifting sand that I had encountered thus far in my trip. As I'm planning to go to Africa and ride in the Sahara I took this day at the dunes at Cabo to be my first practice day for dune and deep sand riding.
Photo - Riding at speed in the sand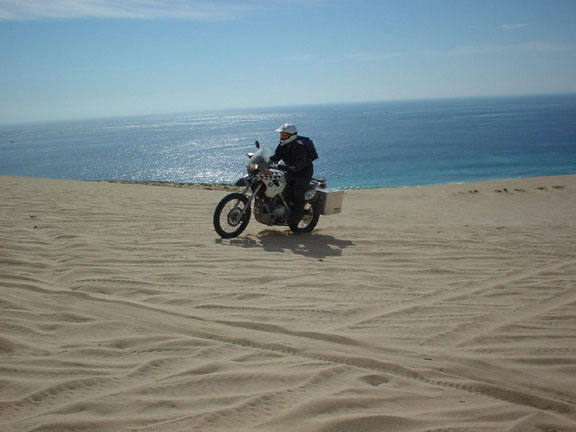 What I had remembered from the BMW course was that you get your weight back and make the front wheel as light as possible. Then get on the gas and keep it on. The faster the better. From other people I have learned that it's most important to maintain momentum even if your direction is not 100% in the direction that you want to go.
These lessons and tips I put to practice in the sand over the next 3 hours. I rode from the top to the bottom of every hill and even got the bike to the top of the cliffs up some pretty steep inclines. Going slow definitely made things worse and trying to do quick turns was the hardest thing to do.
Photo - Quick turns in the sand are pretty tough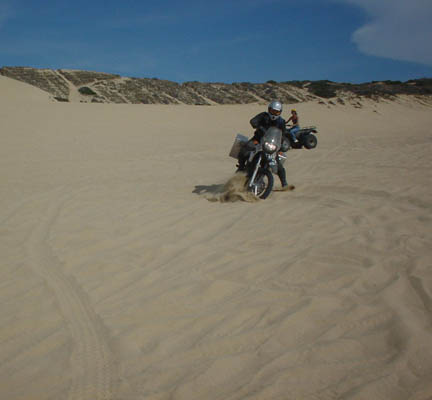 I learned that everything that I had heard from people and read about was basically true. It was very important to keep the front wheel light and to let it track where it wanted. Power is your friend and will keep the bike upright and going straight. Steering with weight transfer through the footpegs and by shifting it with rear brake action got the bike to go where I wanted it to go. Determination yet being relaxed and fluid with my actions were key.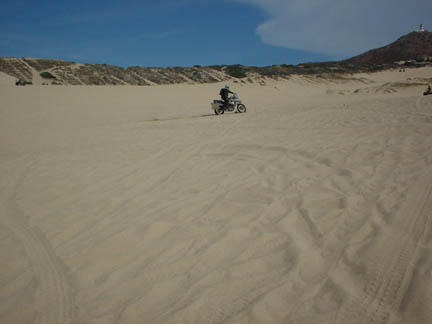 I only got stuck really bad twice. Once requiring a good 20 minute shoveling excercise (very tiring) until I could get the rear wheel unstuck and the other requiring a good deal of pushing and pulling the bike sideways out of the hole and over the sand until I decided to stand it up and get it going again.
Photo - stuck in the sand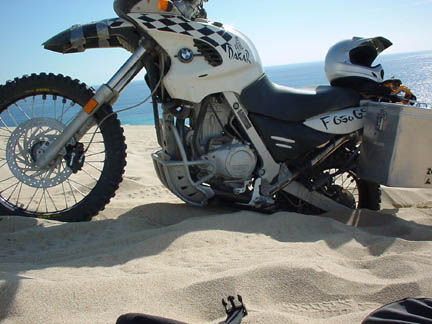 Both times that I was really stuck was no fun and I wondered what it would be like on a future trip if I was really stuck by myself. Simply riding the big sand with a heavy bike (the F650 is no lightweight two-stroke) is exercise enough - having to unload the bike, drag it out, and get it going again is even more work and can exhaust and dehydrate oneself very quickly.
---
Author's Note:
The sand dunes are easily found by asking the people at the ATV place or following them when they ride. This was not mentioned in any of my tour books including the motorcycle special one so if you decide to go please be courteous so that they continue to allow for visiting motorcyclists to use this special area and get in some good sand riding.
Rider Training - Since getting back from my trip I've checked out the Oceano Dunes OHV area (aka Pismo Beach). This is a great place only halfway between LA and San Francisco to practice riding some sand dunes. I'm also going to check out the Glammis Sand Dunes OHV area later next month for more desert and sand riding - if anyone's interested in hooking up for these training sessions drop me a line.
---