Germany - April 2001 - Trip Report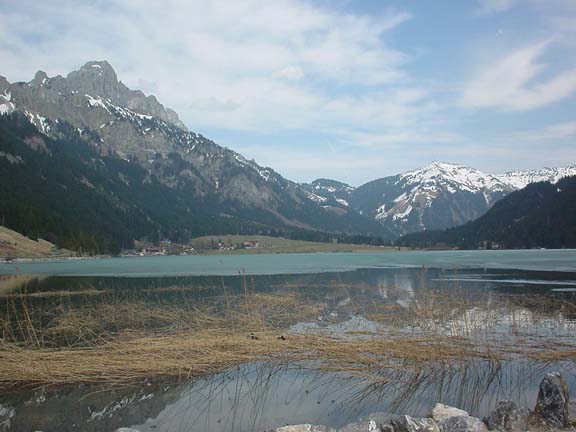 Okay, so traveling around the world getting to visit motorcycling people and cool places between my other 'real' work isn't all that bad. Sometimes I'm in a hurry with a packed schedule but other times I get to wander through small towns and remote places without a care as to my exact time. I'm lucky that a lot of my work can be done from just about anywhere that I am (thinking/writing) and that I do my best work when I'm on the road getting new sensory inputs from the world-at-large.
In my many recent trips to Europe these past years I grown somewhat fond of Germany. It's not just BMW is German or that I get to do training in Hechlingen - its that the Autobahns make real sense and the organization of the country is superb. You can be in the smallest town and not even look at a map, just go to the center of town and you'll find directional signs for auto routes leadings all over Europe. So enjoying a random drive off of major routes couldn't be easier. Just find on the map a few names of towns that you kind of have to go through or near and make a game of it.
This past April, I combined quite of few of my activities into a fun trip which for the first time in a while included some really touristy things such as visiting castles, etc. I normally hate going to these places not only for the kitschy factor but because I prefer to be low-key and as native as possible. That being said, I'm often in great places during their 'off-season' which makes for seeing some sights at bit more tolerable.
From BMW's headquarters I planned to head west then south to go to Touratech's offices in Niedereschach. After my meetings there my plan was to hook down to Lake Constance and the Bodensee, drive on the Deutsche Alpenstrasse coming up through Fussen and Garmisch-Partenkirch then back through Munich and up to Hechlingen (for training) finally returning to the US via Frankfurt.
I hope that you enjoy some of these pages from this part of my trip. That they encourage all of you to hit the open road, breathe some refreshing air, relax a bit, and enjoy life. Whether on two wheels on the twisties or blasting down the autobahn with the radio cranking some great tune - life on the road has it's own magical attraction, one to which I am truly addicted to. All descriptions of places and facts are from memory not copied out of the guidebooks so if I get something wrong, sorry but I'm not trying to be a tour guide here...
Regards,
David H. Park
david@dhpmoto.com
---
Table of Contents
1. BMW Headquarters - pictures of misc. bikes including some of the first new color F650GS Dakar.
2. Mainau Island - A botanical garden and bird sanctuary near Konstanz on the lake
3. Konstanz and the Bodensee - Ferry crossing
4. Deutsche Alpenstrasse - A biker's dream road
5. Garmisch-Partenkirchen - The road to Fussen
6. Medieval Germany castles - classic Neuschwanstein and practical Hohenschwangau
---
---