DHP's accident while riding around Seefeld, Austria, July 2001
Okay. The accident. I didn't mean for it to happen but it did.
Making a long story short it was about 4:30 in the afternoon and I was on a series of mountain roads that were rapid descent hairpins. I had the rallye bike with its off-road Michelin Deserts and the gas tanks were 3/4 full (35+ liters).
What happened was that I came around a hairpin in low speed (10 mph) and the front wheel slipped on some tire rubber and oil. Because the bike is so tall and it was heavy with fuel I wasn't used to the feeling and reacted by dabbing the left foot to pop the bike back up. After having done a week of dirt training before this was ingrained in my mind even though I was on the street.
I figured that with the bike being so tall, that by giving the leg as support I could then give a little gas and the bike would pop up straight. Again, with the slippery Michelin Deserts this didn't happen as the rear was now where the fronts slid from and gave way.
This left the entire bike leaning to the left, heavy with fuel and the only thing propping it up was my lower leg. I heard the fibula snap and watched as the bike slid on top of me twisting my left foot 70-90 degrees to the left. I rode out the accident with the bike winding up down the road from me and with my foot twisting back again. It was EXTREMELY painful not only because I had the visual on it but because I heard the snap and knew that it was broken.
I was helped by some bikers who were behind me. They stopped and called the ambulance. Which took about 30 minutes to come. I tried to keep myself busy by taking some pictures the result of which you can see here. For the rest of the story, well - read on.
David H. Park
david@dhpmoto.com
---
Photo - ambulance stretcher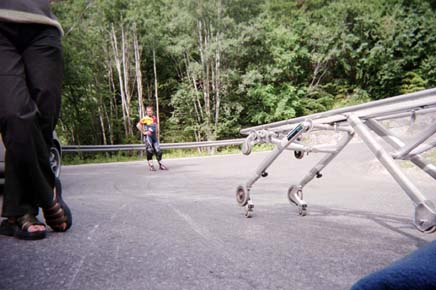 In the distance you can see the guy standing in the Apex of the turn. If you look closely
you can see the skid marks of my tires then the marks on the pavement where the bike
contacted the ground. Notice the shadows which affected what I saw coming into the turn.
Photo - DHP in ambulance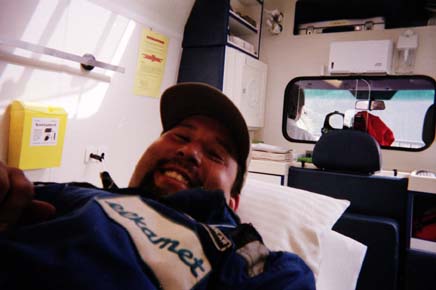 This is me, wincing in pain. I was in shock and denial.
Photo - My foot is imobilized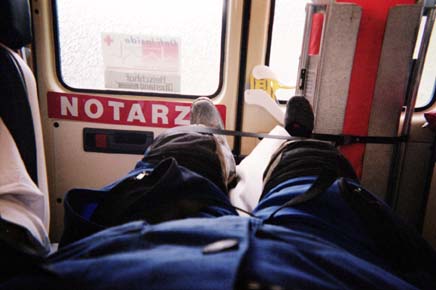 They left my boots on. Good call as it was PAINFUL. The ambulance ride took forever
and we didn't go right to the hospital. We first went to a local doctor who then told them that it
was broken and that I needed to go the emergency room.
Photo - Ambulance guys
For some reason these guys only took cash! Because I didn't have my stash of Austrian marks
on me I had to pay them with a combination of US Dollars, German Marks, Austrian Marks, and French Francs.
These guys thought that I was crazy for taking pictures but I just wanted to keep my mind off of the pain.
Photo - Emergency Room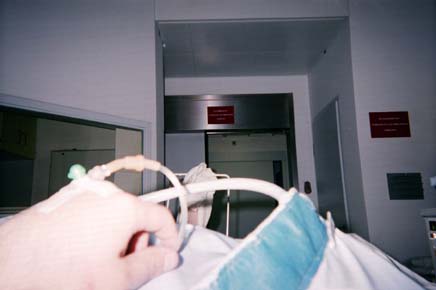 The emergency room was professional but unlike the US hospitals as nobody spoke to me that much.
They seemed to want to just check me out then do the procedure. The fact that they spoke German and I spoke
English probably has something to do with this but overall I felt a little bit alone and underserviced.
Photo - X-ray shows the break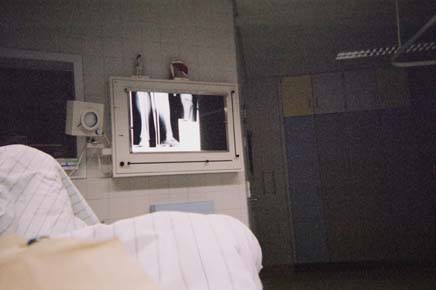 Once they took the X-ray I had to admit that it was badly broken.
I knew from the pain that it was broken but the X-ray really showed me that I needed surgery.
However the doctor didn't give me confidence that I would get attentive post-op care and he told me
that I would need to stay in their hospital in the middle of the Alps for 2-4 weeks if not the whole 2 months.
After I confirmed this with my doctor and confirmed that they had no Internet, cable TV, nor PlayStation 2 in
their hospital rooms - I asked them to put on a mobile cast so I could go back to NY for surgery.
The doctor was NOT happy as he wanted to do the surgery. He put on a transport plaster cast which
hurt like hell as he set the bone, gave me some painkillers, and told me not to move it until I saw my surgeon.
Photo - Russian LT bikers from the back of the cab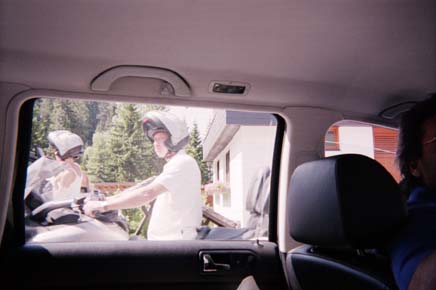 My return to the US was long and multi-mode. I had to take a 2.5 hour taxi from Austria to Munich to get a flight
back to London then change again to get my flight to NY. There were no direct flights from Insbruck and this way I could
use my return flight on American only having to buy a business class seat on Lufthansa (Munich-London).

Photo - Munich airport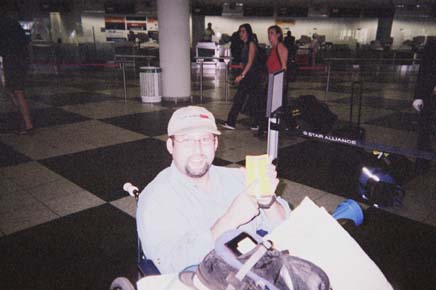 I'm very happy here as I'm in my wheelchair at Munich airport waiting for the plane to London.
I fell asleep in the taxi (thank g-d) and therefore was saved from two hours of boring painful car trip.
I almost didn't get out of Munich due to strong local storms which saw us leave 1.5 hours late.
We arrived into Heathrow at Lufthansa with 1:15 to make the transfer.
Photo - American Airlines at Heathrow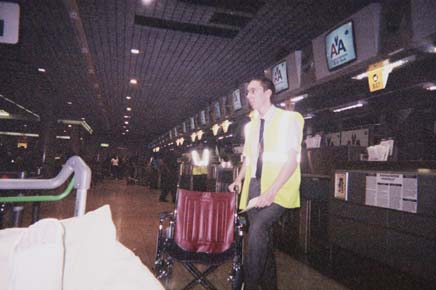 Heathrow is where the problems continued. The attendant who met me at Lufthansa was a real jerk.
He said that he couldn't take me over to American and that he would leave me at Lufthansa check-in.
Of course, this was not acceptable as I couldn't move by myself let along transfer between terminal and collect my luggage for re-check.
After making him take me to a supervisor and arguing with them for 10 minutes, they both took me and my luggage over to American.
But then American gave me a big stink about needing medical clearance to fly, all of which I spent 1.5 hours on the phone
with them before ensuring that they didn't need it and telling them that I had just flown into Heathrow from Munich.
They finally cleared me to fly and ran me from the front desk of Heathrow to the end of the terminal in 10 minutes.
Anybody who has been to Heathrow knows this is a MIRACLE. Starting out in Austria at 7 in the morning
I finally arrived into NY JFK at 12:30 am the next day - still in pain but glad to be back home.
Photo - leg in temporary cast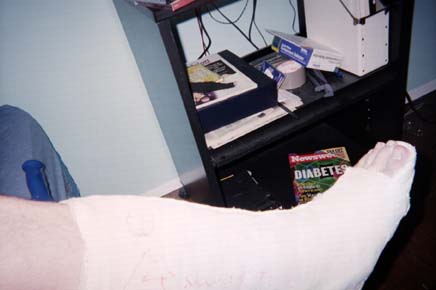 This is a picture of the leg in the temporary Austrian cast. I've got a separate page with
pictures of the detailed X-ray and surgical scar that will soon be up for those who are interested.
Stay tuned...
---
Back DHP Moto (home) BMW Seefeld (main) Forward (X-rays & scar)