Honda Africa Twin-2001 Barcelona International Motorcycle Show
Photo - Honda Africa Twin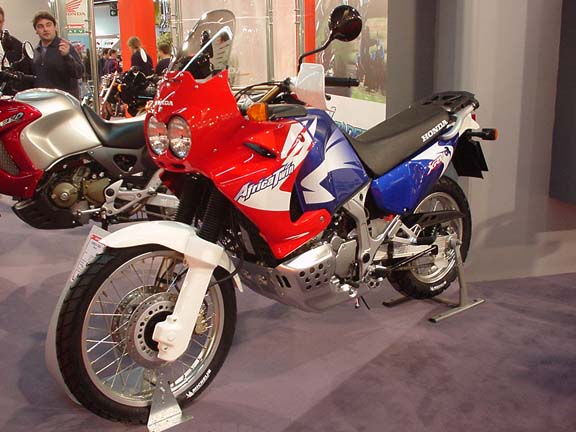 A tried and tested, dual sport popular in Europe.
I have to admit. I have been an admirer of the Honda Africa Twin since I first saw it many years ago. And I'll admit that I liked the bike not so much for its technical capabilities but as for the concept that it represented (and the fact that it wasn't available in the US). The Africa Twin has always (IMHO) been one good looking big trailie.
It's been a while since I was up close and personal with the Africa Twin so I was glad to see it at the show. In particular I was interested in how Honda designed the rear frame area and how much weight they were attempting to have back there.
From my time test riding the F650GS Dakar to see where the weak points are we definitely have identified the 'mass/weight' issue concentrated in the rear end of the BMW. As I'm contemplating redesigning this area to make it more suitable for harsh, long-distance travel - what better place to look than the Africa Twin, a likewise heavy bike with grand ambitions.
---
Honda - Africa Twin closeup
Photo - Africa Twin, cockput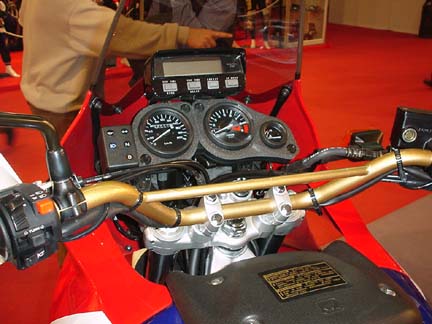 A no-nonsense cockpit with easy to replace gauges and a trip computer.
Note the beefier handlebar but no crash pad! Mirror mounts are separate
from turn signal and clutch/brake perches.
Photo - Africa Twin - engine, left side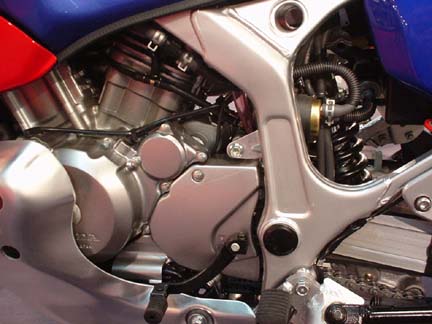 See the V? Overall engine has good protection yet more HP/mass.
Visible parts of frame look okay with strong welds.
Photo - Africa Twin, bash plate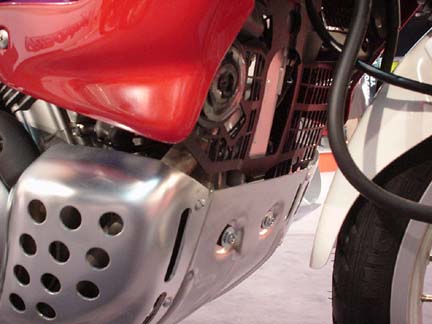 Bash plate is beefy. See the horn and radiator guards. No steel braided
brake lines or anything else special. You're buying displacement here.
Photo - Africa Twin, fork boots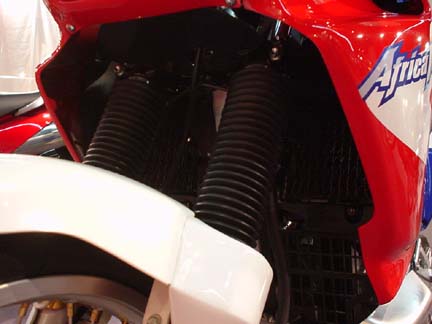 Small details in including fork boots, and a good front fender set the Africa
Twin apart from an accessory marketing perspective.
Photo - Africa Twin, front brakes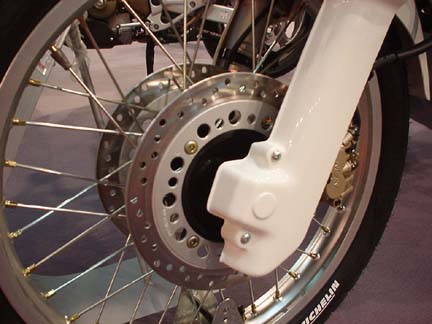 Dual discs provide stopping power. Michellin tires are standard but
not of the knobby variety. Rim and spokes are 'average'. No rim locks.
Photo - Africa Twin, side panels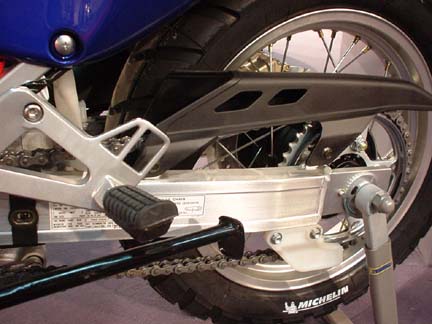 Rear drivetrain is basic and functional. Rear swingarm is strong.
Includes chain guide but uses cheap plastic top guard.
Photo - Africa Twin, side panels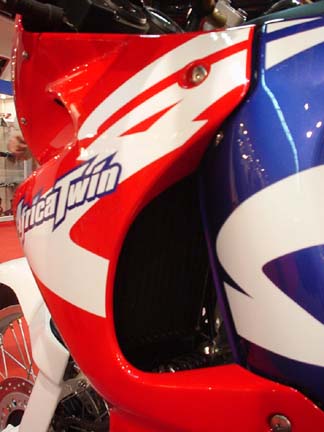 I've always liked the graphics and the budging side panels.
This is what helps set the Africa Twin apart visually.
Photo - Africa Twin, right rear side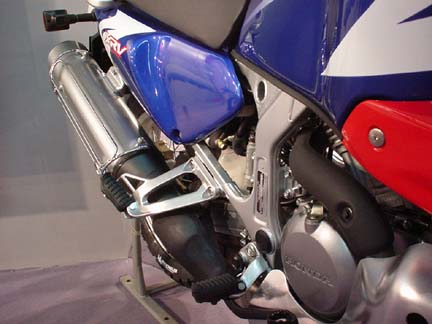 Again, the Africa Twin comes in with a neat looking panel package.
Exhaust is single sided with high exit. Flexible turn indicators at the rear.
Side engine components well protected by beefy frame.
Photo - Africa Twin - underneath rear lid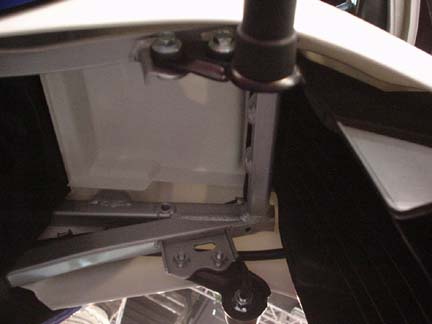 Okay. This is where the bacon is. This area needs to be light enough not to cause
balance problems, yet strong enough to carry a load on top.
The Honda design seems simple and strong while the BMW F650 GS is complex
and heavy for extended rough off-road use.
---