2001 Barcelona International Motorcycle Show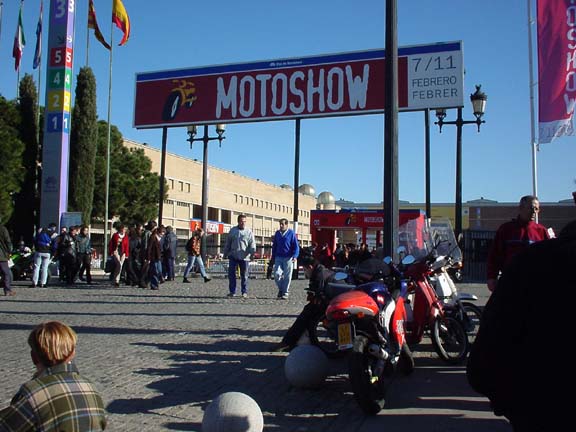 Recently when visiting friends in Barcelona we noticed banners throughout the city touting the 'International Motorcycle Show'. Not one to miss such an opportunity, I decided to go to the show on a Friday morning/afternoon when I figured crowds would be less (than Saturday and the beginning of the show).
As I'm a BMW aficionado and collector, I spent most of my time taking pictures of the R900RR for later technical dissection - so most of the pictures that you'll see are of this bike. I did take a few other pictures through which are all up on this site.
Overall, the show was a manageable size and had large booths from all of the manufacturers. There were your usual collection of product showcase girls and sales managers amongst a wide range of bikes from roadsters to cruisers to serious off-road bikes. The Europeans sure do have a much wider selection of bikes to choose from even if the majority of the market is in smaller displacement bikes and scooters.
My 'rant' on Europe and Motorcycling
Europe is a great place for motorcycling and two-wheeled transportation of all types. It was in Europe that I first was introduced to motorcycles at the age of 6 albeit as a fascinated bystander. Every time that I am in a European country I am thrilled to see people walking all over town with their helmets in tow, looking completely normal in riding jackets. Nobody stares or says, "wow, that's dangerous" - unlike the US where we still have to 'earn' their respect with our chosen form of transportation.
Parking is permitted in most European cities on the sidewalks so motorcycling is really a convenient and inexpensive (less parking costs) way to get around. Since European cities are more compact than their US counterparts with typically smaller streets, lane sharing and the smaller dimensions of motorcycles and scooters are actually appreciated as lesser contributors to traffic and pollution.
Considering how congested and smog-filled our cities have become over the past decades, I'm surprised that we aren't following the European examples more. Anyways, enough of the rant, here's the report on the show.
---
Table of Contents
1. Show Overview
Picture of exterior trial area and 15 sec MPEGs of people testing bikes
2. BMW Pavillion
Short summary of what BMW showed at their pavillion
3. BMW Police Bikes
Special comparison of BMW Police motorcycles that were at the show
4. Aprilla Pegaso 650
Detailed close-ups of this bike which is a 'cousin' to the BMW F series bikes
5. Honda's Africa Twin
Detailed close-ups of this bike which is not available in the US.
6. KTM's Paris-Dakar bike
A few close-ups of Jordi Acarons' Paris-Dakar bike - good for comparison to BMW's R900RR!
7. Dirt Bikes
Various models from Husqvarna, Gas Gas, and others.
8. Trials bikes
Montesa and Skorpa bikes.
9. Misc. Photos
Moto Guzzi V11, WP Racing Fork, and other manufacturers that you've probably never heard of!
10. Interview w/BMW Espana Sales Manager regarding F650GS and overall market - coming in future post
---