Hechlingen, June 2001-Andrea Mayer's F650RR
Andrea is one unbelievable rider. She's lots of fun to be around and super-dedicated to her job but also loves to have fun. We've talked and shared info a lot trying to keep BMW in rallye racing but to no avail. So this year (2002 Dakar) she'll be riding for KTM. This is a super huge loss for BMW (in many respects) and I wish that she didn't have to change teams but she's got to do what's right for her career-wise.
To my surprise she was at Hechlingen in June teaching one of the groups. This was great for me because I had my rallye bike and I wanted her to give me some tips on handling since we are about the same size. She confirmed most of what I already knew about inseam height being an issue and gave me some other "do's and don'ts". If you're even remotely interested in motorcycles you've got to love somebody like Andrea who's personality and enthusiasm for the sport really shines through. Let's wish her well with her efforts at KTM!
Note - If you want to see/get any photo in true (larger) original format just click (or right click) the image.
---
Photo - Andrea works with the press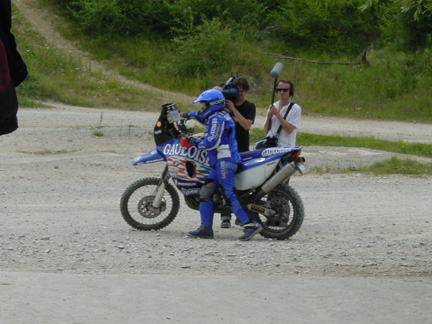 Right before she had to get ready to work with the press you could see her starting to
concentrate. She's truly, ever the professional, and wanted to make sure that the
press got full value for their time and effort. It's this kind of dedication and professionalism
that I am sad that BMW is losing to KTM. Just think of what she could do for BMW in the US to promote
more women riding and joining the motorcycle community. Truly a shame.
15 Sec MPEG - Andrea rides off (right click to download)
Photo - Andrea gets ready to ride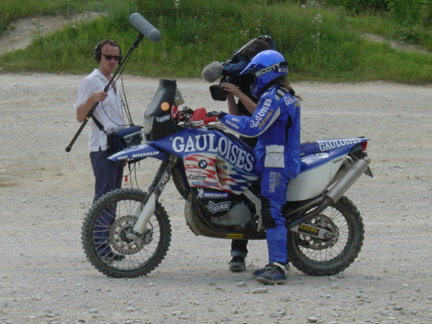 I like this photo for comparison to mine as it shows her flat footing the F650RR.
Later on you'll see her on my bike and notice the difference. In this department we
are both the same and have lots of laughs regarding these tall bikes.
Photo - F650RR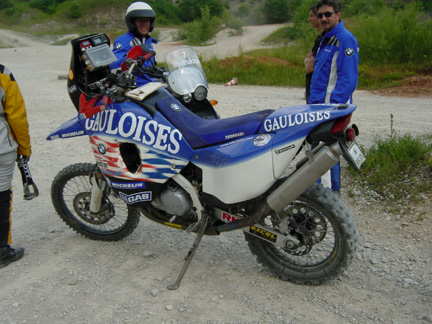 This was the first chance that I got to see the F650RR up close. It was great to notice the
differences between this bike and the Touratech Rallye. This bike is no longer competitive
against the KTM's and has no more spares in the racing stock so it can't go on.
Nonetheless it did have a few trick changes that made it more 'Dakar' ready than the Touratech
so there is still room for improvement in the Touratech racing program.
Photo - Chain Guard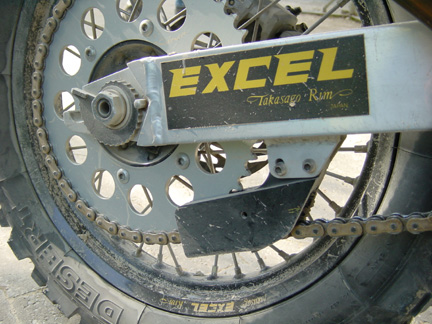 Most of the changes that I was interested were in the swingarm and brakes of the bike.
Here you can see the chain guard/tensioner which I have on the rallye bike but not on my touring F650GS Dakar.
Photo - Quick removal rear axle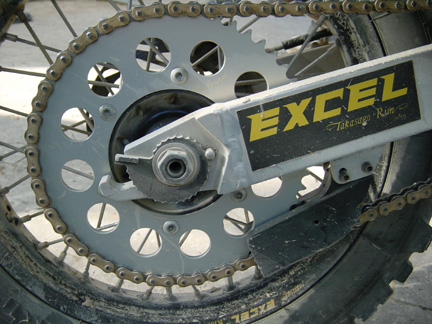 One of the most exciting changes that I was interested in on my rallye bike was the
custom aluminum rear swingarm including the adjustable rear axle and removal system.
Notwithstanding the excellent job that Touratech did on the bike, Andrea's F650RR looks even easier.
Photo - rear brakes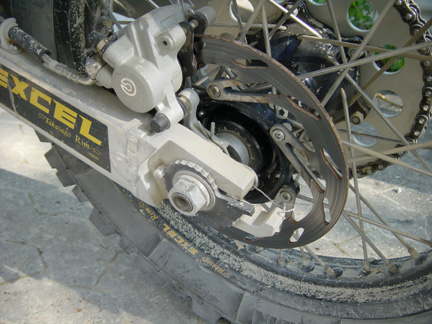 KTM has been promoting it's diagonally cut brakes as lighter weight and quicker to dissipate heat.
Andrea's F650RR has similar brakes while the Touratech Rallye uses the standard BMW brakes.
Photo - Footpegs and adjustable rear brake lever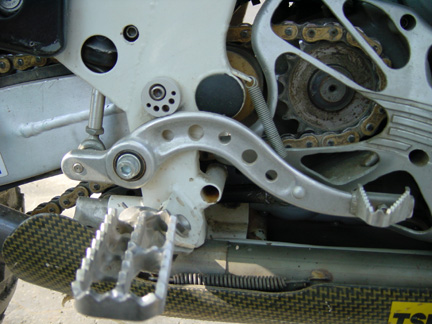 It looks like the rear brake lever is adjustable for rider preference.
See the opening which allows you to see the front countersprocket.
Touratech has parts for most all of these changes (footpeg, open countersprocket cover,
and hardened brake lever) minus the adjustability (I think).
Photo - DHP's Touratech Rallye & Andrea's F650RR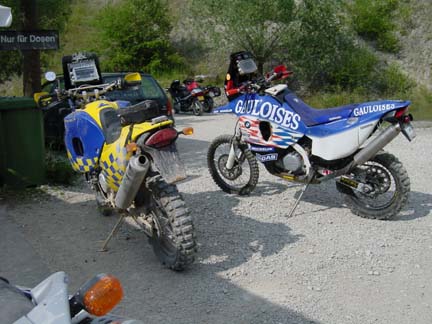 Here you can see both bikes. The Touratech bike is bigger and taller by a bit.
---