Hechlingen - BMW's Enduro Training School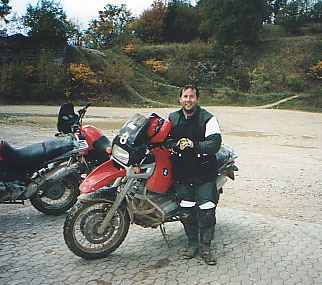 I made my first trip to BMW's Enduro Training School in Hechlingen, Germany back in Spring 1998 and have since been back two more times. When I first went to this school I had never ridden off-road and had only dreamed of adventure riding around the world on a BMW dual-sport bike.
I was determined to learn and master the secrets of riding off-road and really went there as a complete novice in the field (pun intended). When I went the first time my riding experience had consisted of daily riding and long distance touring on my BMW's from a K75S, to K100, to K1100RS. I had only borrowed an R100GS a few times from the dealership and was not used to the weight and balance of riding off-road.
Still, thinking that displacement meant the same thing on and off-road I signed up to ride the R1100GS at the school (thinking that the newer F650 was inferior for the purpose, I've learned since then that I was WRONG!). Starting out in the beginner group was a humbling experience as I dropped the big 1100GS all over the trial range. But by the end of the first day, I was hooked. I saw the instructors jumping things, going up steep inclines, and through deep sand and mud. I knew that I had to dedicate myself to unlocking the secrets of dual sport riding.
This section of the web site is dedicated to my travels and training at this special facility. I really enjoy going to Hechlingen not only to use the range but because the instructors are really special people. They not only know their stuff and readily transmit it to the students (albeit in German most of the time) but make sure that we are safe and picking up what we need to know. Call me crazy but I like getting the instruction in German (with some translation) and I feel that I'm getting the language lessons for free!
I think that over the years that I've gained somewhat of a reputation there with the "Instruktor Korp". I'm super-thirsty for their knowledge and really try to push my skills/ability to the limit. Fall over, no problem. Break a fuel tank, no problem, jump the rhythm section, rear brake slide, wheelie - for me it's "monkey see, monkey do" games for 3 days following around some talented riders. The reward now is that I get to ride in the advanced group now and go "big" every chance I get.
I plan to maintain my skills by returning to Hechlingen at least twice a year. Yes the instruction is great but as I said, getting to ride with people like Manfred, Werner, Andrea Mayer, and the other participants is a total blast. I've made some great friends (mostly European) from my various trips many of whom I keep in touch with via the Internet or by dropping in to visit when I'm in Europe.
You can see BMW's official page for the Training and Touring business by clicking here.
If you decide to go I recommend staying at the Hotel Forellenhoff as it's the central eating/meeting place making mid-day adjustments to equipment or whatever easier.
Hope to see you all there.
Regards,
David H. Park
david@dhpmoto.com
---
Table of Contents
1. reserved - for my older photos of trips to Hechlingen
2. Hechlingen, April 2001, General Photos - A few photos of my friends and the instructors (Instruktors).
3. Hechlingen, April 2001, Training Areas - Good pictures and description of the training areas.
4. Hechlingen, June 2001 - F650RR - Pictures and movies of Andrea Mayer's F650RR at Hechlingen from the Paris Dakar. She instructs there from time to time and this time had the beginner group. It's always fun being around her as she calls me her "crazy boy" a title that I try my hardest to live up to by jumping higher and otherwise doing crazy off-road antics.
5. Hechlingen, June 2001 - Exercises - Some more photos and video of exercises that I didn't get in April 2001.
6. Hechlingen, June 2001 - DHP's broken Touratech Rallye - just a few photos of parts that I broke on my rallye bike after launching myself up a hill, into the air, and right down into a nasty ditch that I tried to ride out of but couldn't. Then I further broke the bike by trying some other stunts. Read on!
7. People Pictures - Some photos of people and the instructors taken while at the program.
8. Movies - 15 second MPEGs to download. Most of these are of Andrea Mayer and the instructors testing my bike against her F650RR. When I have time I'll reload these as RealMedia but then again I might not.
---
Note - Hechlingen 2001 - I went twice during 2001. Once in the early spring and the other time in early summer. The second time I brought my new Touratech Rallye bike to test it out. Andrea Mayer (former BMW Paris-Dakar pilot) was there the second time which was lots of fun as we've become good friends through my interest in rallye racing (i.e. trying to reform a team around BMW equipment, with both her and Jimmy Lewis as pilots). I grabbed some quick 15 second MPEGs of training exercises and of Andrea testing my bike. Next time I'll bring my video camera to better show everybody what this school is all about.
---