2001 BMW F650 Dakar:
OEM Specifications and Initial Experiences
Here's the bike as originally delivered (first and last time it shall be clean...):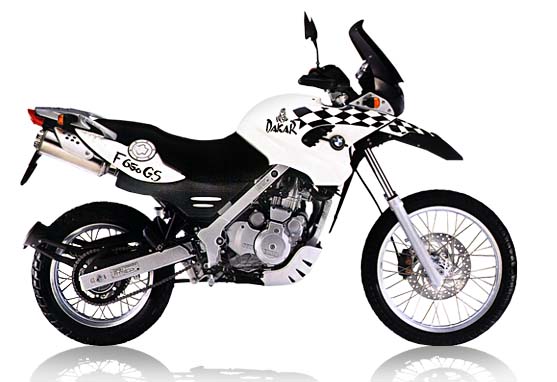 Click on the links below for actual BMW specifications in Adobe Acrobat format:
Motorcycle Specifications Engine Specifications
---
How the bike was delivered from the dealer
Things that I liked about the bike as originally delivered:
1. 21" front wheel
2. Graphics
3. Longer suspension travel and higher clearance height than older F650's and non-'Dakar' versions
4. Handguards
Things that I didn't like about the bike as originally delivered:
1. No solo seat and rear luggage rack setup like on the older R100GS PD
Things that I added to the bike pre-delivery from the dealer:
1. BMW 'computer' - mileage and other miscellaneous features
2. Engine guard
3. Heated handlebar grips
---
600 Mile Break-in period
Straight from the crate I took the bike for a ride with a good friend though the Santa Clara hills. After this 'gentle' break-in I figured that it was time to see how this bike would handle in the dirt. Two tests were in order one at Hollister Hills and the other at Metcalfe.
Getting the bike in the dirt from the beginning before my Baja trip was definitely worthwhile. What I quickly learned was that it still was a heavy bike and that fetching it alone (even without a full load of luggage) when it's gone off a hill or from within slippery terrain would still be a challenge.
Damage within the 600 mile period:
1. Bent the stock handlebars in a fall
2. Broke one mirror stem and screw that holds the stem in place
3. Broke (in half) the clutch level (in another fall)
4. Bent the gear change lever
5. Lost (and found) the BMW 'computer' readout gizmo
6. Broke one front turn signal indicator
7. Broke throttle cable mount where it screws into the upper grip stem
---
Lessons learned
So, what I learned from the initial break-in was that the stock handlebars would have to be replaced. There was no way that I could do some serious off-road riding if they would bend like a paperclip after a minor get-off. Plus the angle was not ideally suited to getting the best leverage when standing up enduro style for long periods of time.
I also learned that the stock tires were okay for soft 'dual sport' riding (i.e. the 100 yards over Grandma's gravel driveway) but that they wouldn't do anything for real roads with mud, sand, rocks, whatever. Going through mud with these tires was like running on a treadmill with banana peels for sneakers.
I was also gently reminded at how easy it is to bend or break a clutch or break lever. I was planning to replace the footpegs, footbrake, and gear change lever with parts from Touratech later after Baja but my break-in experiences changed my mind and these modifications made the "A" list.
The CalBMW service dept. also reminded me to loosen up the grips a bit to give them some play and they kindly drilled holes in the end of the levers to 'encourage' the knobs to break off instead of the whole handle when they hit the dirt. (more on this later). Because of all of this, I added clutch and brake levers to the 'spare parts to carry' list.
Summary of what was learned here from the first dirt experiences:
1. Replace tires with real off-road tires (but suitable for highway riding)
2. Replace rims with lighter, stronger rims made for rallying
3. Mirror mounts and stems were going to be a problem
4. Standard footpegs and levers inadequate for serious off-road use
5. Brake and clutch levers need to be drilled to break when impacted (and need to carry spares on trip)
6. BMW computer gizmo easy to lose when off-road
---