Baja California on a 2001 BMW F650GS Dakar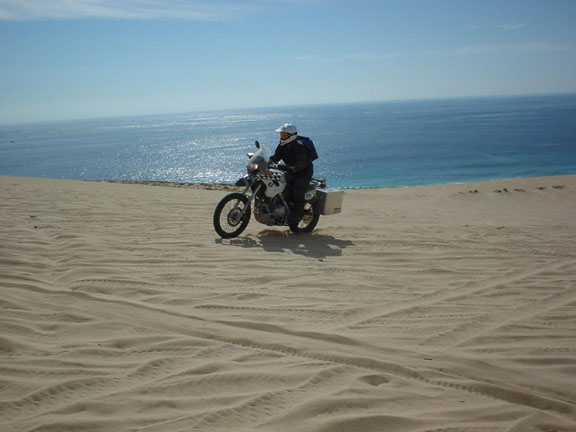 I had ridden the original F650 for a bit at BMW's off-road school in Hechlingen a few years back and had mixed impressions of the bike. But after some bad dreams including parts of 'boxer' cylinder covers lying in the rocks and sand and other dreams of lifting the heavy PD through deep drifts and muck - I made up my mind that the smaller, 'lighter' (somewhat), single was the way to go.
Only one problem remained then - I didn't own one yet and supplies were limited...
Enter California BMW Triumph in Mountain View, where Kari and Carolyn were only too happy to oblige my desires. Luckily, within 1 week from having put down my deposit, the bike arrived. With my trip coming up in three weeks, I had little time to put in the 600 miles for the initial service and make the changes that I wanted to make.
What I'll try to do here with this web site is briefly describe and show some parts of the trip as well as modifications to the bike that I made. I'll try to share my experiences as to what worked and didn't - what I liked and didn't. A quick thank you to those who helped with this trip. Feel free to contact me with any questions and I'll do my best to respond.
I've also got some used riding equipment such as boots and stuff plus new things that I've taken off of the F650GS Dakar when making modifications that are for sale. If you're looking for good stuff cheap then I'd be happy to sell you what I've got in my garage. Check it out on the last page - stuff for sale.
Happy riding.
David H. Park
david@dhpmoto.com
Note - I'm continuing with the final modifications from Touratech to get the bike ready for desert rallying. I plan to enter the bike in the Tonopah 300 (June) and the Vegas to Reno (Sept) rallies this year, co-riding with Eli the service manager of California BMW Triumph. If anyone is interested in helping us out by crewing, sponsorship, whatever - please drop me a line.
---
Table of Contents
1. The 2001 F650 Dakar
a) OEM specifications (PDF brochure and engine tech specs)
b) how the bike was delivered from the dealer
c) 600 mile break-in period
d) lessons learned
2. Making the F650 Dakar off-road ready
a) list of desired changes
b) detailed change information - part by part (photos and notes)
3. Visiting Touratech
a) photos of Touratech Schalber Rallye Replica
b) news - Didier Py/Raymond Loizeaux Touratech Dakar Rallye Bike
5. The Trip - El Rosario, El Marmol, Coco's Corner
6. The Trip - Bahia de Los Angeles to San Francisquito
7. The Trip - San Francisquito (very relaxing...)
8. The Trip - Leaving San Francisquito
9. The Trip - Mission San Ignacio and further south
10. The Trip - Loreto to Cabo San Lucas
11. The Trip - Riding the dunes in Cabo San Lucas
12. The Trip - The road north...leaving Cabo San Lucas
13. The Trip - Ciudad Constitucion, Lopez Mateos, Ciudad Insurgentes and points north
14. The Trip - Ancient drawings at Agua Grande
16. The Trip - San Juanico to San Ignacio via the rough roads
17. The Trip - Guerro Negro back to the border
18. Thank You Page
19. Misc. - BMW and motorcycle items for sale
---
---