Visiting Touratech
With so few days until my trip Touratech's US distributor, RideWest BMW was not quite sure if they could get me everything that I wanted especially since the rallye replica was just recently announced and since many of the parts were not yet available for sale. They jokingly suggested that I visit Touratech in Germany to personally discuss my modifications and to source the parts.
Hey, what a great idea!
48 hours later arriving at Stuttgart, I rented a car and was on my way down to Niedereschach. I e-mailed them the day before as to what I wanted and hoped that they would be able to fill my request on such short notice.
In this short period of time all correspondence was courteously and promptly handled by Melanie Samira Hess. When I arrived, Jochen (one of the directors) warmly greeted me and took the time to personally show me the rallye replica and discuss my desired changes.
While some of the parts that I wanted were not yet out of production - Jochen took really great care of me and even got the integral locks on the touring cases keyed while I waited. I left Germany the next morning all smiles with the parts that I came for and armed with the knowledge of the modifications that I needed to make.
Overall, my experience with Touratech was first rate. What I can say now that I've visited them and HPN (another BMW shop in Siebersdorf) is that both experiences were great! The shops are very professional and share knowledge openly. It was great fun to stop in and see them at work and I want to thank (again!) Jochen and his team for their support.
* note - RideWest BMW (where I bought my R100GS PD from) is also very supportive as Touratech's US distributor and should be getting more updated on the Rallye Replica parts as they become more available.
---
Touratech F650RR Rallye Replica Photos
Here are some pictures of the rallye replica that I took. I've downsized them for display on the web. If anyone wants the original large format pictures to look at details up close please just click on a given picture to get the file.
Picture 1 - the whole bike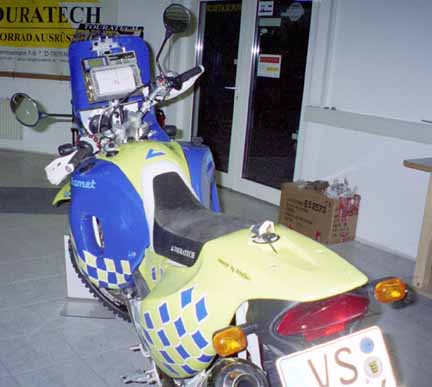 Note the front and rear fuel tanks plus solo seat for racing. The cockpit is
also taller and set up for rallying with the roadbook, GPS holder, and IMO computer.
Picture 2 - Side View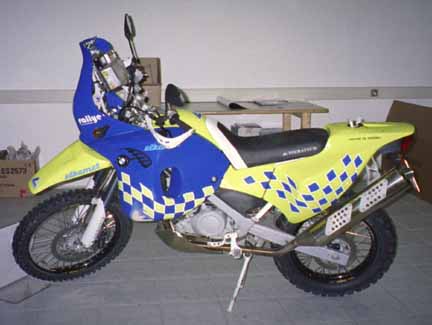 In this picture you can see the different front fender which is made from
a single piece of plastic, the different exhaust, and the knobby tires.
Picture 3 - the right side
Here you can see the chain guard, foot pegs, and fuel tanks. Notice
how much is 'missing' from the rear which adds to weight savings.
Picture 4 - Cockpit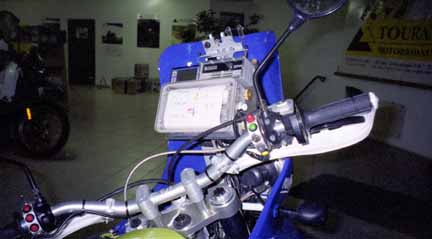 The buttons left and right are for controlling the roadbook and IMO computer.
The Magura SX handlebar is straigher and stronger than stock.
The GPS goes up top where it is easier to see when standing up.
Picture 5 - Front Fuel Tanks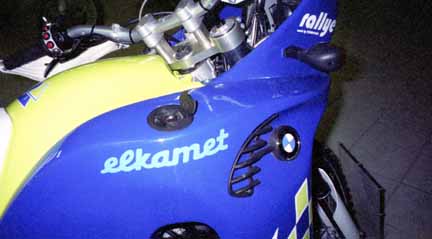 I was really fascinated by the larger capacity fuel tanks and am awaiting
modifications to fit these to my bike. The build quality from Elkamet is
nothing less than perfect with locking filler caps and all.
---
Touratech supports privateer rallye effort
in 2001 Dakar
I just noticed on Touratech's web site that they have prepared a rallye bike for this year's Dakar. The rider is Didier Py and I believe that the Team owner is Raymond Loizeaux (he's in the photo).
I was lucky to meet Raymond when he was at HPN a few years ago picking up his latest HPN boxer. If I remember correctly, that was the year that he fell asleep on his bike and crashed breaking a few ribs in the process. Notably one of France's most famous policemen, Raymond has competed in over 18 Dakars and was part of the original BMW winning teams with Gaston Rahnier.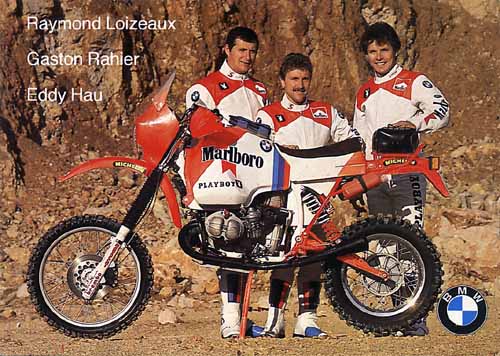 Here's an old press photo of the Raymond with Gaston and Eddy Hau. Notice the height difference between Raymond and Gaston. Gaston (who won that year) is only about 5'6" and Raymond is a big guy at 6' 3".
The following link takes you to Touratech's web site for their info on Didier Py's bike which looks like the standard bike modifications they are selling to the public (but he might have used carbs and done the 700cc port).
http://www.touratech.de/english/estory.htm
---