RIDE SCHEDULE AND KEY INFORMATION - PLEASE READ
See the official letter from Gov. Gray Davis to President Bush here
Click here for a list of ride volunteers and regional ride coordinators Click here to read e-mails that people have sent in about this event.
Download the Reverse Pony Express flyer to print out for display and distribution at local dealerships, rider meets, etc. (save as file)
Reverse Pony Express - Coast-to-Coast Charity ride to benefit US Postal workers and their families affected by anthrax terrorism.
<![if !vml]>

<![endif]>
Hi fellow motorcyclists.
My name is David H. Park and I'm writing to inform you of a ride that I'm organizing to benefit the US postal service workers affected by the anthrax terrorism.
I'm calling this a "Reverse Pony Express", a cross-country (from sea to shining sea) motorcycle fundraising trip which is to take place during the week of Thanksgiving.
Given the fact that our nation's business depends on the mail and that the post office has been under attack recently (and that we are at war), I feel bad for these postal workers who are on the front lines today. In 1997 I was in a Miami Beach postal office not 5 feet from a postal employee who went on a deadly shooting rampage. This was traumatic for me and unfortunately is the image that many people have of the postal service when they really live up to their motto:
"Neither snow nor rain nor heat nor gloom of night stays these couriers from the swift completion of their appointed rounds."
Now more than ever we really need these postal workers yet they are often very undervalued by many of us. By organizing and doing this ride, I hope to raise the spirits and support the postal workers/families affected by the anthrax attacks on this key government institution. As fellow motorcyclists your support of this would be key and fun to do (like we need a good excuse to ride, right?)
Please read my letter to Governor Davis to see the plan that I am proposing. We will carry a letter from Governor Davis to President Bush as well as pass an American flag between stage riders and will start in Marin crossing the Golden Gate bridge with a PR event in downtown San Francisco at the plaque of the Pony Express. Along the way there will be stops at post offices and key historic sites like St. Joseph (National Monuments along the trail, the White House in Washington DC, the Liberty Bell in Philadelphia, the mail office in Trenton, and the GPO in NY city) all done via parade rides to allow other riders to ride and raise money.
I've asked all the major motorcycle manufacturers (Harley Davidson, BMW, Honda, etc.) to get the word out to their riders to come out and ride in support of the Postal Service during Thanksgiving week. Hopefully we'll have some coast-to-coast coverage on the all major media until we finish in New York at the steps of the Post Office General Post Office.
If you're interested in participating please e-mail me at david@dhpmoto.com. I'm leaving the amount per mile and amount of miles up to each individual person to get from their own donors. Wells Fargo will hopefully handle the collection of the monies. (*note - Postal workers have recommended that we work with the Postal Employees Relief Fund which we plan to do and most likely appoint them final administrator of the funds).
Time is of the essence so get the word out to your friends and riding buddies nationwide. If you know any police motorcyclists nationwide we'd love to have them along as well. You don't need to ride the whole thing, just a stage of the ride. We'll be working with the MSF to organize riding sections of 100 to 300 miles enabling people to participate safely.
Regards,
David H. Park
---
E-mail received from Dyna a postal worker in Minneapolis
I'm a Postal Worker in Minneapolis and would like to lend my whole hearted support to this ride. Postal Workers are the airheads (ed-BMW motorcycle reference) of the communications world, and we share a "simple by choice" philosophy. I especially appreciate your focus on helping Postal Worker's survive this crisis. We have Postal Workers that are having to pay for Cipro out of their own pockets. Cipro and other antibiotics can keep you puking your guts out, and over 2,000 postal workers will probably be on antibiotics for 60 days. Some of these folks will be running out of sick leave and the Postal Service's temps receive no health insurance at all. So we have Postal Workers that will definitely need some help!
With your permission, I'd like to forward your post to a Postal Workers list I'm on. Thanks for the great idea, and hope to join you for part of the ride.
Peace,
Dyna
---
Dear Governor Davis -
My name is David H. Park and I live in Foster City California as well as New York City. As such I am both a Californian AND a New Yorker at heart. When I was an investment banker I worked just 2 blocks from the World Trade Center and like the rest of the country am shocked by these barbaric acts of terrorism. I am writing to you to ask for your involvement in an patriotic effort/voyage that I am undertaking to help the postal workers affected by terrorism by anthrax.
In Miami Beach, on Sept 3rd, 1997, I was in the post office filling out a change of address card (moving to NY) when a postal worker pulled out a .357 magnum and critically shot two people before killing himself. I, and everybody else, ran like crazy barely escaping with our lives. Sadly, unfortunate events like this have painted a bad picture of our nation's postal workers who truly are dedicated individuals doing their professional and civic duty serving our country and their fellow countrymen.
Given the fact that our nation's business depends on the mail and that the post office is attack (and that we are at war), I feel bad for these postal workers who are on the front lines today. We really need them and they are often very undervalued by many of us.
I've come up with a small way to express my personal thanks to postal service workers which hopefully can help bolster their spirits and raise some money for the affected individuals and their families. The concept of this charity event has to do with a "reverse Pony Express" from California to New York, from 'Sea to Shining Sea' (the first Pony Express delivery went from St. Joseph, MO to Sacramento). This first pony express carried a letter from President Buchanan to the Governor of California - I think that it is time for the Governor of California to send a symbolic patriotic letter back to the President of the United States and I would be honored if you could provide such a letter for this journey.
I plan to start from the Marin Headlands riding across the Golden Gate bridge and in to downtown San Francisco stopping for a PR event at the plaque of the Pony Express at Montgomery and Merchant Streets. From there the route will go east all the way to Washington DC following the route of the original express as best we can. I also plan to stop in key Pony Express historical locations along the way including the terminus in St. Joseph, MO; in Philadelphia to visit the Liberty Bell and in Trenton NJ to the mail routing station that has been affected finally ending in front of the main post office in NY near Madison Square garden. Along the way, I'll be stopping at various post offices to say hi and tell 'em how much we all appreciate them.
As I am an avid motorcyclist (enjoying the many great roads and state recreations areas of California, thank you!) I plan to do this trip by motorcycle in the spirit of the Pony Express (i.e. Iron Horse and rider replacing the mounted rider). Along the way, I hope to be joined by fellow motorcyclists who are being rallied by the thousands using the Internet. The other riders will ride various sections of the route with me and will transfer an American flag and a flag of the state of California to be presented (and hopefully flown) at the US mail facility in Manhattan as a symbol of our national unity. While I will do the entire ride, these riders will form the backbone of the new Pony Express transferring the flag from rider to rider as the old Express riders did the mail. We will do this over the Thanksgiving week period as a sign of thanks to the postal worker and the US postal service.
Each of this individual riders will hopefully also be able to raise pledge money for the miles that they ride from members of their local community with the monies being turned over to Wells Fargo (again symbolic of the Pony Express and California) in a fund for the individuals and families of postal workers affected by these attacks.
We plan to start our journey on either Tuesday Nov. 20th or Wednesday Nov. 21st, finishing it by Wed. Nov. 28th in New York. As far as your participation is involved I suggest that you could be involved either at the PR event at the Pony Express plaque in San Francisco or perhaps at an official stop in Sacramento (where the real western terminus of the Pony Express was). If you or your staff could get back to me either via e-mail (david@dhpmoto.com) or by phone at xxx-xxx-xxxx - with an answer to my request or any questions at the soonest possible time it would be greatly appreciated.
I am currently in the process of raising the necessary public awareness of this through the major media channels and before I do so, if I could have your involvement it would be a great step forward in this American Journey.
Regards,
David H. Park
PS - my personal motorcycling web site can be seen at www.dhpmoto.com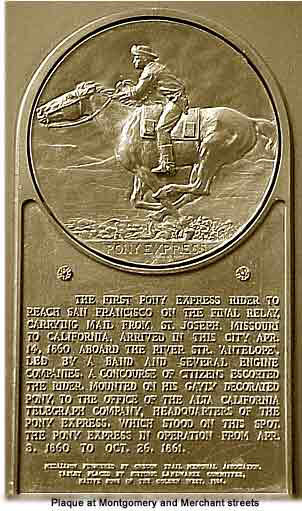 ---
Home (Main) Event Management (volunteer info) Event E-mails

---