Enduro/Off-road Training with Jimmy Lewis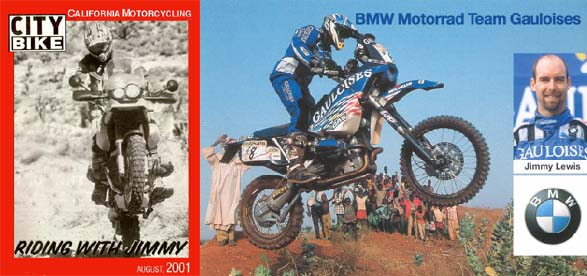 Hi.
My name is David H. Park and I'm writing to you to introduce a special offer to get off-road motorcycle training from one of the world's best racers and riders, Jimmy Lewis. You may know Jimmy from his work as a contributing editor to Cycle World where he tests all kinds of bikes between his work as a professional racer. Last year I asked Jimmy if he could teach me and a small group of my friends how to ride better.
<click here to read what people are saying about the class>
While I had been to BMW's enduro school in Germany a few times, this time around I wanted to learn from Jimmy because he's the only American to recently have done the Paris-Dakar (BMW Motorrad Team Gauloises) plus I had heard nothing but good things about his approach to off-road riding and unique coaching ability.
We had so much fun doing this that I've asked him to do it again - this time expanding it to a larger audience across the US and Canada. For this year's program we're going to try something new and will be working hard to get our motorcycling friends from up north who are usually frozen in snow to send their bikes down south for a while to enable them to fly-in and train with Jimmy. We'll help with your motorcycle preparation, shipping, and storage to the location and back as well as flights, rental cars, and of course lodging.
The way that we organize these training sessions is that we try to fill up a class (10-15 riders maximum) and talk about what you want to learn based on your experiences and desires. As people's abilities, styles, and goals are different we work from the beginning to create truly customized training based around your needs (i.e. this is not just a step-by-step program). Whether you ride your bike off-road all of the time or have never ridden in the dirt, Jimmy's got the experience, methods, and patience to help you become a better rider (the way he explains complex motorcycle concepts in plain English is really amazing).
Training sessions will begin on the dry lake outside of Las Vegas with drills followed by some exciting dual sport rides through the California and Nevada deserts. As we progress through the training program we'd like to have special sessions covering riding in sand and route navigation using GPS. The possibilities are endless!
Click here for current dates/sessions.
Class fees per session are $500 and include lunch & refreshments during the riding sessions, awards dinner, and transportation from central lodging to motorcycle pickup or training facilities (*note - this is planned but might not be possible or necessary depending on how we finally configure storage/retrieval of the motorcycles). We're looking to make this as fun and painless of a process for you to come in and focus on your training. Let us know what we can do to help and we'll try to make it happen (i.e. if there is a date that isn't on our calendar that works well for you let us know, etc.).
Also, as we expect many people to ship their bikes in for the duration of the training season we'd like to make the training sequential training if possible covering different topics and using different riding areas (i.e. open desert, mountains, sand dunes) as the sessions progress. Please let us know if you're interested in us running the program in this fashion or whether you can only come for a single session.
You can take a look at the training session that we did last year either on my web site www.dhpmoto.com or in an article in City Bike (August 2001), or on Jimmy's web site, www.jimmylewisoffroad.com.
To make it easy for Jimmy, I'm handling all correspondence and arrangements for these training sessions so if you'd like to attend or have any questions please feel free to drop me an e-mail at david@dhpmoto.com or call me at 650-578-0100 (e-mail preferred). Remember to include your name, dates desired, motorcycle, relative off-road experience, type of training desired (if known) or any other questions for myself or Jimmy.
Regards,
David H. Park
www.dhpmoto.com
PS - If you don't have a dual-sport or off-road motorcycle or otherwise can't get your motorcycle to Las Vegas/California for training but still want to attend please respond and let us know. We have chosen AdMo Tours as the rental agent for the course and will help you make all of the necessary arrangements. <note-don't go through their normal process, please click here to see the rental information>

---
2. Motorcycle Rental & Shipping