France - Touratech 1st Travel Event - Trip Report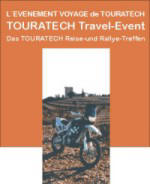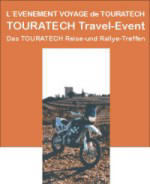 When Touratech announced that they were getting together their customers for their first every rally (meeting not race) I decided that I just HAD to be there. I was going to Europe anyways to meet with Paris-Dakar organizer Hubert Auriol as well as other potential participants in a Dakar team that I was organizing so I figured that it would fit nicely into the schedule to spend a few days in Orange with other bikers including Andrea Mayer (with whom I needed to talk to about the Dakar).
These series of pages have a few pictures of the event which was a lot of fun. I met some really nice new people with whom I correspond with regularly and consider good friends (even though we just met). We all took a chance coming to this 'unknown' event, met, rode together, shared some good laughs and are ready to do it all over again, anytime, anyplace.
I'm sure that Touratech will put on another event soon and I'm eagerly looking forward to it.
Enjoy the photos! Click here to watch a 13 minute streaming Quicktime movie covering the whole event.
Regards,
David H. Park
---
The TOURATECH Motorcycle event. (Saving me from writing new text, I've copied this from Touratech's web site).
250 Motorcycles gathered in Orange, France, to participate to the first TOURATECH motorcycle event.
Orange is located in the south of France. In the middle of a famous wine growing area. You can visit old romanian buildings like the triumphal arch and the ancient theatre. You can take wonderful rides into the nearby "Ardeche" and to the "Mont Ventoux". So we decided this is the right area to start a wonderful motorcycle season.

Touratech invited its friends and customers. The city of orange provided the building and the campground, even a motorcycle parcours was there.

We started in Germany while it was cold and snowy, and we reached Orange to find a wonderful spring with lots of sun. Dodo Liadé cooked for us: african food at its best. So we can eat Couscous and spicy sauces. After dinner some rallye-raid themes: Herbert Schwarz of Touratech AG and Ivon Bodelot, Importer for France, presented, together with Thomas Junker: Reportage of the Rallye Paris -Dakar, presented by Thomas Junker. Thomas filmed also some scenes with Didier Py on the Touratech F650 rallye. Andrea Mayer, Rallye Pilot together with her mechanic Uta discussed a lot of themes around Rallye Raid with the audience.

Raimond Loizeaux, policeman, located in Paris is a regularly attending the Paris Dakar Raid with a R100 GS and also gave some Interviews and answered questions out of the audience. Thomas Junker presented his Film:"Vom Nordpol zum Südpol" von Thomas Junker und Steffen Müller. (From North pole to South pole)
The evening closed with a large campfire.

On Sunday everybody enjoyed exploring the surrounding of Orange. Four groups decided to follow the guided off-road tour around Orange, the vineyards and the mountains. In the evening we again gathered around Dodos cooking in the mess hall..

Didier Py joined us for interviews and answered questions about his experinces with the Touratech F650 rallye on the Paris Dakar Raid. Than we changed to travel: Rolf Henniges showed his slide show: "Drei Bauern in der Wüste" (3 Farmers in the desert). Inspired by the TV shows about Rally Raid Paris-Dakar, Rolf went with his three friends, absolute beginners, to Tunisia and he talks about their adventures and about friendship. Till late in the evening we sat together at the campfire and made plans for the coming motorcycle season.
---
Table of Contents
1. Orange - Patrick Lambin & Jean Moxhet, two like-minded souls that I met at my ice cream break in Orange's central square
2. The Campground - want to get a feeling of the campgrounds, just look here
3. The Ride - pictures from our ride, rest stop, a few good shots of my new friends
4. The Bikes - A few pictures of bikes that were at this event including some sidecar rigs
5. Avingon - a very nicely preserved medieval walled town located close to Orange
6. Barcelona/DHP & BMW Rallye Pilots - not really a page from the event but related to the same trip when I met Nani Roma and Cyril Despres.
---
---